Everything You Need to Know About Kylie Skin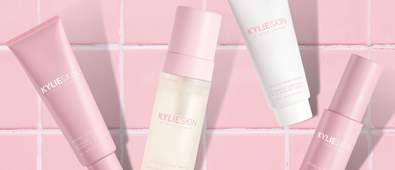 The moment we have all been waiting for has finally arrived; Kylie Skin has landed in the U.K. I repeat, Kylie Skin has landed in the U.K.
Love them or hate them, there's no denying that the Kardash-Jenner clan know what they're doing when it comes to beauty. From fragrance lines to makeup collections and toothpaste collabs, the sister squad have all areas covered and continuously 'break the internet' with their new ventures.
Having already dominated the makeup scene with Kylie Cosmetics, youngest sibling (entrepreneur, mum-to-Stormi and self-made billionaire) Kylie Jenner has seized the opportunity to make waves in the skincare world and launched Kylie Skin. Her line-up boasts six skincare essentials, including cleanser, toner, serum, eye cream, moisturiser and that controversial walnut scrub (we personally love it). Not to mention, it's all priced under £24 and arrives in the iconic millennial pink-hued packaging.
But enough of the chit-chat as we know you're dying to get adding to the basket. Here's all that you need to know about Kylie Skin and the best products to shop!

Kylie Skin Cleanse Collection
Want skin that's as clear and radiant as Kylie Jenner's? Look no further, as she supplies a range of skin cleansing products that give you a shot at achieving a Hollywood-worthy complexion.
The Cleanse collection by Kylie Skin features some of the most sought-after skin care products in the industry, like the fastest-selling Foaming Face Wash and the Walnut Face Scrub that broke the internet. With each product specially formulated to suit all skin types and utilising high-end ingredients, you're undoubtedly one step closer to A-lister skin. The best part? It doesn't completely break the bank.

One of the most sought-after face washes has finally landed in the U.K – hoorah! The Foaming Face Wash by Kylie Skin is a consistent sell-out across the globe, and a product that pops up on our social media daily. It quickly became a holy grail formula as it packs the ability to effectively remove dirt, oil and makeup from the surface of the skin. Not to mention, Kylie infused the foaming cleanser with ultra-nourishing kiwi seed oil so that you can reap the skin-perfecting benefits of vitamin C and E – thanks Kyles.
The Foaming Face Wash has been on our wish list for a while now, and we're sure it's on yours, too. So, be sure to add it to your basket quickly to avoid disappointment.
Unless you've been hibernating over the last few years, it's likely that you already know about Kylie's infamous Walnut Face Scrub. In true Kar-Jenner style, it went viral before completely selling out.
The gentle but effective face scrub utilises a cocktail of anti-inflammatory ingredients and soothing fruit extracts in order to buff away dead skin cells and reveal a brighter, healthier complexion – all without causing irritation or sensitivity. It's Kylie's secret to a fresh face, and one that we can totally get on board with.
Catch the remnants of stubborn makeup, dirt and oil with this Vanilla Milk Toner. An essential in any skin care routine, this alcohol-free toner helps replenish the look and feel of your skin, all whilst giving it one final cleanse.
A nourishing blend of avocado oil, kiwi seed oil and apple extract not only soothes, tones and restores natural hydration but unclogs and minimises the appearance of pores. The milky texture feels super refreshing on skin, whilst a delicate infusion of vanilla fragrance makes the toner the perfect last step in your cleansing routine.
It's not just your face that Kylie takes care of, as she also supplies a luxurious body scrub.
This lavish sugar scrub is your one-stop-shop to a seriously buff bod. It boasts an exclusive recipe of lush nutrients, which work to gently exfoliate skin and restore healthy hydration. Skin is left polished, firmed and beaming with radiance, whilst the delicious coconut scent transports senses to a tropical island.

Kylie Skin Hydrate Collection
Ensure that every day is a good skin day with the Kylie Skin Hydrate collection. This complete range of ultra-hydrating products is all you need to keep skin looking and feeling soft, plump and radiant, even at the worst of times.
Headlined by the cult-favourite Face Moisturiser and much-loved Coconut Body Lotion, you can easily nourish skin from tip to toe. So, what are you waiting for? Discover lavish creams and lotions, indulge in Kylie's signature scents and give your beauty routine the celebrity-style upgrade it deserves.
The Face Moisturiser from Kylie Skin is a must-have for your collection. Formulated with shea butter, hyaluronic acid, banana leaf extract, oat bran extract and orange peel extract, it works around the clock to hydrate and nourish skin. There's no such thing as heaviness, greasiness or oiliness with this moisturiser, as it leaves skin nothing but soft-to-the-touch.
Whether you use it in the morning to create the perfect makeup base or before bed for non-stop hydration while you sleep, it's your fast pass to a flawless complexion.
Bringing the benefits of a Hollywood facial to your home, this Hydrating Face Mask is more than an essential for your beauty routine – it's a necessity.
Kylie Skin goes above and beyond with this formula to ensure that your skin is soothed, moisturised and visibly improved. Bursting with all kinds of good-for-you ingredients, such as niacinamide, vitamin E, hyaluronic acid and shea butter, the face mask provides professional results, with minimal effort. Simply apply a thin layer to skin when your complexion is in need of a quick pick-me-up and look forward to revealing a fresh face.
One too many late nights? Kylie has the perfect remedy – one that will truly help you fake it 'til you make it.
The Kylie Skin Eye Cream ensures that you look bright-eyed and bushy-tailed, even on your off-days. The revitalising formula is packed with caffeine, green tea, vitamin E and pomegranate; an ultimate combo that effectively combats dark circles, puffiness and the appearance of fine lines and wrinkles. Peepers instantly appear brighter and more hydrated.
This Vitamin C Serum is the ideal option for complexions that are in need of a hardcore hydration boost. Powered by – you guessed it – vitamin C, the serum penetrates the deeper layers of skin and delivers longer-lasting moisture.
The antioxidant is also the best when it comes to brightening and improving the appearance of dull skin or uneven skin tone, making it a bit of an all-rounder. If it's good enough for Kylie, it's good enough for us!
Last but not least, we have Kylie Jenner's holy grail product. The superstar uses this Coconut Body Lotion every day, packs it in her bag everywhere she goes and swears it's the reason she receives so many compliments about her soft skin.
Dubbed as the 'formula that feels like a vacation', the body lotion moisturises and soothes skin with an ultra-nourishing blend of nutrients. The result? Healthy, youthful, soft skin that smells truly irresistible.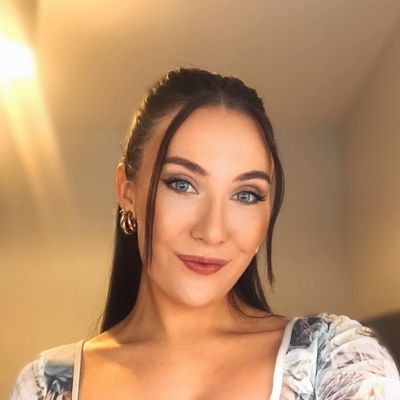 As the Senior Content Editor for Cosmetify, Carly is the go-to for all the latest (and greatest) beauty tips, tricks and trends. With over six years of experience in the industry, she knows all the ins-and-outs when it comes to health, beauty and wellbeing.