Easy and Simple Halloween Makeup Ideas
Easy and Simple Halloween Makeup Ideas
By Ellen Roberts-James
-
11 months ago | Updated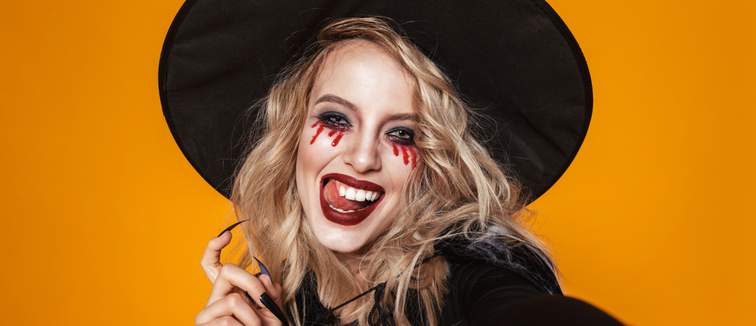 Halloween is just around the corner now, and the time has come to make that all-important decision: which makeup look to go for?
It's not always an easy choice – you don't want to repeat what you did last year, and you want a simple Halloween makeup look that won't take hours to create.
That's why we've put together a collection of easy makeup ideas here at Cosmetify so that you can transform in minutes.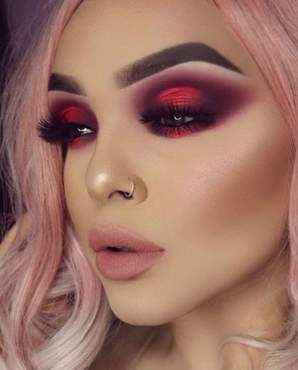 1. Devil
You don't have to paint your entire face red to go as Lucifer this year! A simple red smoky eye will do the trick for an air of devilish mystery. Team with dark red lips, some serious contouring and a pair of horns and you'll be ready to go in no time. (Image: Pinterest)
Pair with some spooky nail art and you'll be looking devilish from head to toe.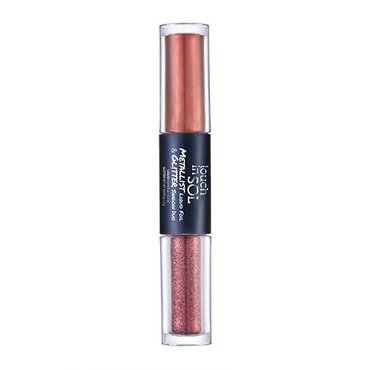 touch in SOL Metallist Liquid Foil & Glitter Shadow Duo
Touch in SOL Metallist Liquid Foil & Glitter Shadow Duo in Adelio has got you covered, blend across the eyelids with some darker pigments for a bold rouge look.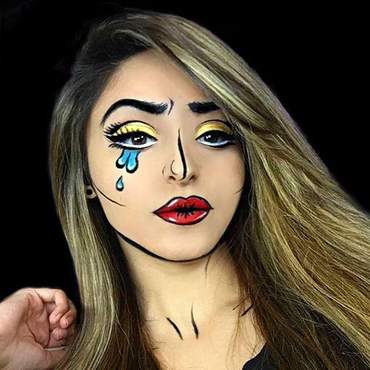 2. Pop Art
It looks crazy effective, but trust us, this Pop Art Halloween makeup look is actually super easy to create! You need a good liquid eyeliner, and preferably a decent colour palette, plus some enormous lashes. Draw a few bold lines on the jaw, cheekbones, collarbones, and around the eyes, nose and mouth. Highlight these with a few white dashes, and know that Roy Lichtenstein would be proud. (Image: Pinterest)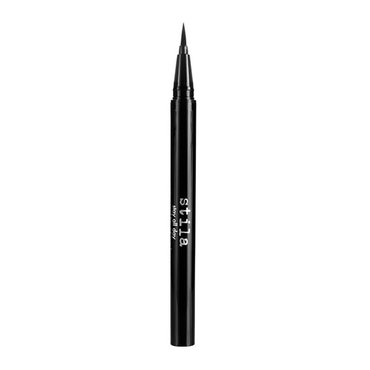 Stila Stay All Day Waterproof Liquid Eye Liner
Stila Stay All Day Waterproof Liquid Eye Liner is the perfect brush shape to getting those sweeping bold lines. Better yet, this waterproof liner won't run and is sure to stay put all night long.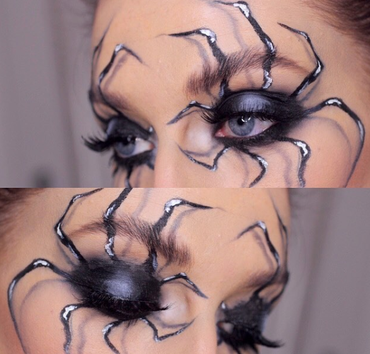 3. Spider Eyes
Simple yet effective, these quick Halloween eyes are so easy – great if you're strapped for time! Start by creating some statement smoky eyes and applying some huge spidery lashes, then grab yourself a good black eyeliner and carefully sketch out eight bendy legs come out from each eye. (Instagram: @spryormakeup)
Complete the look with some seriously vampy lipstick and you'll be good to go.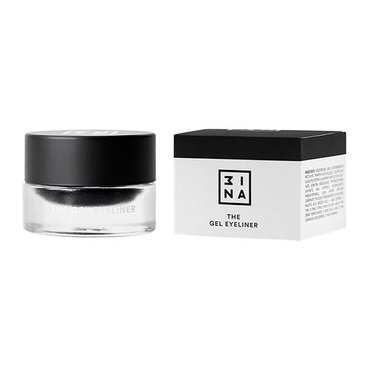 3INA The Gel Eyeliner
Gel eyeliner is just the thing to create a deep smoky eye with those spindly legs crawling out. 3INA The Gel Eyeliner is perfect for not smudging or fading, so your spider eyes aren't going anywhere!
4. Leopard
Impressive Halloween makeup starts here, and it's so simple to achieve this sexy Halloween go-to. Grab your eyeliner and fix some feline flicks, a little kitty nose and a few whisker dots. A big glossy mane will polish off the look perfectly.
You can really mix things up with the cat look. A leopard look is easy to achieve with a few black spots filled in with darker brown pigments to give the effect of leopard-print spots. But, if you prefer, a tiger or panther would be equally fabulous. (Image: Pinterest)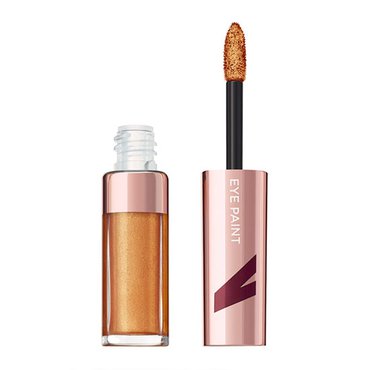 L'Oreal Paris Infaillible Eye Paint Metalista
Get those leopard-print spots just right with L'Oreal Paris Infaillible Eye Paint Metalista. This metallic hue in Rude Boy (though we love Man Down too!) is great for getting those brown and gold pigments. Partner with black crescent shapes and watch those spots come to life.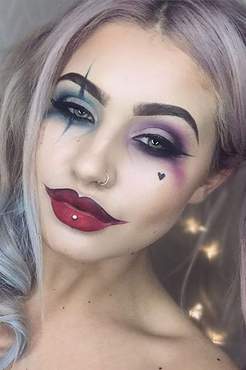 5. Harley Quinn
Take a tip from the girl literally knows how to slay. A simple pink and blue eyeshadow combo, some black eyeliner and plump red lips are all you need for this easy Halloween makeup look. Use your eyeliner to add the love heart eye detailing, and then make sure your brows are big and bold to frame your masterpiece shadow. Add a splash of temporary colour to some pigtails and you're good to go! (Image: Pinterest)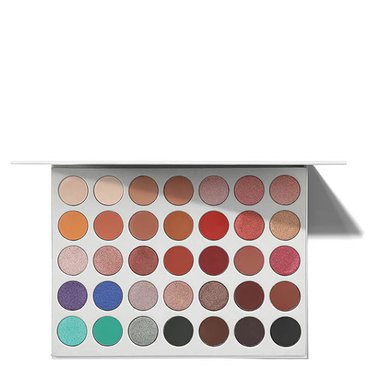 Morphe The Jaclyn Hill Eyeshadow Palette
Morphe's The Jaclyn Hill Eyeshadow Palette has all the pinks, blues and purples to help you nail this look. With one eye smeared in blue and the other pink, you'll be summoning your inner Margot Robbie in no time at all.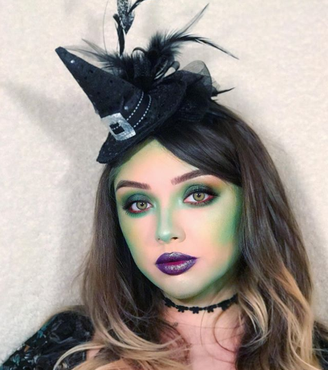 6. Witch
It's an all-time classic: the witch is a Halloween costume favourite, but it's not always so appealing to have to slather on a face-load of green paint – and now you don't need to! This simple makeup look couldn't be easier to achieve, all you need is a small pot of green face paint or a green eyeshadow and start dabbing it on to the bones of your face. If you want to add a bit of the mystical to your makeup look, try some glitter and super fluttery lashes.
Finish off with some spooky green smoky eyes and dark purple lips and you're ready for the witching hour. (Instagram: @missbellablu)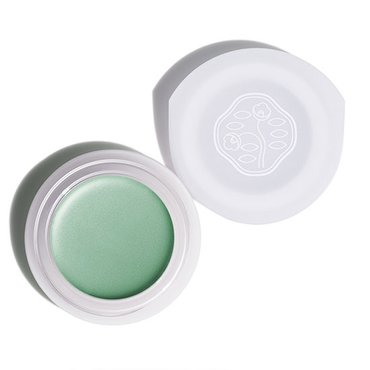 Shiseido Paperlight Cream Eye Colour
Shiseido Paperlight Cream Eye Colour in Green is your best friend for this look. Simply apply to the contours of your face and blend with some green glitter if you like too. A cute witch's hat is all you'll need to top this look off. It doesn't get much simpler than that!
So there you have it – a few ways to get yourself Halloween-ready in no time at all, without having to spend a small fortune. If you're still stuck for inspiration, or think you might want to go for something a bit more extravagant, why not check out our Top 10 Halloween Makeup Looks? Happy Halloween!
Subscribe and follow
Get the latest beauty news and offers.