How To Pull Off Witch Halloween Makeup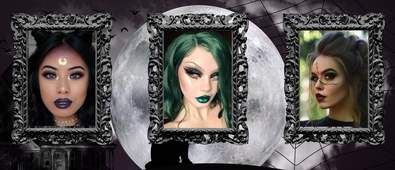 Believe it or not Halloween is just right around the corner – I know, we don't know how it's that time of year already, but we're so ready for spooky season.
Whether you're hitting the town, having friends over or curling up with your favourite scary movie and handing out candy, there's no reason you can't get into the spirit with a witch makeup look. Don't panic, there doesn't have to be green face paint (unless you want there to be!). With so many iterations of the classic Disney witch in pop culture, there's a look to suit everyone's tastes and abilities, from an easy-peasy tutorial to something more gothic glam to that full-on green face paint most of us are scared of.
If you prefer to stay looking mega cute or want to pile on the wrinkles and green skin, we've got you covered. Here are ten easy witch makeup ideas that'll make you look totally spellbinding this Halloween.
1. Gothic witch makeup
Dark lips? Dark eyes? Bold brows? Check, check, check. At Cosmetify, we love black lipstick you can wear all year round, but even more so at Halloween. This gothic glam look give us the perfect excuse to whip out the black lipstick (or deep purple or blue if you prefer) and recreate our best moody Judy look.
Plus, making it witchy is a breeze with just a bit of gold eyeliner, face paint or glitter for the upturned crescent moon. We love the metallic and smudge-proof Hydra Liner from SUVA Beauty for this, applied with a pointed eyeliner brush.
Get the look:
Want to create your gorgeously gothic & glam look for less? Check out our page of makeup discounts and set an alert to find out about price drops.
2. Easy green witch makeup
If you still want to give off green witch vibes a la Elphaba/The Wicked Witch of the West without smearing yourself in face paint, then we've got you covered with these easy witch looks. All it takes is some green lipstick, green eyeshadow and, if you want to go the extra mile, some green hair dye or a wig.
Spice it up with some abstract graphic liner as shown here, or even some spider webs for an extra spooky sexy look.
Get the look:
3. Wicked Witch of the West Makeup
If you want to be a little extra this year (or every year, who are we kidding?), take the previous green makeup look to the next level with a true wicked witch costume. Think spooky green and black hues. And if you don't want to buy face paint or don't like how nasty some cheap brands can look, just mix green eyeshadow with your foundation for an easy witch face paint that comes off just like regular makeup.
This look is easy to spice up with glittery shadow and some black eyeliner as shown, and why not a manicure with black nail polish? And to transform it into a basic witch look, all you have to do is keep the hat and ditch the face paint!
Get the look:
4. Old school Hollywood witch makeup
I mean, is it even Halloween if you don't get your annual viewing of Hocus Pocus? Winifred is the leader of the Sanderson sisters and has the most iconic look with big red curls and a pop of red lipstick. Why not rope your two besties into it so you make the troublesome trio into a reality?
Get the look:
5. Glam witch makeup
Proving that Halloween witch makeup can still be elegant, all this glam witch makeup takes to create is a monochromatic sultry red eye and liquid lip combo. We're obsessed with that pop of shimmer on the lids and the killer false eyelashes. Dark lipsticks are not only ideal for witch costumes, but also great if you want to try an everyday vampy look this spooky season.
Get the look:
6. Pretty witch makeup
Ok ok ok, we know this one is pumpkin spice and everything nice, but it's just so cute, and witches certainly don't have to be evil. The autumnal colours are giving us friendly-witch-out-for-a-walk-in-the-woods vibes. To recreate this look, all you need are some eyeshadows in the terracotta family and a matching irresistible brown lipstick - two autumn staples you probably already have in your collection (and if not, you'll definitely want to add them to it ASAP).
If you've already got blonde or bleached hair, or are so in love with this vibe you're willing to bleach your hair, grab a bottle of peachy semi-permanent dye to really commit to the autumnal witch look.
Get the look:
7. Sorceress witch makeup
Spooky doesn't have to be all blood and gore (plus, blood is a lot more difficult and messy to pull off and we're here for the easy looks!). Instead opt for a wickedly enchanting look like this druid-y, enchantress-y one. You'll look fab (and a little scary) out at night with your cloak billowing around you and strange markings on your face. To achieve this makeup, you need a liquid eyeliner and a steady hand, but anything's easier than doing a cat eye, right? If you want to elevate it, why not add contact lenses?
Get the look:
8. Good witch makeup
Witch costumes don't have to always be scary, as we've already proven with our Pretty Witch look. Take a little inspo from Glinda. We love the cute facial glitter and gems makeup as shown here on fashion blogger Nyane Lebajoa. Combine the pretty flush of blush and the shimmering flecks of silver for a glamorous and ethereal take on Halloween.
Get the look:
9. 90s witch
As if we'd forget about The Craft. Whether you were more a Willow or Sabrina fan, you can totally recreate a 90s look with a witchy spin on things. Think grunge-y makeup, with plenty of kohl eyeliner - and a brown lip, duh! And don't forget the must-have 90s choker and long leather jacket.
Get the look:
10. The Chilling Adventures of Sabrina witch makeup
Okay, this is literally the easiest witch makeup ever. All you need is a headband and some red lipstick to make yourself known as Kiernan Shipka's portrayal of Sabrina Spellman, but why not take it up a notch with a blond wig (or, if you're up for a more permanent change, bleach your hair and then tone to icy goodness with a white hair toner). A red dress and book make for quick and cheap accessories!
Get the look:
And there you have it, ten witchy looks to get you in the spooky mood this season. Which is your favourite?
If you want even more Halloween inspo take a gander at our Beauty Hub, or have a look at more easy Halloween makeup ideas, or the best devil Halloween makeup looks and how to get them.
Related Categories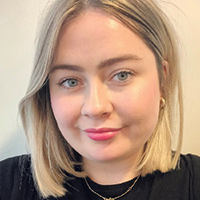 Rebecca is a content writer with over three years' experience and a keen interest in cosmetics. Cosmetify allows her to combine her blogging skills with her passion for beauty.