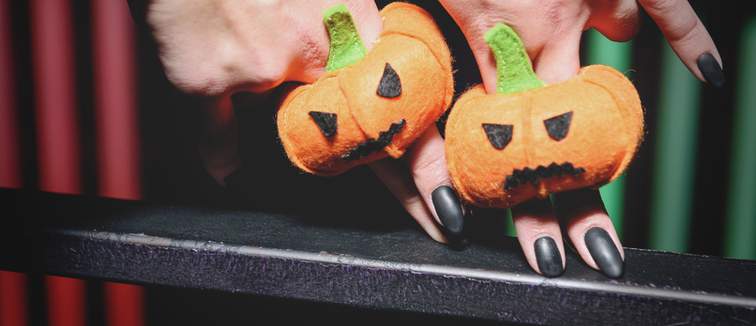 When it comes to Halloween, we like to go obsessively overboard. That means as soon as October 1st arrives, everything that was once normal gets a spooky spruce – even our nails.
Whether you're adding the final frightening touches to your costume or in need of some last-minute ghoulishness, a spine-chilling manicure is what will really get you noticed.
So, to help you get into the scary spirit, we've done the rounds and compiled a gallery of incredible Halloween nail art.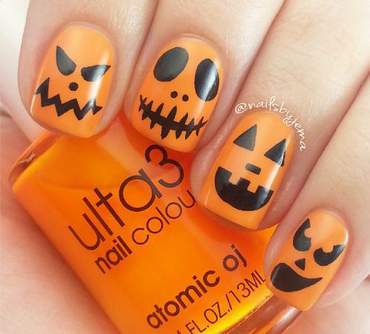 Pumpkin polish
It's not really Halloween until you get your hands on a pumpkin – or in this case, vice versa. This pumpkin-inspired nail look is perfect if you're dressing tame this year and want to add a pop of cute and festive colour to your costume. (Image: Pinterest)
Get the look: Essie Nail Colour 67 Meet Me at Sunset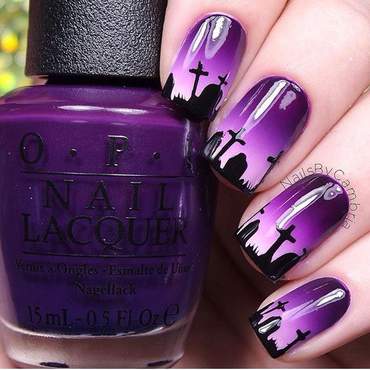 Haunted hands
Give your hands a taste of a haunted cemetery with this eerie creation – it's surprisingly easier to achieve than you think. Simply coat your nails in a deep purple paint, grab some scary stencils and match with a zombie outfit for a seriously mysterious manicure. (Image: Pinterest)
Get the look: IsaDora Wonder Nail Wide Brush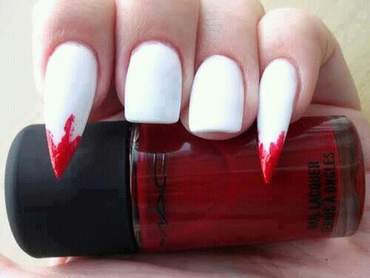 Vampy varnish
If you're new to the nail art game, then this DIY manicure could be your Halloween go-to. Subtle, easy and, of course, viciously vampy, this is a creative design that will give ultimate Dracula vibes. (Image: Pinterest)
Get the look: Elegant Touch Totally Bare - Almond 008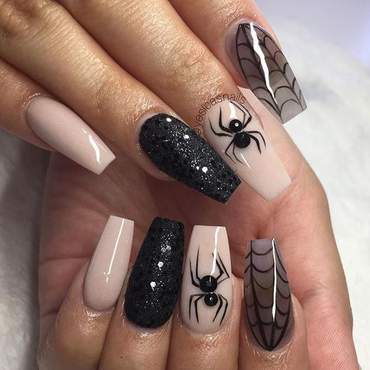 Cobwebbed coffins
Coffins covered in cobwebs – we really couldn't get any more Halloween-y if we tried. Creepy crawlies are enough to give anyone the jitters, which is exactly why we love this dark manicure for a spider-phisticated look. (Image: Pinterest)
Get the look: ORLY Faux Pearl Nail Varnish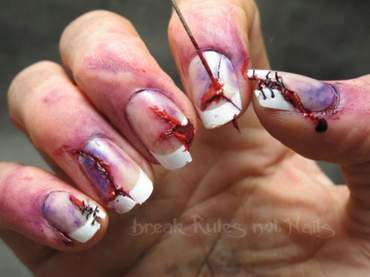 French mani-gore
Not for the faint-hearted, this classic manicure takes a gory twist – and it's probably the only time you'll ever get away with cracked and broken nails. Perfect for a dose of dramatic horror, this spook-tacular design will 100% give the scare-factor. (Image: Pinterest)
Get the look: Elegant Touch Nail Saviour - Stiletto French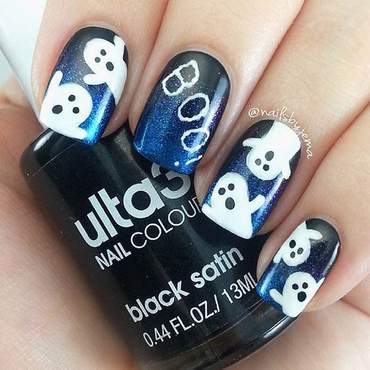 Ghosts 'n' ghouls
This is one to pair with the super last-minute costumes – and yes, we're talking about that makeshift white bedsheet with crooked eyeholes. Simply transform sparkly ombre nails into a boo-tiful ghoulish design. (Image: Pinterest)
Get the look: essie Nail Colour 92 Aruba Blue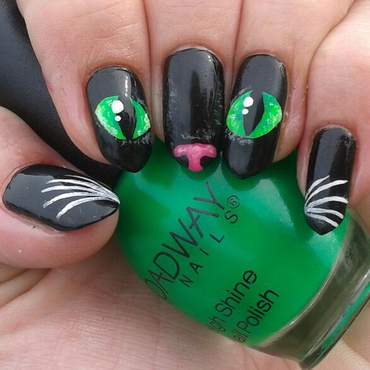 Catty claws
Forget the pretty paw prints, it's time to get your claws out – literally. This catty creation pairs well with a stiletto shape and is an obvious nail look for the die-hard cat costume fans. (Image: Pinterest)
Get the look: Morgan Taylor Ivy Appliqué Nail Lacquer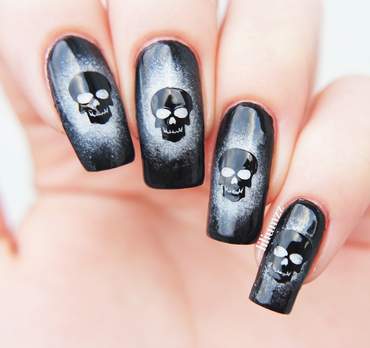 Spine-chilling skulls
If Halloween isn't really your thing but you don't want to feel totally left out then try giving yourself a skull-inpsired mani. It's a classic bone-chiller that's not too dramatic, but still provides a rock-chic feel. (Image: Pinterest)
Get the look: essie Nail Colour 88 Licorice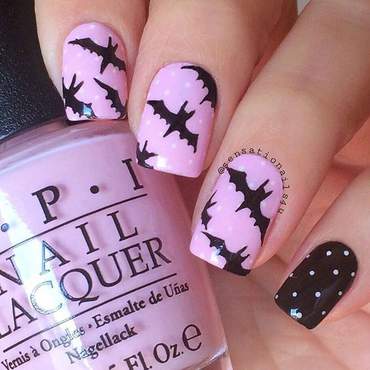 Na na na na na na na na Bat-hands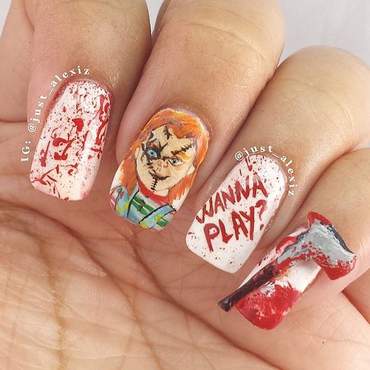 Hair-raising horror-inspired
These horror movie-inspired hands are the ultimate match for the girls and boys that spend time on the all-important details. Perfect for the Halloween-obsessed, you can bring your favourite horror films to life – although Chucky is pretty good at giving us the creeps.
(Image: Pinterest)
Get the look: Rimmel Kate 15 Year Collection Super Gel Nail Polish
So, there we have it: 10 fantastically frightful nail art designs. Halloween comes with no rules, so this is the perfect time to get your creative cauldron out – the more gruesome, the better.
Read more
Subscribe and follow
Get the latest beauty news and offers.