Hottest Nail Trends of 2022
10 Popular Nail Trends from 2022 That You Still Need to Try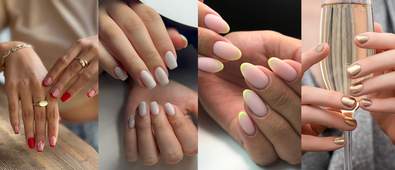 Just because the nights are long and cold (and the days are short and cold) doesn't mean that you can't flaunt feel-good fingertips for a little pick-me-up. They look cute peeking out of chunky knits around a steaming mug of cocoa or make the perfect accessory to a glittery NYE outfit.
After a whole year of nail trends that have totally wowed us, we've scoped out the most-searched designs so you can plan your next nail polish look. Here are our top 10 nail trends from 2022 that will claw their way onto your fingertips!
1.Hailey Bieber Glazed Donut Nails
Try this pearlescent manicure to channel the TikTok-viral look sported by Hailey Bieber at 2022's Met Gala. All you have to do is apply a light neutral shade and top with a chrome powder or sheer metallic colour, giving you something that looks like a yummy glazed donut!
Get the look:
2. The Red Nail Theory
Red nails of all shades are nothing new, and that's actually part of the reasoning behind the Red Nail Theory. Content creator and marketer GirlBossTown shared this theory to TikTok, saying that men notice women more when they're wearing bright red nail polish because it reminds them of their mothers wearing it during the height of its popularity. Red is also typically associated with love and passion, so there's that too. Either way, our manis are for us, not for the lads, right?
There's something so timeless about a bright, true shade of red, and if you're in love with vintage or French aesthetics, this is definitely a shade to wear to ring in the new year.
Get the look:
3. Milky Mani
The hottest trend from the hottest months, milky nails ruled the summer of 2022 and we don't want to say good-bye to them yet. The perfect subtle accompaniment to any minimalist or clean girl aesthetic (or any aesthetic really, as they're so nice and neutral), this creamy shade looks good on all skin tones and was the favourite of celebs like Lizzo this summer.
You can tweak this shade to be anything from milky white to a pink tinge (strawberry milk, maybe?) to suit your style, then just swipe it on and you're ready to go!
Get the look:
4. Chrome Nails
Call us basic but this trend is one we just love around the holiday season, when tinsel is in the Christmas tree and glitter is on everyone's eyes or outfits come New Year's Eve. Having nails that look like mini-mirrors is cool any time of year though, whether you wear them in typical silver or try out a bright gold or copper for something a little unexpected.
Whilst we may not go to the lengths of Gigi Hadid and her $2000 Met Gala chrome manicure, complete with crystals on the back of each nail, this shiny trend still makes us feel tres chic.
Get the look:
5. French Tips Revived
A timeless classic this minimalist look has made a huge comeback with a series of hot, new twists. Featured on the fingers of the likes of Bella and Gigi Hadid, this super simple yet super cute look is here to stay. You can enhance your fingertips with the classic white french manicure tips. Or if you're feeling bold why not try new styles such as the double French, the colour block or a coloured tip? Pink French tip nails have been especially in throughout 2022.
Need a helping hand? Check out our guide to creating the perfect DIY french manicure.

Get the look:
6. Gradient Mani
A mismatched manicure has been present in the world of fashion for a while now. With all this free time to experiment, painting each individual nail with different colours sounds like fun. Embrace a feel-good and vibrant vibe that will enhance any outfit or hair colour. By pairing pretty pastel shades you can achieve this hot look just in time for Easter with these egg-cellent nails.

Get the look:
7. Ombre Nails
You've heard of ombre hair but this year it's all about ombre nails. Be artistic and experiment with the transitions of bright hues that will take your nails to the next level. Express yourself with duo-coloured fingertips and achieve this look by keeping colour mixing in mind. Simply blend the colour onto your nails over the base coat with a makeup sponge for a two-toned effect.

Get the look:
8. Brown and Nude Nails
Rich chocolates and warm nudes are seeing a revival in clothing, lipstick, nails - you name it - and we're pleased as punch that these cocoa coloured shades don't seem to be going anywhere soon. Nail polish brands are providing us with infinite choices of this shade that complement every skin tone. Whether you want a glossy finish or a matte-effect, these shades are oozing with elegance. And for a chocolate version of the aforementioned glazed donut trend, a metallic finish won't go amiss.
Get the look:
9. Negative Space/Half Moon Nails
Another retro trend that has returned: the negative space look is for the girlies that love a minimal look.
What's even better, plenty of false nails already have the design ready for you, saving you even more time and effort. Easy to apply and effortlessly popping off when you're ready to refresh your manicure, this is a go-to manicure for the modern gal.
A tweak on this trend is the half moon, where the half moon shape on your nails is accentuated by either leaving this shape out when painting or using a different colour on it and painting the rest of the nail nude. This one requires a little more finesse, so we won't blame you if also reach for a set of false nails or hightail it to the salon.
Get the look:
10. Animal Print
An ongoing trend, animal print nails have left their pawprints on our hearts for a while. Whether you're seeing spots or stripes this look is here to stay. Keep an eye out for 90's cow print that's making a swift come back, it's udderly fabulous. These sassy leopard print stickers are stylish and playful. Simply add a quick drying top coat to achieve the shiny look. And with endless patterns to choose from that even match your face mask, why not unleash your inner wild side?
Get the look:
There you have it, the fabulous and freshest nail trends that will hit up your fingertips this year. If that's not enough to get you through until the nail salons reopen then why not get summer-ready with The Best Summer Nail Colours?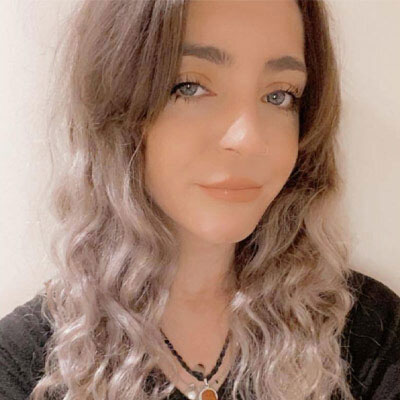 With a passion for all things beauty and makeup, along with a degree in creative writing, Julia is a great source of knowledge about the latest must-have products.