The Best Shower Gel For Men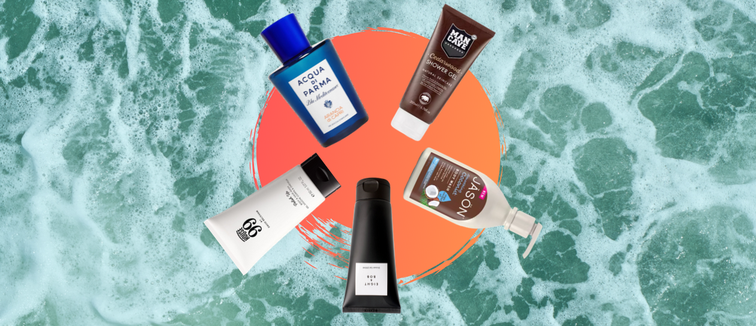 As men, we're not renowned for our wholehearted embrace of self-care products. Dewy what? Nah, you're alright mate.
The notable exception, of course, is shower gel. Try cutting that out of your routine and you're likely to experience something akin to a Lynx ad in reverse, as the surrounding crowds scramble to get away from the bloke with rapidly fermenting underarms.
Not that it has to be couched in such negative terms. The right cleansing formula can set your day up perfectly, ensuring that you head out onto the street with citrus resounding in your nose, skin that radiates cleanliness and a dayful of optimism brimming in your chest. Or perhaps you'll simply find one you like and then not give it another thought for the next few thousand washes. That's fine too.
So what's the best shower gel for men? Here are a few of our top picks.
1. ManCave Natural Cedarwood Shower Gel
Affordable, nastiness-free and finished with a masculine cedarwood scent, what's not to love about Mancave's spin on the classic shower gel? As hydrating and moisturising as it is rejuvenating, this is a formula that's as at home in the post-gym shower as it is first thing in the morning.
2. House 99 Polish Up Body & Hair Wash
We're happy to defer to Mr Beckham on most things grooming-related, with this body and hair wash being no exception. A fusion of such key ingredients as spirulina, quinoa and menthol ensures that your skin is packed full of natural nutrients in super-quick time – perfect for the man with everything to do and no time to do it in.
3. JASON Smoothing Coconut Body Wash
Nothing comes close to matching botanical solutions as far as JASON are concerned. That means a healthy dose of unrefined, virgin coconut oil, blended together with shea butter and vitamin E to support exceptionally well-hydrated, soft-to-the-touch skin. For some, the thought of a JASON in the shower evokes images of Friday the 13th's famous slasher. Thankfully, that's a long way from being the case here, as the exceptionally caring gel makes your shower experience an entirely happy one.
4. Acqua di Parma Arancia Di Shower Gel
If the previous options weren't entirely your bag, then how about something else entirely: a shower gel with the fragrance and refinement of an exclusive eau de parfum. By distilling the aromatic refinement of Acqua di Parma's Arnacia into a shower gel, the perfume house allows the scent connoisseurs among us to carry a touch of class into everything they do.
5. Eight & Bob Shower Gel
There's a lot to admire in every one of these shower gels, but none can match the backstory of this one. Created expressly for the use of JFK (and his brother, the eponymous Bob), an element of old-world glamour is inherent in every inhalation of the aroma, aided and abetted by a skin-quenching infusion of Hidrovition PLUS active. This blend of special plant extracts has an intensely moisturising effect on the skin, restoring it to peak radiance.

Shower gel shouldn't have to be complicated and, sure enough, it really isn't. Simply pick the formula that best matches your own values, budget and style, and enjoy day after day of cleansed, fragrant skin. That, of course, only provides the base, so check out our rundown of the year's best aftershave and colognes if you want to layer up your scents into an aromatic signature that boasts real depth and dimension.
Related Categories