Best Cosplay Makeup Looks to Take Inspiration From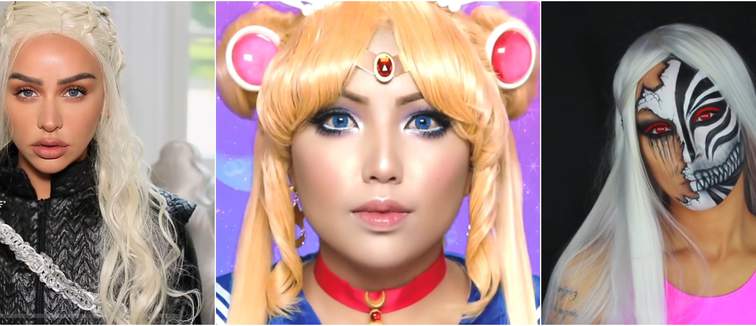 With London's 2019 Comic Con just around the corner, many of us are scrounging through our wardrobes in an attempt to find something, anything, that can be rearranged into an epic outfit. But when inspiration runs dry and you can't afford to recklessly splurge on that authentic £700 Spider-Man costume, it's time to check out Cosmetify's selection of the best cosplay makeup looks.
Spider-Man
Save yourself a pretty penny or two by opting for this *relatively* easy makeup tutorial. The key here is to use a precise liner pencil to create the guidelines of your initial design. We love NYX Professional Makeup White Liquid Liner as it boasts pigment, longevity and a broad range of colours. Opt for shades '01 White Pearl' to outline and fill in your spidey eyes.
The Joker & Harley Quinn
Going as a couple? Link your outfits with this dynamic duo ensemble. For nailing Harley Quinn's iconic red and blue pigtails, we recommend choosing the budget-friendly, temporary (yet extremely pigmented) I Heart Revolution UV Neon Hair Make Up. And for the Joker, use the Rimmel Exaggerate Waterproof Liquid Eye Liner to fill in those iconic body tattoos.
Daenerys Targaryen
Obviously the main part of this look is going to be the platinum blonde hair, but Dany's statement brows also complete her iconic image. Dramatically define and darken your brows with Benefit Brow Zings Kit in Deep. Looking for more GoT inspo? Check out The Most Iconic Game of Thrones Hairstyles for some serious hair envy.
Poison Ivy
Sure, there's probably going to be a few Poison Ivys strolling around Excel London but with the Lime Crime Venus XS Palette, you're sure to stand out. Follow Kayleigh Noelle's epic transformation to nail this sultry look.
Sailor Moon
There is one essential accessory you need when trying to get those anime-esque eyes: false eyelashes. Nothing recreates that doe-eyed, angelic look like a decent set of false lashes. For a dramatised finish, try out the Ardell Studio Effects Wispies.
Khal Drogo
When you're creating all-out, extreme makeup looks, a professional brush kit is essential. Those fine lines, detailing and shading need the expert precision of a tailored brush selection, which is why Sigma have created the ultimate 'essentials' kit. The Sigma Beauty Best of Sigma Brush Set is a must-have for both extreme looks and everyday touch ups, elevating your application game to a higher level.
Storm
Create those lightening bolt lines for a character costume that cannot be misidentified. We suggest using a white liquid liner like @onlinekyne does in her tutorial before adding a shimmering coat of glitter liquid eyeshadow for that final pop of glam. Our go-to is the NYX Professional Makeup Glitter Goals Liquid Eyeshadow.
Ichigo
Achieve that deadly pop of red with a pigment that wont let you down. NYX Professional Makeup Modern Dreamer Eyeshadow Palette has all the shades you'll need including that bold red hue. Play around with long-lasting, buildable shades for the perfect scary finish.
Princess Jasmine
Here's one for the girly girls. For this video, all you need is to essentially apply a full face of Arabian-inspired glam before topping it off with some volumising, dark hair extensions (because let's be real, no one has hair as thick and luscious as a Disney princess). The Beauty Works 18 Double Hair Set Clip In Extensions provide extra length and volume for you to style, giving you ultimate princess vibes.
So, whether you're keeping it lowkey or going all out, just know that the world of vloggers have you covered for some of the best backup cosplay makeup looks.