Slick Back Hair Styles for Men
12 Ways to Rock Slick Back Hair for Men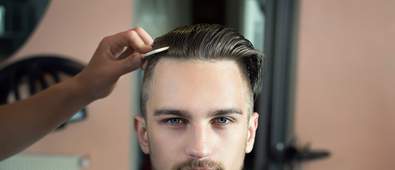 Let's face it, a man who can pull off the slicked back hair look with some hair wax and gel always looks cool: Justin Timberlake, David Beckham and Shia LaBeouf have all elegantly showcased this sophisticated style at some point in their career. If you've always fancied giving it a go but haven't quite had the confidence to pull the trigger, have a look at these styles for inspiration - and make sure to check out our guide to hair gels and waxes for more tips!

1. Classic Slick Back

Jon Hamm may play quite an unpleasant bloke in Mad Men, but he certainly looks very handsome while doing so. This was the most fashionable look in the 60s and 70s, and partly thanks to the hit TV show, it's making a comeback. It's a pretty easy style to replicate: just get hold of some long-lasting and strong-holding hair gel and lather it over your locks.
GET THE LOOK:

2. Modern Slicked Back Undercut

The modern undercut (AKA the 'Ice Gem' style – although we think that's a little unfair) has become the quintessential haircut for Millennials. The style is more frequently seen the further south you head in the UK – a night out in London wouldn't be complete without hundreds of lads sporting this look. Though, few of them look as good as Becks does here.
GET THE LOOK:

3. High Fade

The high fade slick back hair is a popular look, especially when accompanied by a thick beard or some well-groomed facial hair. It's one of the easiest styles to maintain – a trip to the barbers every few weeks should keep you in check, unless you're particularly skilled with the hair clippers.
GET THE LOOK:

4. Versatile Undercut

This style isn't quite as pronounced as the modern undercut, but follows a similar theme. The fade is subtler, transitioning seamlessly and effortlessly into the slicked-back look.
GET THE LOOK:

5. Long Slick Back

For those of us with long hair, slicking it back may seem like the last option available. However, as this lad has proved, it's a style with lots of appeal – especially if you've got fine and smooth locks to sculpt. It's definitely worth giving a go if you're trying to smarten up and, top tip: it looks particularly good with a suit.
GET THE LOOK:
6. Peaky Blinder Slick Back
The Peaky Blinders are arguably some of the coolest fictional characters to grace English TV, and although they may be volatile, erratic and slightly murderous, they have great hair. When he removes his famous cap, Arthur Shelby (Paul Anderson) reveals a striking, distinctive undercut that showcases raw charisma. Not everyone can pull off this style, but if you can, you won't regret it.
GET THE LOOK:
7. Dyed Slick Back
The best way to make your slick back hair stand out is by dying it a different colour. If you're curious but not quite confident enough to reach for the bleach, start with just the slick back hair and save the dye for Phase Two.
GET THE LOOK:

8. Low Fade

The low fade undercut is essentially a neater version of the modern slicked back undercut. It's ideal for those nights when you're aiming to impress in your perfectly fitted shirt and trousers.
GET THE LOOK:

9. Undercut with Beard

As the undercut becomes increasingly fashionable, so does the thick beard – so why not merge them? For defined undercuts like the one above, a thick and full beard adds an unkempt masculinity to create an adventurous and outdoorsy vibe. We appreciate that it's a lot of effort to groom slick hair and a bushy beard, but trust us, it's worth it. Our ultimate guide to men's grooming will help make sure you don't make any wrong steps, too.
GET THE LOOK:

10. Wavy Slick Back
Much like long hair, the wavy slick back seems an unlikely style, but the added texture and ruggedness gives it a unique quality that stands out from the crowd. And don't forget: having the confidence to try a striking style evokes plenty of sex appeal. It will be no surprise if you get more attention than your mates with this look.
GET THE LOOK:

11. Tapered Fade
This style was ubiquitous across Latin America in the 80s, and although less common today, we're starting to see it make a comeback. Help keep the bandwagon rolling and adopt it as your latest style.
GET THE LOOK:

12. Side Parting

This may not be a quintessential slicked back style, but the side parting is becoming increasingly commonplace in modern business offices. Accompanied by a sharp grey suit, this look leaves a lasting impression.
GET THE LOOK:
More male grooming tips

As you can see, the slicked back look doesn't have to be restricted to the classic style your granddad probably had. There are a variety of ways you can make this look your own, and you'll probably end up wishing you'd joined in with the slicked back hype years ago. Make sure to check out our full range of beard care and hair styling products for that finishing touch.

After more hair inspiration? Take a look at some of the Most Popular Short Hairstyles for Men.
Related Categories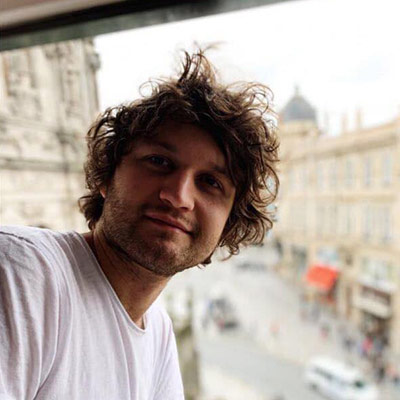 After six years of experience in content writing, Luke followed his passion for male grooming, particularly fragrances, hair styling and natural skin care.