The Best Armani Perfumes, Ranked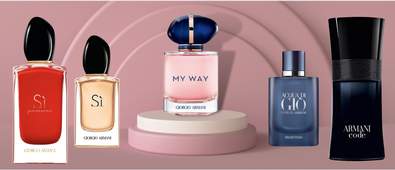 Giorgio Armani sits at the very top of our wish lists each year as they have created a plethora of cult-followed fragrances that we simply want and need (Armani Si Eau de Parfum, we're looking at you).
The brand itself is synonymous with luxury and elegance, with each fragrance working to enhance our natural radiance by lacing our skin with lavishness. In doing so, they have also reinvented the world of fragrance by producing some of the most iconic scents to date.
From their sell-out Giorgio Armani Si collection to the legendary Armani Stronger With You fragrance, Armani have become innovators in creating some of the best scents for men and women alike.
Below, we have rounded up a definitive list of the best Armani perfume so that you can find your new signature scent.
Best Armani perfumes for women: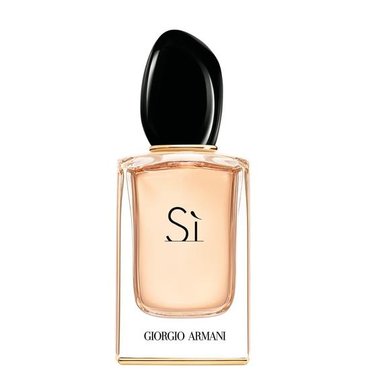 £55.00

£57.00

(4% off)
Of all the Giorgio Armani perfumes that the brand has produced, Si is by far our go-to for those extra special occasions. Boasting a range of deeply sultry accords, this eau de parfum wears beautifully throughout the day and into the night, never wavering in strength. The mix juxtaposes femininity with masculinity to create a powerful and striking balance of tantalising notes.

We prefer this as an evening scent or for the days where we require a little extra boost of confidence.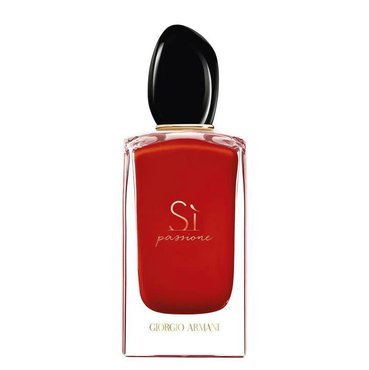 £52.99

£55.00

(4% off)
The Armani Si collection gets bigger and better as the line-up extends with Si Passione. A bright and sensual take on the original fragrance, Si Passione emits confidence, seduction and strength. Giving the wearer the same self-assurance that a swipe of red lipstick can, this perfume is ideal for date nights. Spicy pink pepper and radiant pear combine with rose, jasmine and heliotrope for a strong feminine scent, while vanilla and cedarwood bring the warm, sensual accords that make you truly irresistible.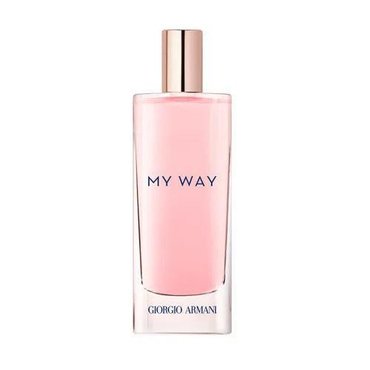 £56.99
The My Way by Giorgio Armani composition has won over the hearts of our beauty editors (and made its way to the top of our Xmas lists, too!).
Bursting with luminous notes of tuberose and jasmine, this sparkling feminine scent is ideal for the modern-day woman that thrives off of new opportunities and encounters. A sweet yet musky base contrasts the floral heart to add a striking warmth that commands attention. Ideal as an everyday scent.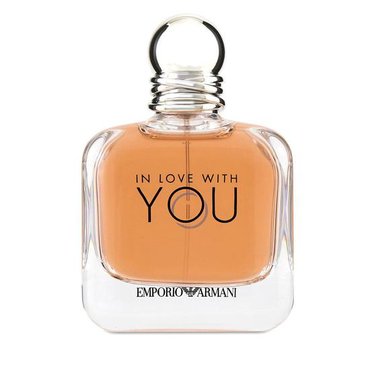 £63.72

£72.50

(13% off)
Lovers of all things fruity - this one is for you! This bedazzling new scent from Armani acts as the female counterpart to the iconic Armani Stronger With You blend, combing oriental cherry accords with notes of jasmine, vanilla and black cherry.
As with all Armani fragrances, this EDP presents a sophisticated edge that can be worn for both day and night events. This special scent is for the women that dare to dream big, providing a sensual fragrance that mesmerises as it wears.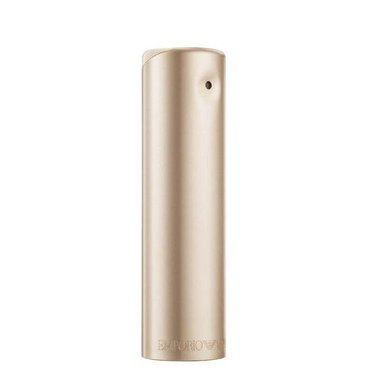 £52.50

£65.50

(20% off)
If you're looking for a fragrance that oozes timeless femininity, allow us to guide you towards the Emporio Armani She Eau de Parfum. A real tender, second-skin, sensual scent, this is perfect for the ladies that love a delicate but distinctive perfume.
The floral-amber powdery perfume fuses heliotrope with juicy pear before connecting to a modern cedarwood accord. A touch of white musk gives the fragrance its sensuality which cannot go unmissed. The rose gold-tinted bottle also looks elegant on any table dresser, and even better when paired with its counterpart, Emporio Armani He.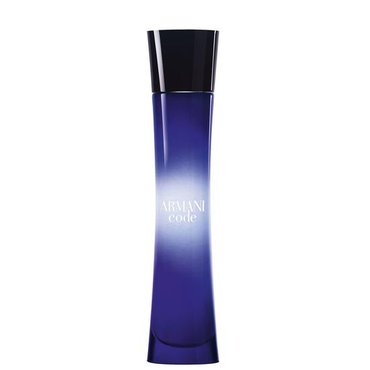 £46.00

£60.00

(24% off)
Capturing the elegance of a red carpet Giorgio Armani dress, Code Femme is the ultimate evening fragrance. Made for the unstoppable sophisticate, the perfume is bursting with powerful feminine notes, including jasmine and orange blossom. A honey and vanilla blend refine the scent with warm accords for a finish that is sensual but simple. A few spritzes of Giorgio Armani Code Femme is all that's needed for main character energy.
Best Armani perfumes for men: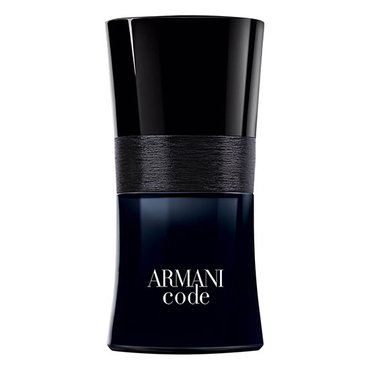 £18.83

£30.00

(38% off)
Giorgio Armani Code Eau de Toilette is the cologne that lets everyone know you have arrived to the party. Much like saving your best blazer, tie or pair of shoes for memorable events, this perfume should only be showcased on special occasions.
Top notes are fruity, as they consist of lemon and bergamot, whilst the heart sees tonka bean, tobacco and leather provide a rugged, masucline aroma. Guaiac wood, olive blossom and star anise complete the scent, emitting a sensuality that'll undoubtedly get you noticed. This award-winning fragrance is a must-have for any and every man's collection.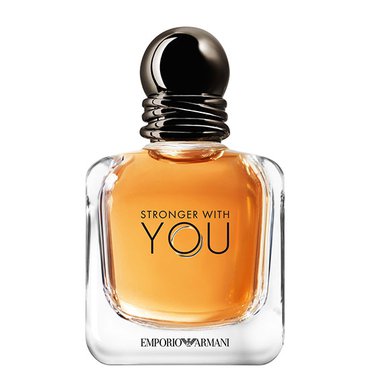 £55.99
This warm and sensual scent came out top in our office popularity poll due to its inclusion of spicy accords and earthy notes. Adored for its multifaceted nature, the fragrance mixes cardamom together with pink peppercorn, violet leaves, sage, smoky Vanilla Jungle Essence™ and sugar-coated chestnut to produce a one-of-a-kind eau de toilette.
If you're looking for a fail-safe men's fragrance, this is your best (and most elite) bet.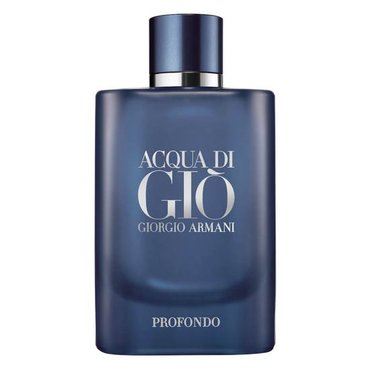 £76.99

£79.00

(3% off)
The Acqua di Giò Profondo is ideal for those that lust after something a little different, providing a truly unique olfactory experience once applied.
This masculine fragrance embraces the values of freedom and self-expression, delving deep into the main pillars of masculinity and sensuality. Awaken the senses with a mix of green mandarin and bergamot before entering into a heart of rosemary, lavender, cypress and lentisk. Woody patchouli rounds the scent off to exude a masculine character.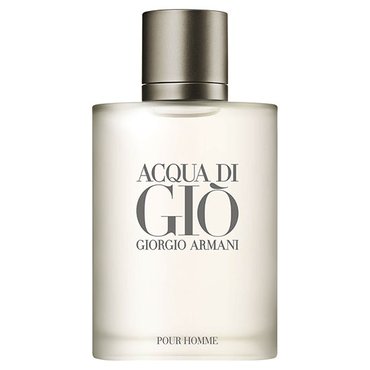 £16.23

£30.00

(46% off)
Looking for something a little lighter? Armani has you covered. This delightfully playful yet refreshing scent combines the elements together, mixing the freshness of the sea with the warmth of the sun and the richness of the earth for an intoxicatingly masculine scent.
Adored for its aquatic notes, this aromatic scent boasts a natural and authentic aroma that entices the senses. Citric top notes of bergamot, neroli and tangerine are contrasted by heart notes of sambac jasmine essence, rock rose, ozonic marine notes and persimmon fruit. This is rounded nicely off with a base of cedarwood, patchouli and musk.
There's no doubt that a few of these Armani perfumes have caught your eye, so why not add them to your Cosmetify wishlist and share amongst your friends and family this Christmas?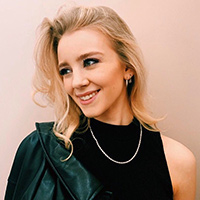 With five years' experience under her belt, Ellie has worked alongside a range of highly regarded makeup artists, giving her a real insight into what consumers should be spending their money on.