2020 Beauty

The realm of beauty has completely shifted in such a short amount of time. We have come a long way from roll-on glitter and blue mascara (although, it's 2019, so why not?), with many beauty brands and influencers shaping our cosmetic conquests… and our beauty blunders. So, what about since last year? What does the shift look like and how is the future shaping up for our Makeup Bags?
Our team have looked into trends data, looking at both brands and products to reveal those which have risen in popularity throughout 2019 and those which are bound to break the beauty stratosphere in 2020.
Our makeup-loving, style-obsessed beauty crew is also getting a slice of the action, providing you with their expert opinion and advice as we head into 2020.
Beauty Brands On The Rise 2018>2019 & Beyond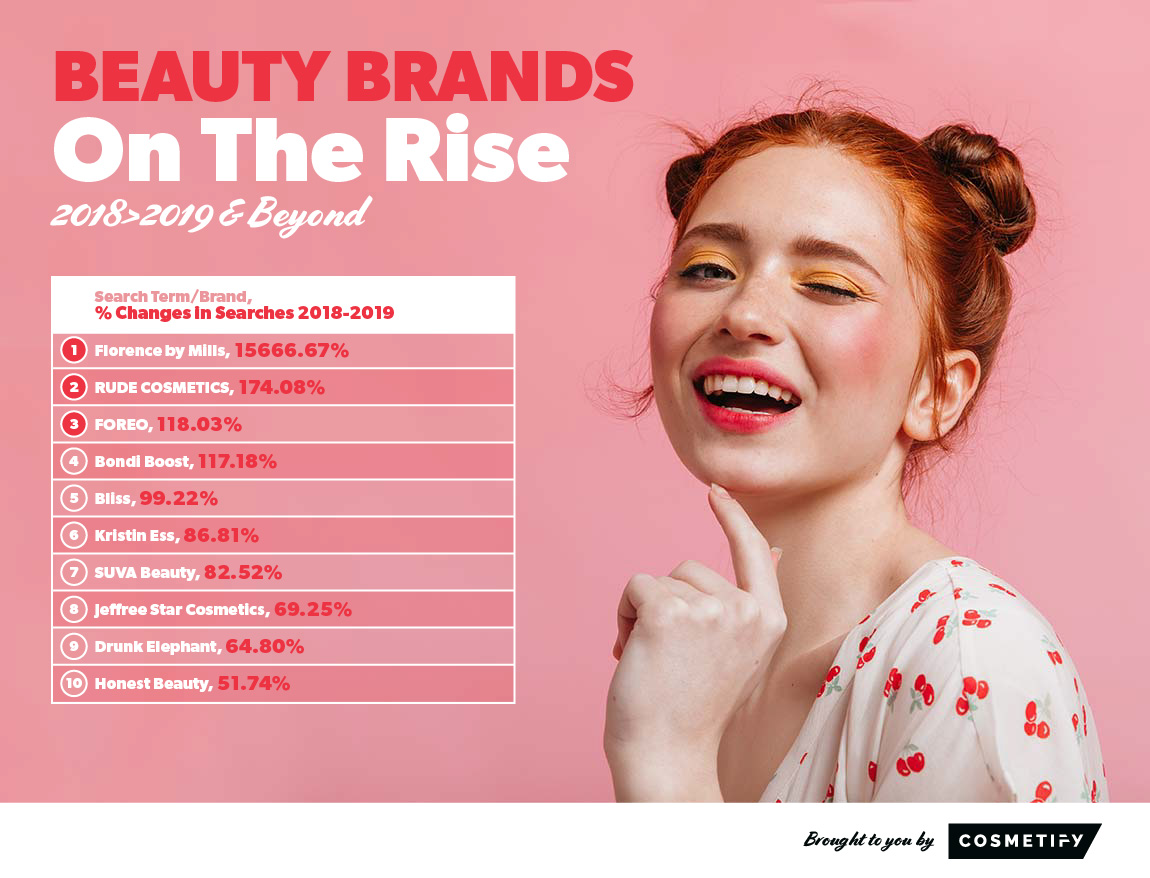 Millie Bobby Brown is taking the world by storm with her new beauty and skincare line. Full to the brim with good-for-you ingredients, infused with vitamins, antioxidants and botanicals, this range of beauty products have been born to change your beauty routine for the better - making it simpler, cleaner and… more fun.
This US brand makeup aims to reach out to offer cutting edge and high-quality products without the expensive price tag. Its increase in popularity over the last year has proven that affordability is crucial, alongside their obvious flair for creativity and attention to detail. They are also proud to be a cruelty-free brand.
Skin Care is becoming an increasingly important part of our beauty routines, and so it should be! FOREO has combined the need for health and beauty with our love for evolving technology to provide you with the ultimate future feelgood routine. From electric toothbrushes to their innovative facial cleansing brushes, they claim to be the future of skincare and beauty.
This Australian hair growth shampoo truly gives your roots the boost it may need. Through its organic ingredients formulated by a team of industry experts, they are dedicated to your biology for stronger and thicker hair, resulting in a more confident and happier you. They are also vegan-friendly!
These guys believe that happiness leads to outward beauty. They are all about allowing you to take a minute, press pause and feel that rewarding boost! All their products are PETA-certified, cruelty-free and blissfully free from all the bad stuff you don't want on your skin. Put your best face forward…
The Cosmetify Crystal Ball - Our 2020 Beauty Brand Predictions
What brands do you see making a comeback or seeing a huge spike in popularity?
Now the beauty industry is fully embracing (not to mention heavily investing in) influencer marketing, we're seeing spikes in popularity based on successful campaigns. As influencers have more involvement with new product lines, brands such as MAC, Morphe and Revolution have gained huge cult followings. By working with the likes of Patrick Starr, Patricia Bright and Jaclyn, these brands are ultimately experiencing increased exposure.
Opinion on the rise of Florence by Mills - Do you think she will continue to reign supreme in 2020?
Absolutely. Florence by Mills has the ability to top the charts next year as the collection provides Gen-Z with makeup that is free of nasties, aka clean beauty, which will be a key focus for 2020. It's also a brand that challenges beauty norms by helping younger consumers embrace their individuality. As the beauty industry is finally embracing and promoting different beauty standards, brands like Florence by Mills will continue to lead in this space.
Have your sales shown a particular brand doing well also?
PIXI, The Ordinary and Too Faced are proving to be extremely popular amongst our consumers this year. It comes as no surprise as each brand has a loyal following and cult products within their ranges. Too Faced's Better Than Sex mascara is one example that continuously tops the ranks.
With RUDE and Florence both being cruelty-free and eco-conscious, do you think this is the way brands are heading?
Cruelty-free and eco-conscious are definitely factors that brands are implementing when creating new products. With consumers more aware of 'clean' beauty and their environmental footprint, they are seeking out friendlier formulas. Any new beauty brand that comes on the scene without being conscious/clean, will find it very hard to cut through.
The top 2 brands consist of young and fresh character, attracting younger, generation Z audiences. What is your opinion on the way that these brands are altering the face of makeup? Is it adding fun etc?
Just by looking at the Florence and RUDE collections, you can see bright, bold colours and fun themes throughout. As brands begin to acknowledge younger consumers, they are offering more diverse and exciting ranges.
The other brands are very lifestyle based, skincare and health-related. Do you think people want their makeup and routines to be more based around this kind of lifestyle?
As consumers become more interested on the impact beauty ingredients have on their skin and the environment, it's bound to change their behaviour/lifestyle. Also, being exposed to health-conscious influencers on Instagram and other popular platforms amplify this. Skincare infused makeup, clean beauty and natural ingredients are all trending areas that will continue to rise in the new year.
Beauty Products On The Rise 2018>2019 & Beyond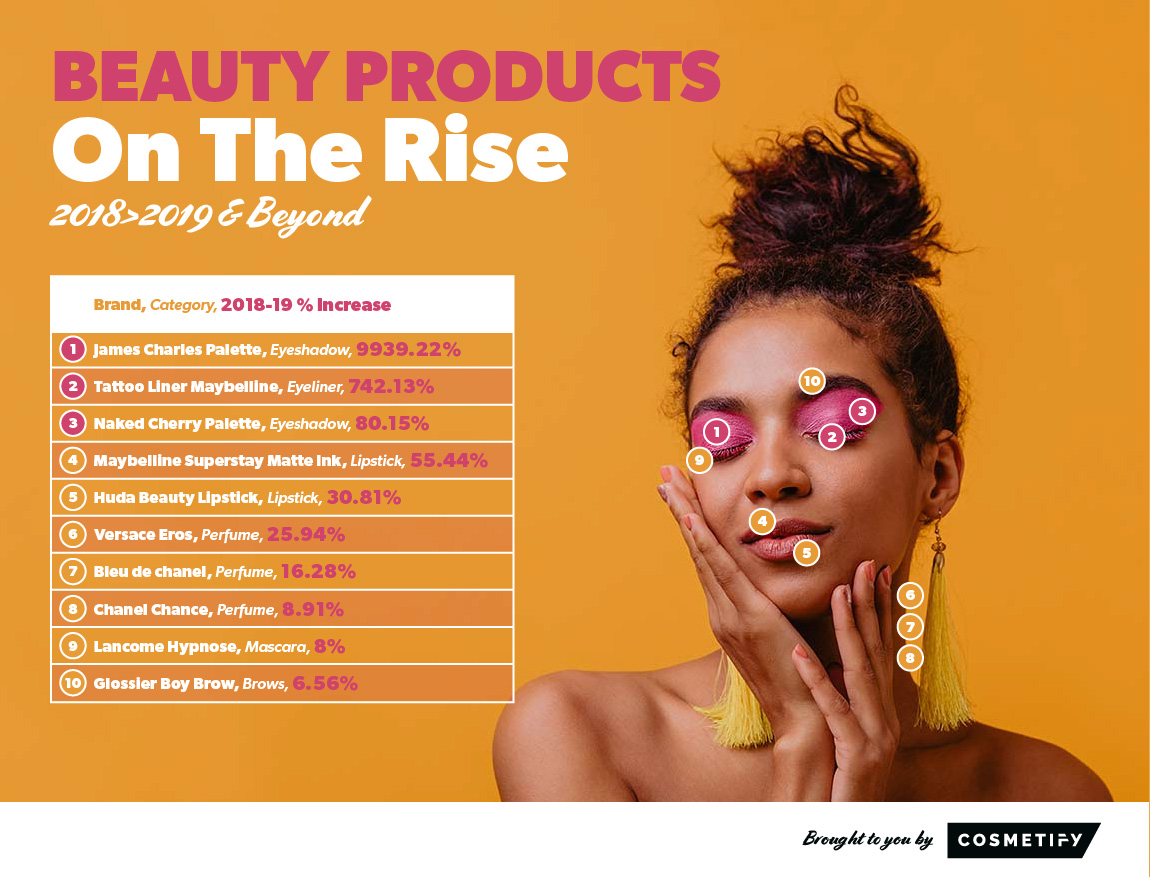 James Charles Palette
In 2018, James Charles collaborated with Morphe Cosmetics to release an eyeshadow palette. Its popularity caused over 7,000 fans to storm to Morphes second UK store opening and bring the city centre to a standstill. That was just the start. His makeup palette has become one of the most sought after products of 2019 and is set to hit new heights in 2020. James is all about breaking barriers, and with this bold, out-of-the-box palette, no one can question that.
This brand has been a staple in our beauty bags since 1915, with no signs of slowing down anytime soon. With affordability and instant-glam as their priorities, is there any wonder that this product is becoming a must-have? A bold, black and flicked eyeliner is a classic look which everyone dreams about, so what's not to love about Maybelline's first 36-hour semi-permanent, sharpenable liner? Is this 2020's beauty underdog?
Naked Cherry Palette
Bang Bang, Juicy and Drunk Dial - these names show just as much attitude as the product itself. Urban Decay has gone from strength to strength since its release, but this product - whilst already a bestseller - could become a true showstopper in 2020. Instead of the basic neutrals, this range is providing a selection of mattes and shimmers, serving everything from dusty mauves to deep plums. It's everything we never knew we needed.
Maybelline has another product experiencing a spurt of new love, this time for a lip product. With 12 hour wear and an ultra-chic matte finish, this precise applicator makes for a smooth, second-skin effect, with almost no effort. Originally released in 2017, this product is still receiving its affection. With such a low price and rave customer reviews, is it any wonder that this best selling lippy is only getting more popular as we move into 2020?
Huda Beauty Lipstick
Huda Beauty's entire lip selection has seen a huge spike in the last year, meaning 2020 could only mean more love. The founder, Huda Kattan, has become one of the most influential women in beauty over the years and this has reflected on her products. Huda made makeup domination look easy, but 2020 may see an even bigger surge of power for this lady and her beauty base.
The Cosmetify Crystal Ball - Our Predictions
The majority of the top products are eye and lip based, do you see 2020 having more of a focus on these areas rather than foundation, highlighter etc? Why?
2019 has been populated with social influencers and celebrities releasing vibrant lip and eye products, all of which have gained cult-following. Colour cosmetics are one of the top three sectors in the beauty industry, so we expect this trend to follow through in 2020.
With this in mind, healthy-looking skin is still a look that is consistently gracing the catwalks, meaning you can expect to see more natural, lighter makeup bases.
The 2 Maybelline products have a focus on long-lasting. Why do you think this is an important factor for customers?
With many of us working longer hours and carrying out busier social lives, the need for long-lasting beauty products is crucial. With limited space and time for touch-ups, we require efficient formulas that will see us through the day and into the night.
What are your thoughts on affordability and these products? Is affordability becoming a bigger factor for consumers?
While luxe beauty is on the rise, affordability is still a factor for many consumers. The stigma that cheaper products compromise quality and performance still exists, but the demand for popular dupes is challenging this notion. Brands like The Ordinary, Revolution and E.L.F Cosmetics are pioneering in this space with their cult award-winning products.
People can now find their favourite high-end products on the shelves for a pocket-friendly price, meaning affordability is becoming less taboo.
Have your sales shown a particular product doing well also? Does it fit in with the trends here?
The Estee Lauder Double Wear Stay In Place Foundation Makeup SPF10 is extremely popular amongst our buyers. Renowned for its longevity, it proves customers are seeking formulas that will withstand the test of time, while adding spf protection for the face.
The Cosmetify Team Favourites
Carly Cochrane, Content Editor
'My all-time favourite product of this year has been the E.L.F Setting Spray. It's a dupe for the Urban Decay All Nighter Setting Spray but costs a fraction of the price. Consumers are becoming more savvy when it comes to spending their money, so I imagine products like the E.L.F Setting Spray will sky-rocket in 2020.'
Ellie Child, Content Editor
'I absolutely adore the Charlotte Tilbury Wonderglow. Although this comes in at a higher price tag, its innovative formula doubles up as a glowy skin tint, making it more than just a makeup primer. Double-duty beauty products like this are forever on the rise and can save time, money and packaging – all key areas of focus for 2020.'
Laura Pearce, Social Media Executive
'bareMinerals Complexion Rescue has undeniably been my skin saviour in 2019. This tinted moisturiser has taken me from winter to summer and back – and I've barely finished the product.'
Iman Bokolo, PR Executive
'My favourite product of 2019 has to be Charlotte Tilbury Airbrush foundation. The foundation is full coverage and covers uninvited blemishes. As well as hydrating, it also boasts SPF30 meaning I don't have to layer up on sun cream. I think we're going to see skin care and sun protection become huge in 2020. I also predict that we will see a rise in new vegan beauty products as brands are seeing the rapid growth in this space.'
Need more beauty inspo? Keep an eye on our Cosmetify Index to stay up to date with the hottest brands of every quarter. Do your favourite products make the cut?
Methodology & Sources
For each brand and product, we analysed the change in Google Trends data from the past twelve months, compared to the previous twelve months, to see how search interest has changed.
For each brand and product we took an average of the worldwide search interest for the period 23/10/2018 to 23/10/2019 and the same for 23/10/2017 to 23/10/2018 and calculated the percentage change between the two figures to show the year on year change in search interest for each brand.