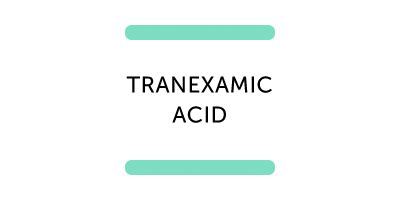 Tranexamic Acid for Skin
Tranexamic acid is the newest ingredient to storm the beauty world and land on the labels of skin care products. Bursting with anti-inflammatories and skin-brightening benefits, it's championed for its ability to improve the appearance of hyperpigmentation, acne scars, dark spots and discolouration. In fact, just one application a day is enough to boost radiance and revive lacklustre skin.
See our tranexamic acid guide to answer your questions like what is tranexamic acid and what are the skin care benefits of tranexamic acid.
23 products found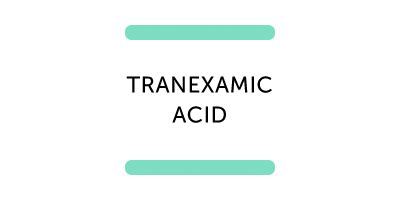 Frequently Asked Questions about Tranexamic Acid products
What is tranexamic acid?
Tranexamic acid, also known as TXA, is a bio-engineered amino acid that has been used in the medical field for years to help those that suffer with regular nosebleeds and heavy periods control bleeding.
It has recently come into the spotlight in the world of dermatology and skin care, as it has been found to be a great tyrosinase (the key enzyme for melanin and pigment production in our skin) inhibitor. It can be prescribed by a dermatologist in the form of an injection or oral tablet, but it's also commonly utilised in topical skin care products like serums and moisturisers.
What are the skin care benefits of tranexamic acid?
Tranexamic acid is packed with skin care benefits but is best known as a brightening hero. It works wonders on skin hyperpigmentation as it fades discolouration, reduces the appearance of acne scars and brightens dark spots.
Unlike other acids, such as glycolic acid or lactic acid, tranexamic acid is easy to pair with other skin brightening ingredients, such as vitamin C and retinol, although you should stick to mixing it with only one or two others to avoid dryness. All in all, tranexamic acid is an ideal choice for anyone wishing to correct uneven skin tone and boost their skin's natural glow.
How does tranexamic acid work?
Tranexamic acid boasts powerful anti-inflammatory properties making it super-efficient at blocking pigmentation from transferring to the skin's surface. When skin is stressed-out, tranexamic acid helps to calm inflammation and remove any excess melanin so that future pigmentation, dark spots and discolouration can be prevented. This process makes tranexamic acid a great choice for oily, blemish and acne-prone skin, as it reduces the probability of scarring after a breakout.
Is tranexamic acid an exfoliant?
It's not! Unlike other skin-brightening acids, such as AHAs and BHAs, tranexamic acid is a non-exfoliating acid. It's still effective when it comes to improving discolouration, dullness and pigmentation, it's just gentler on the skin meaning all skin types, tones and ages can get involved and reap the beautifying benefits.
Are there any negative side effects to tranexamic acid?
Tranexamic acid is typically ruled as safe to use by all skin types; however, it is always recommended that you carry out a small patch test on the inside of your wrist before use, especially if you have sensitive skin and are prone to reactions.
There are no specific or major precautions for using tranexamic acid, but you should always remember to follow up with an SPF. A slight tingling sensation is normal, although you should stop using the product if this continues or causes sensitivity.
How often should you use tranexamic acid on your skin?
It's recommended that tranexamic acid is used twice a day, especially if you want to see faster results. However, it's always best to start with one application a day to see how your skin initially reacts and to build tolerance.
Topical formulas that utilise tranexamic acid can be used all over your face to treat multiple discolourations, or as a spot treatment for scars and blemishes. We like to use it after a vitamin C serum and before SPF in the morning, whilst also pairing it with a retinol-based formula in the evening.
Who should use tranexamic acid?
Unlike other acids in skincare, tranexamic acid is a free-for-all as it works well on all skin types. As it's not an exfoliant, it's less likely to aggravate skin and cause freak-outs, however you should always carry out a patch test before applying new ingredients. If you suffer with age spots, scarring and hyperpigmentation, tranexamic acid is a stellar option for you.
How do you use tranexamic acid?
Tranexamic acid is super easy to use and can be introduced into your skincare routine in various ways. Typically, tranexamic acid will arrive in the form of a serum, toner or cream, making it a straight-forward topical skin treatment. All you have to do is apply it directly to skin, morning and night, to reap the results. Tranexamic acid also pairs well with your favourite brightening and skin-repairing ingredients, such as vitamin C and face SPF, so it's super easy to implement into your existing skincare routine.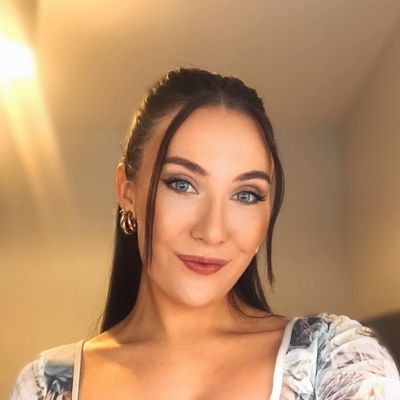 Written by Carly Cochrane, Beauty Editor