Halloween Looks

The most popular Halloween makeup looks for 2020
Halloween 2020 might be a little different than usual, but whatever your socially-distanced plans are for October 31st, you don't have to break the bank to create the ultimate costume
That's because, with the thousands of blogs and tutorials available on the web, you can create almost any kind of spooky or scary look that you can think of, straight from your makeup bag.
Ok, so we might not all be pro makeup artists, but there are still lots of great looks that you can create this Halloween even if you're a complete newbie.
So, what are the characters and creatures that we're all looking to recreate this year? We've analysed the number of Google and YouTube searches for various Halloween makeup looks and tutorials to find out!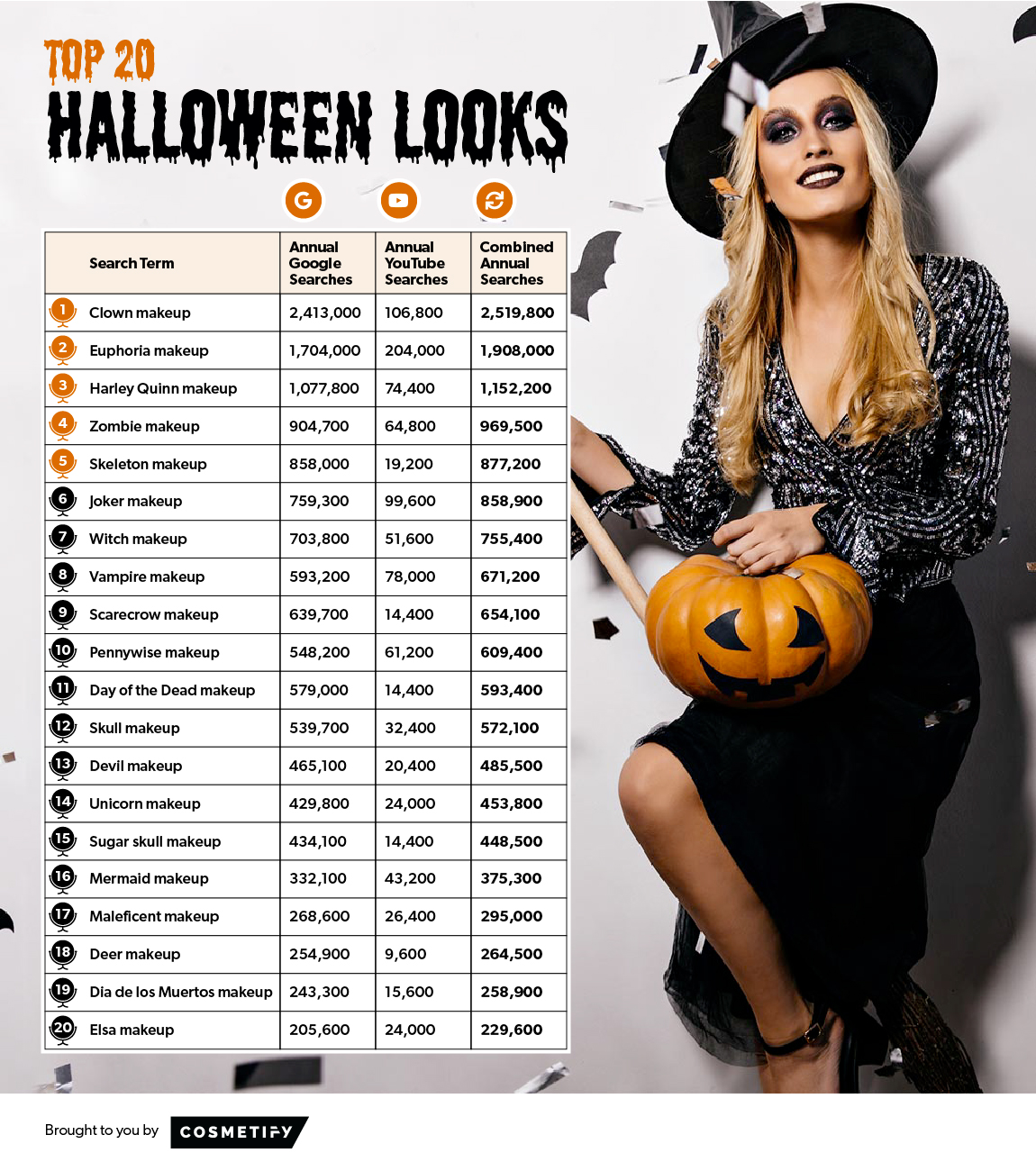 1. Clown makeup - 2.5m searches
Google searches - 2.4m
YouTube searches - 107k
We don't know why clowns are so creepy, they just are, but it makes for a perfect Halloween costume. It's up to you whether you want to go for a classic regular clown face or amp up the gore, but clowns are clearly a popular choice at Halloween, with over 2.5 million searches. You can explore more ideas by having a read of our blog post about the best clown Halloween makeup looks.
2. Euphoria makeup - 1.9m searches
Google searches - 1.7m
YouTube searches - 204k
One of the best things about Euphoria was all of the iconic makeup looks that it gave us, so don't be surprised to see iconic glittery eyeliner looks of the likes of Maddy and Jules recreated this Halloween, with over 1.9 million searches for looks inspired by the show. If you're looking for a Euphoria makeup tutorial then we've got you covered.
3. Harley Quinn makeup - 1.2m searches
Google searches - 1.1m
YouTube searches - 74k
Ever since the release of Suicide Squad four years ago, Harley Quinn has been a staple of every Halloween, with over 1.2 million searches this year from those looking to recreate the look. Dressing up as characters from television and film always proves popular, so if you're looking for more inspiration in this area then take a look at some of the best cosplay makeup looks.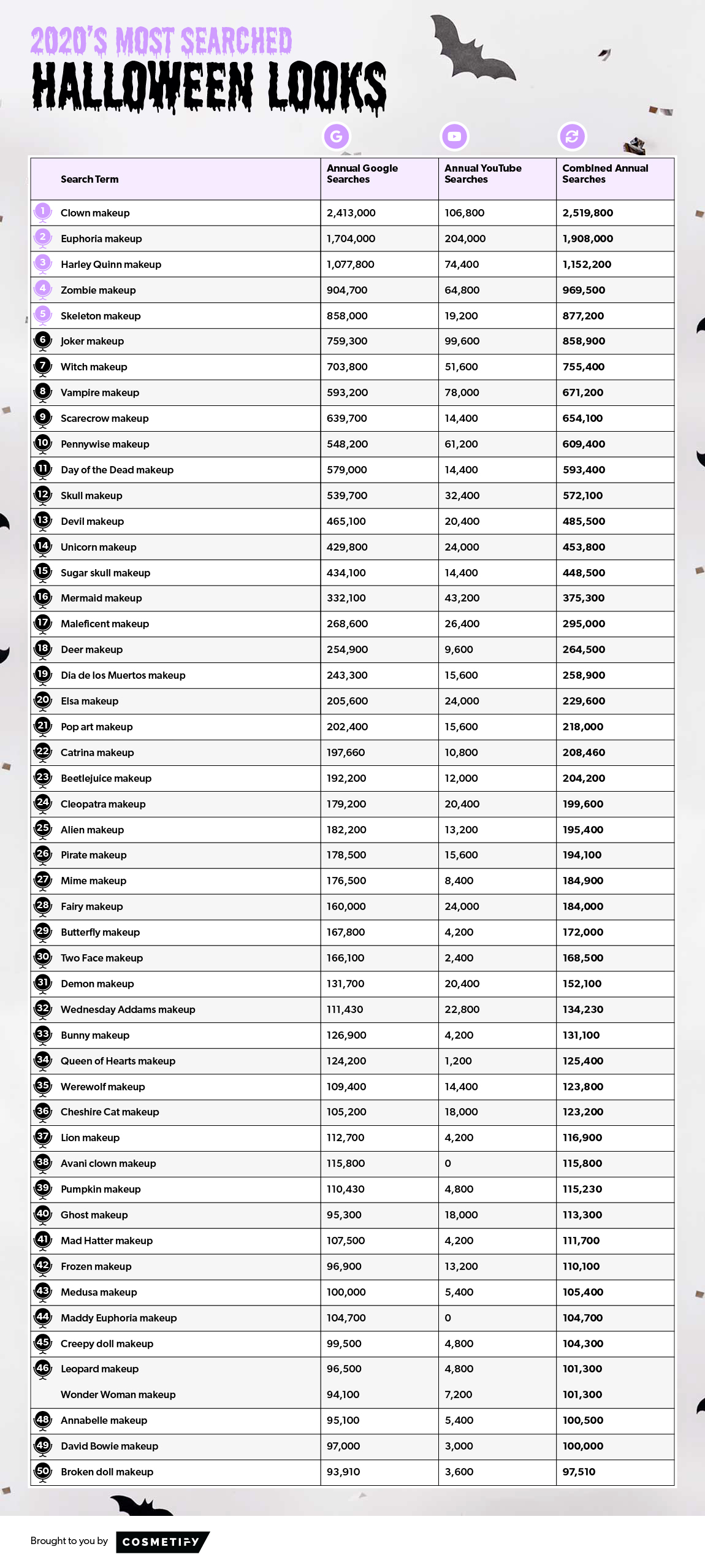 Each Country's Favourite Halloween Look
We also decided to take a look at which was the most popular makeup look in each country around the world, revealing some pretty interesting regional preferences.
In North America, Australia, and much of Europe, a creepy clown look was number one, while in South America, there was a clear preference for the looks inspired by Euphoria.
Similarly, there seemed to be a trend for countries in Asia to be fans of looks inspired by DC Comics, with more searches for Joker and Harley Quinn makeup looks in countries such as India, Japan and Indonesia.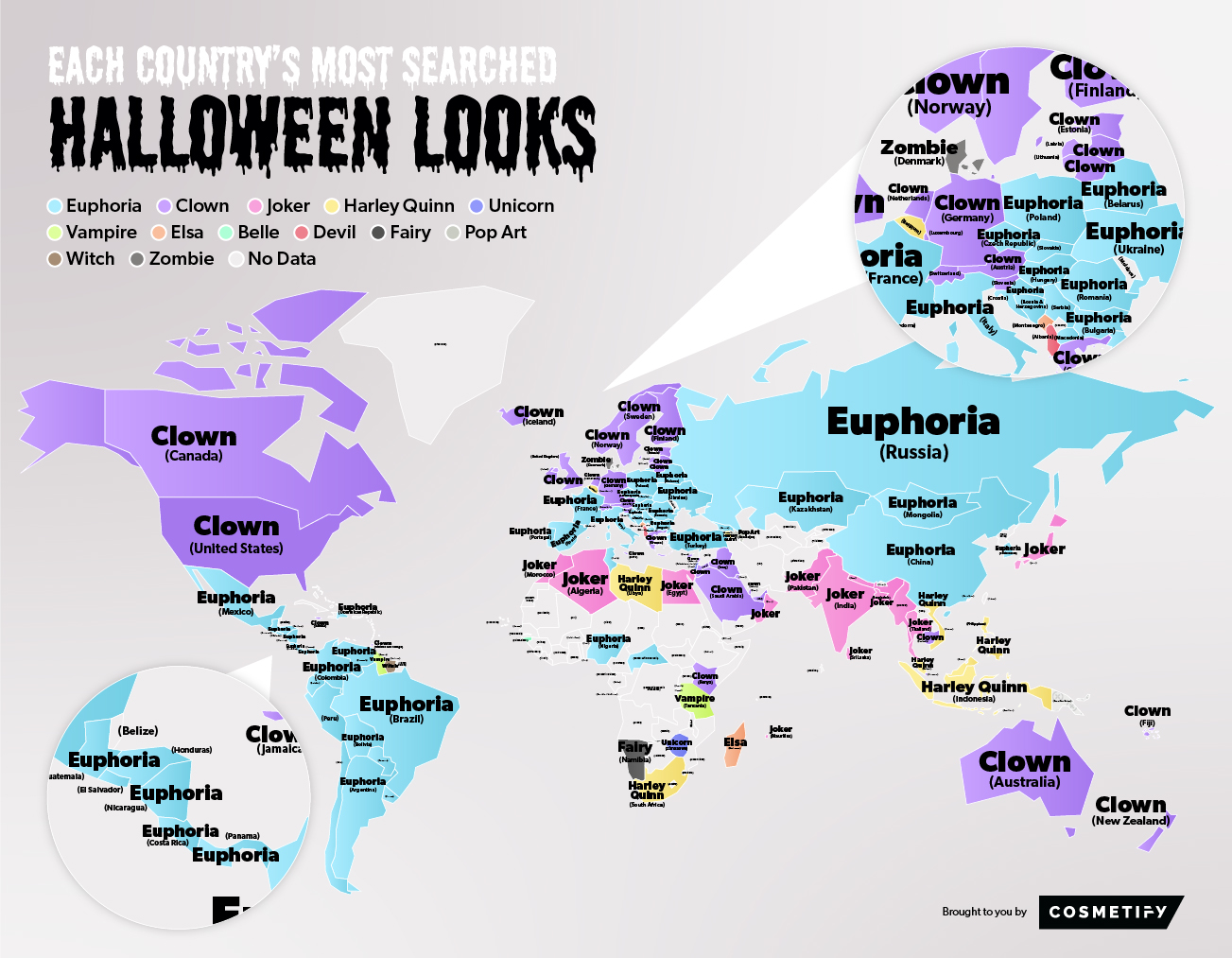 Methodology
Annual Google searches for each look have taken from Google's Keyword Planner and refer to the total number of global searches for each term between September 2019 and August 2020.
YouTube searches were taken from Ahrefs' Keyword Explorer and are the number of monthly average global searches multiplied by twelve to estimate an annual figure.