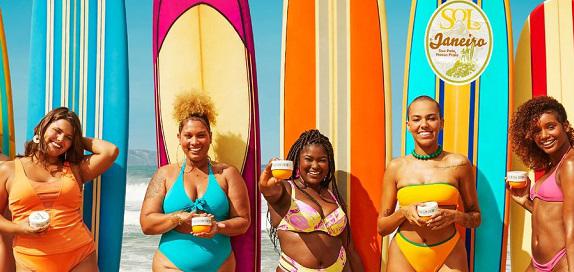 Sol de Janeiro
Embrace the Sol de Janeiro selection of body creams, body scrubs & exfoliators and hair & body mists. Make sure you create an alert so that you hear about the brand's sales and deals.
Best Selling Sol de Janeiro Products
Sol De Janeiro Bum Bum
Pronounced 'boom boom', the iconic Bum Bum range is what put Sol De Janeiro on the skin care map. We admit we were first captivated by the eye-catching name, yet we quickly moved our obsession to the gorgeous aromas, velvety textures and endless skin care benefits.
The Brazilian brand bring the soothing potential of the Amazon Rainforest to your skin care selection, harnessing the nourishment of unique ingredients like capuacu butter, caffeine and guarana.
Enhance the scent, appearance and touch of your skin with the deluxe collection, combining aromatic and skin-loving ingredients to produce a flawless finish. It's the key to unlock hydrated, smooth and renewed skin.
This is the iconic product for Sol de Janeiro, and whilst the catchy name makes it stand out in your basket, it's the abundance of enriching ingredients which keep us coming back for more.
As you may have guessed from the name, this finely scented cream is purposefully designed to firm, tighten and smooth your bum. Powered by its special ingredient, guaraná, the luscious lotion gives your bum a boost to make it look extra peachy. A healthy flow of coconut oil, açaí and cupuacu butter produces a super-soft touch whilst the waves of caramel make your bum good enough to eat.
£15.30

£18.00
The title suggests this luscious oil is a sunscreen, but we can assure that it's much more than that. Whilst the preventive ingredients protect your skin from harmful UV rays, hydrating and enriching materials deliver the perfect beach body.
Soften your body, illuminate your skin and then just sit back and enjoy your sun-kissed glow as you sunbathe on the golden sands of the beach. Lightweight and water-resistant, the nourishing formula protects you for up to 80 minutes and keeps your skin freshly scented.
£18.00

£36.00
Tighten your complexion, add firmness to sagging areas and scent your skin with the delicious taste of salted caramel with this bestselling and best-smelling cream.
The luscious cream certainly provides excellent value for money; it's double the size of the original Bum Bum Cream, therefore it produces a complexion twice as smooth, supple and hydrated.
Powered by the nourishing blend of guarana and caffeine, the revitalising formula reduces the appearance of cellulite, promotes a silky-soft texture and improves elasticity.
£72.00
Enjoy your softest skin to date with this gentle exfoliating scrub. Microbead-free and cruelty-free, Sol de Janeiro's highly popular body scrub is saturated in enriching ingredients to deliver a radiant complexion with a healthy glow.
Bask in your beach body that you can show off throughout the year, exuding a summer shine even in the winter months. As much as you love your smooth complexion, the highlight of this nourishing scrub lies in the delectable aroma: streams of vanilla, salted caramel, jasmine petals and pistachio blend for a dreamy scent.
£33.15

£39.00
Sol de Janeiro Fragrances
A country as large as Brazil is bound to have a myriad of enticing aromas, whether it's the earthy accords of the Amazon Rainforest, the refreshing notes from Copacabana Beach or the smooth and sensual flavours of the coffee beans. Every unique scent is bottled into Sol de Janeiro's captivating fragrance collection, bringing the vivacity of Brazil into your wardrobe.
The vibrant and exuberant fragrances are made to complement bright colours and daring patterns, perfect for those of you who show off a distinct style. Choose a fragrance to enhance your outfit, a mist to enliven your home or why not just treat yourself to both?
Transport yourself to the energy, exuberance and excitement of Copacabana Beach with this vivacious fragrance. The fresh and vibrant notes resemble the carefree afternoons underneath the scorching sun, the perfect accompaniment for the summer months.
Frenetic yet sensual, the fragrance opens with enlivening tones before descending into more calming notes of caramel, vanilla and pistachio. The smooth tones lure you into a peaceful slumber, resembling the gentle vibe of the early evening as the sun sets on the shoreline.
£22.10

£26.00
Sol de Janeiro received such wide acclaim for their Bum Bum Cream, they decided to make a fragrance to complement it. This sparkling mist is comprised of a plethora of gorgeous aromas, blending the warm nutty taste of pistachio and almond with the creamy, woody tones of caramel and sandalwood. Trust us, it smells even better than it sounds.
This must-have mist is tailored for the summer months, perfectly complementing a colourful sundress for those afternoons with friends underneath the gentle rays of the sun.
£15.30

£18.00
You may know Coco Cabana from the Barry Manilow song, but that catchy tune isn't anywhere near as enjoyable as this alluring fragrance mist. Versatile and refined, the mist can be spritzed onto your skin, clothes and home items for a refreshing scent wherever you go.
Delectable waves of praline melt into soothing accords sandalwood, punctuated by inviting notes of coconut, orchid and vanilla. Uplifting yet calming, the mist marries the energy of Brazilian beaches with the refreshing tones of its forestry.
£16.20

£18.00
Sol de Janeiro Bath & Shower
Bring the buoyancy of Brazil into your bathroom with this invigorating collection. The creamy textures, gorgeous aromas and colourful designs of the bottle bring the flair and charisma from the shores of Rio de Janeiro into your routine.
Sol de Janiero have earned a reputation as the go-to brand for aromatic shower products, showcased by this scintillating range bursting with captivating aromas. Whether it's with a luxurious shampoo, a potent body scrub or a dynamic cleanser, each product is formulated with a wealth of inviting flavours.
Find the one to enhance your bathroom collection here.
Get luscious locks that are gorgeously scented with this nourishing conditioner. The enriching remedy is formulated by Sol de Janeiro's patented SOL Seal Technology, a process that bonds split ends and coats them with a preventive layer to maintain their strength.
A smoothing blend of coconut oil and Brazil nut soften and hydrate your hair for much-needed moisture. Each lustrous strand is then scented by the iconic Cheirosa '62 Brazilian Bum Bum fragrance for a delicious aromatic finish.
£10.20

£12.00
Embrace the wonderful healing and cleansing properties from the Amazon Rainforest into your showing routine with this bestselling scrub from Sol de Janeiro. Enriched by the soothing qualities of cupuacu butter, the smooth texture and sensual aromas create a luxurious shower experience.
Exfoliate dead skin cells, remove the appearance of impurities and bask in your renewed, smooth complexion after enjoying the creamy lather of this nourishing body scrub. Enjoy waves of salted caramel and rich pistachio as the formula improves elasticity and locks in moisture.
£21.00

£22.00
Who doesn't enjoy some foreplay when in the shower? This is a different kind of foreplay, yet the sensual texture, delicious aromas and moisturising qualities of this luxurious lotion are just as enjoyable.
Brimming with aromatic and potent ingredients, this invigorating shower gel scents the skin with streams of pistachio and salted caramel whilst removing dead and flaky skin. The result is velvety-soft skin with a smooth and creamy scent - a treat for all the senses.
£9.00

£21.00
Sol de Janeiro Body Care
Luxurious yet affordable, Sol de Janeiro have made premium body care accessible to everyone. The Brazilian brand utilise the endless potential of their natural surroundings to formulate nourishing products that are finely scented.
Enriching and aromatic ingredients work in conjunction to deliver a therapeutic body care experience, calming the mind with the stream of vibrant aromas and smoothing the body with the rich textures. Each cream is drenched in skin-loving ingredients to produce a healthy complexion with a radiant glow, reminiscent of the gorgeous bodies that decorate Copacabana Beach.
Explore the selection here for dreamy scents and a dreamy complexion.
The long-lasting qualities of this enriching body cream make it the first thing you should pack in your suitcase for a beach holiday. The smoothing and soothing properties of the iconic Cocosugar Blend - a calming combination of coconut oil and fermented sugar - delivers hydration and moisture for 72 hours.
Lather your skin with the creamy texture and enjoy cashmere-soft skin for three days. Antioxidant-rich and extra nourishing, acai oil and cupucacu butter keep your skin protected, whilst a warm flow of praline, vanilla and coconut cream produces an irresistible scent.
£15.30

£18.00
Let's be honest, who wouldn't want to look as good naked as a Brazilian? The beach-bronzed babes from Copacabana Beach glow underneath the summer sun, exuding a radiant shine as their gorgeous complexion shimmers in the light.
Replicate that beautiful tone with this enriching body cream, enhanced by vitamins and essential fatty acids to soothe and calm any sensitive areas. Specifically tailored to sensitive skin, the fragrance-free and hypoallergenic formula promotes soft skin with a healthy glow.
£34.00

£40.00
Sol de Janiero Sun Protection & Tanning
The golden sands at Copacabana Beach is covered in beautiful bronzed bodies with a radiant glow. This supreme selection allows you to replicate the golden complexion look of those sexy, sun-kissed Brazilians without having to leave the comfort of your house.
Conversely, if you're a fan of your pale skin, you can maintain your natural colour with the deluxe range of sun protection formulas. For something in between, the gentle sun protection lotions deliver a subtle glow, lacing your skin with the shimmer of a summer shine.
Whatever skin tone you want to show off, you can do so whilst enjoying smooth, soft and sleek skin that's finely scented with a wave of gorgeous aromas.
There are few skin tones that are sexier than the bronzed, olive skin synonymous with the locals to Rio de Janeiro, and this luxurious oil allows you to replicate that deep, warm tan.
A blend of softening, enriching and hydrating ingredients help you to unlock that dream complexion and show-off a smooth body that's ready for the beach.
Transfer-resistant and non-sticky, the shimmer stays true throughout the day so you can enjoy a gorgeous finish from dusk til dawn.
£15.30

£18.00
Achieve the glistening, sun-kissed complexion of the beach bodies at Copacabana Beach with Sol de Janerio's easy-to-use and lightweight stick. Made to reach those areas that your hands may miss, the sleek design delivers a radiant glow all over your body.
Capuacu butter and coconut oil combine to soften the skin, improve elasticity and retain moisture. Complementing your bronzed finish, a soothing stream of caramel creates a delicious layer.
£12.00

£24.00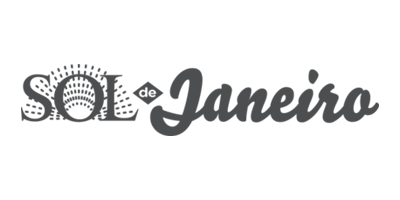 Sol De Janeiro believe that beauty isn't just a universal standard to reach, but rather an attitude to take. Aiming to boost your confidence, the brand produces products that help you play up your best assets.
Capturing the vibrant and exotic nature of Brazil, Sol De Janeiro have created a nutrient-rich range of bath and skin care that encapsulates the key Brazilian beauty secrets. Using the finest quality ingredients sourced from the Amazon, each product boasts skin-loving properties and a heavenly signature scent.
Priding themselves on their fun and accessible route to beauty, the company have become a cult favourite with their infamous Brazilian Bum Bum cream and have swept across our Instagram feeds with their bright, minimalistic packaging. Browse from a range of hydrating body creams, bath products and treatments to uncover a fresh approach to beauty.
Take home the spirit of Brazil and enjoy sumptuous scents, nourished skin and Brazilian beauty.
Why We Like Sol de Janeiro
"Bringing the vibrancy and flavours of Brazil to our doorsteps, Sol De Janeiro is a brand that provides us with our favourite summertime essentials to keep skin glowing. Each of their products is jam-packed with an intoxicating aroma (think notes of addictive pistachio and salted caramel) that makes moisturising and prepping your skin an absolute dream. Try out their world-famous Brazilian Bum Bum Cream for an extra shot of confidence when trying on your summer wardrobe."
Ellie Child, Content Editor
Where is the best place to buy Sol de Janeiro products online?
You can buy Sol de Janeiro products from a variety of retailers in the UK, including Look Fantastic, Selfridges and Feel Unique. You can also get these products from Harvey Nichols, Cult Beauty and more.
Frequently Asked Questions about Sol de Janeiro
Do they use phthalates in their formulas?
None of their formulas or products contain phthalates.
Parabens are widely used in this industry. Do they feature in Sol de Janeiro products?
The Sol de Janeiro product range is free from a lot of suspect ingredients, including Parabens.
Sol de Janeiro claims to be cruelty-free, but what does that mean?
As a cruelty-free brand, Sol de Janeiro does not incorporate animal testing into its development or production regime, nor does it authorise any third parties to perform animal testing on its behalf.
Will I find artificial fragrance in their products?
Many of them are not fragrance-free. Narrow the product list to this preference by using our site filters.
Are Sol de Janeiro products made without the use of sulphates.
Some of their products are formulated with sulphates however the have ranges that are free from which you can view by using our filters.
Are Sol de Janeiro products mineral oil-free?
They create mineral oil-free products whenever possible.
Have these products been through testing to avoid allergic reactions and irritation?
Sol de Janeiro have a selection of allergy tested (or hypoallergenic) products which can be viewed by using our filters.
I only use vegan-friendly products. Is Sol de Janeiro for me?
Most of the Sol de Janeiro products featured on our site are not vegan-friendly, but you can view those that are by simply looking for the vegan icon on the relevant product page.
Whereabouts is the Sol de Janeiro range produced?
Sol de Janeiro products are manufactured in the U.S.A.
PEG Free
Petroleum Free
Phthalates Free
Paraben Free