Men's Halloween Hairstyles
Last-Minute Halloween Hairstyles for Men
By Edward Obeng
-
1 year ago | Updated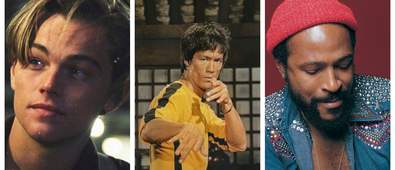 How to nail the perfect Halloween costume? All too often it seems like a straight choice between spending a fortune on a photo-realistic costume or else cobbling together something very obviously – but, you hope, charmingly – half-baked. But when it comes to the middle ground, just about every look has been done, and done better, already. Does this world really need any more weekend warriors dressed as James Bond, Clark Kent or Harry Potter?
That's why we've pulled together these five Halloween hairstyles. By tweaking your 'do, and pairing it with a couple of well-chosen items, you can get maximum impact with minimum effort.
1. James Dean
The original rebel without a cause, James Dean's unmistakable look – all slicked back hair and simmering discontent – became seared into the public consciousness. Even if you haven't seen any of his films, you'll recognise the red jacket, white tee and quiff combination as an image that's been reproduced time and time again.
2. Leo DiCaprio
First a 90s must-have, then a noughties no-no, the curtains have now taken up their place as a heritage piece, sending memories racing back to baggy jeans and fridge-sized mobiles. And no one is more closely associated with them than Romeo + Juliet-era Leo, who tended to accessorise his looping locks with a Hawaiian shirt and artfully draped cigarette. Truly, the past is another country.
3. Bruce Lee
There's a Once Upon a Time in… Hollywood thread connecting this look and the previous, given that DiCaprio's onscreen handyman spends five highly quotable minutes verbally and physically sparring with the film's depiction of Bruce Lee.
This look is all jumpsuit, abs and hair. The latter might seem like the most incidental detail but actually gives the look its distinctive sixties feel – double down on this by plumping up the sides with a little volumising spray.
4. Hercules
Moving further down the face, we come to the hirsute look worn by Dwayne Johnson in Hercules. This is clearly somewhat dependant on genetics, and certainly not the sort of thing you can rustle up overnight, but easily attainable for any bearded gent wanting a Halloween look that's quick, simple and just the right degree of rugged. The other key ingredient here is a lion's mane, but given the difficulty of both locating and overpowering an actual bog cat, some kind of soft-toy variant should do the job.
5. Marvin Gaye
This one might seem a little outlandish at first. After all, the number of people who can whistle 'Heard it Through the Grapevine' massively outstrips those who could list off his signature look. Once pieced together, however, that combination of trimmed moustache, longer chin beard, red beanie and open denim shirt is so quintessentially Marvin as to be undeniable. And on the off chance your fellow party-goers don't know their Motown, you can always cite The Life Aquatic.

The only way you're getting away with minimum effort this Halloween is by displaying all the cunning normally associated with the season's legion of spirits and demons. So think smart, dress well and make the most of your most transformative feature: your hair.
If you've got your hair sorted but are a little stuck on how to nail the rest of your Halloween look, check out our Men's Halloween Makeup Ideas.