10 Easy Halloween Looks Using Mainly Eyeliner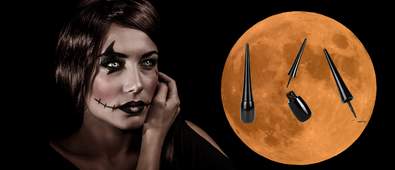 Have you left your Halloween prep until the last minute again? Yeah, same. But never fear – there's a whole load of easy-to-do looks that involve a makeup staple we all own: the humble liquid eyeliner.
This trusty tool can achieve far more than just your everyday cat eye look. So, if you're in a bit of a tizzy about what you can conjure up, check out some of the best Halloween looks that use eyeliner. Saving you more than just a pretty penny or two, these makeup-focused looks help you to nail this year's Halloween festivities without stepping out of the house.
1. Lace
Warning: this one requires a VERY steady hand. If you're up for the challenge, watch renowned makeup artist Hindash create a gothic lace look that pairs perfectly with that new LBD you bought.
Get the look:
2. Batwing
If you're after something a little more lowkey, this is the look for you. After nailing the winged liner, it just requires a few additional steps.
Get the look:
3. Ghost liner
Again, this one is a bit of a step up from your everyday cat eye. Grab a white liquid eyeliner and get creative by adding in a teeny tiny ghost graphic – super original and PERFECT for your Instagram grid.
Get the look:
4. Cobweb eye
This look pairs perfectly with a set of dramatic false lashes. With just a few flicks of your liquid eyeliner you've got a ghoulish look that is suitable for any Halloween festivities.

Get the look:
5. Classic cat
A little cliché, yes, but cute as hell nonetheless. Shamelessly rock this cute/sexy cat look and revel in the fact that you saved a few pennies (whilst still looking 10/10).
Get the look:
6. Jack Skellington
You're going to need a little (and by little, we actually mean a lot) of black eyeshadow alongside your black eyeliner to complete this look. Blending will be your best friend here and whatever you do, do not lick your lips.
Get the look:
7. Retro Pop Art Filer
We're stepping it up a notch with this one. If you have the time and patience then go all out with this epic pop art-inspired look.
Get the look:
8. Wonderwoman
We know we're not going to do this quite to the same level as NikkieTutorials but we can try dammit. Turn heads with this stunning comic book look.

Get the look:
9. Mime
If you're short on time and/or supplies, skip the white makeup and just focus on those heavily drawn-on lashes, brows and funky shapes that will make it clear what your costume is!
10. Devil
Accentuate your devilish good looks with a little tail and pair of horns around the eyes this Halloween. The trick to getting this look last-minute without popping to the shops for a red eyeliner? You're favourite red liquid lipstick and an angled brush. We promise we won't tell!

Still lusting after a little extra inspiration? Check out The Best Celebrity Halloween Beauty Looks to discover your next Halloween costume and get those flicks just right with our eyeliner guide.
Related Categories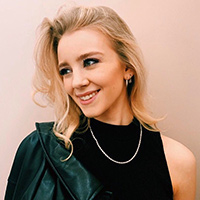 With five years' experience under her belt, Ellie has worked alongside a range of highly regarded makeup artists, giving her a real insight into what consumers should be spending their money on.