Hot Eye Makeup Looks for 2023
The 8 Eye Makeup Trends That Will Be Huge in 2023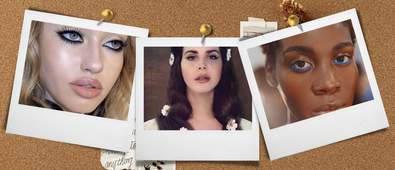 We've loved the clean, barely-there makeup looks that reigned supreme in 2022, but this year beauty experts expect to see a return to more glammed up looks—and we're here for it.
Of course, there will still be the days where all we want is a little touch of gloss and blush paired with bare eyes (because taking off eye makeup isn't fun for anyone), but when it's time to get dolled up, it's nice to be on-trend.
2023 is predicted to be a year of maximalism when it comes to eye makeup trends—think popping pastels, big ole lashes and grunge-y shadows. This is probably in part thanks to the ongoing obsession with the '80s, 90s and early 2000s, when things like baby blue eyeshadow and brown lip liner were in. This year, you can expect to take a little step outside your comfort zone when it comes to makeup (or maybe you're all for it, in which case we applaud you!).
To help you get started for the year ahead, we've rounded up the hottest eye makeup looks for 2023, including viral eye makeup that just started to find its feet in late 2022 as well as nostalgic looks from the past that are making a comeback.
1.DOE EYE TREND
If you were on the internet at all in 2022, then you probably saw and tried some variation of the fox/siren eye trend, which involves making the eyes look more almond-shaped and upswept. Now, doe eyes are threatening to steal the limelight, with the aim being to make your eyes look round, wide and innocent rather than sleek and sexy.
This trend can be easily achieved with eyeliner in both black and white (white for the waterline to make your eyes pop), big falsies and a generous coating of mascara.
And remember, these are just makeup trends that'll change from one month to another (or even less than that, thanks to the speedy cycles of TikTok), so don't worry about what your natural eye shape is. Just play around with some makeup if there's a look you want to achieve on any given day and love your natural face!
GET THE LOOK:
2. TIRED EYES/SLEEPY EYES TREND
Whilst getting enough actual sleep is super important for your brain as well as your skin, the tired eyes trend is going strong.
If you are having problems getting enough shut-eye, then just pack away your eye creams and concealers, because dark circles are chic now, apparently. Emphasise the look by buffing a neutral shadow into the outer third and crease of your eyelid and using black eyeliner to create a straight wing and fill in your lower lash line. This pulls your eyes down for a heavier top lid and gives you that sleepy look (think Billie Eilish, Emma Chamberlain).
A bit of eyeshadow underneath the eyes doesn't hurt either! Blend out your eyeliner for a smudged, smoky look to add to the effect.
GET THE LOOK:
3. UPSIDE-DOWN EYESHADOW
Yeah, you've put lipstick under your eyes to tone dark circles and maybe you've even tried the trend where you add dark circles to your eyes—but what about upside-down eye makeup?
While people have been putting eyeshadow on the lower lash lines since forever, it's usually in tandem with eyeshadow on the top lid. This look, however, keeps eyeshadows beneath the eyes. It's a fun way to add a pop of colour to your look without seeming like you're wearing too much makeup, and we're all for it.
You'll want to start by dusting some loose powder under your eyes to help prevent fallout (you'll dust this away at the very end). You can still do eyeliner and/or mascara on the upper lids, but only apply eyeshadow on the bottom, lining from tear duct to outer corner with a thin brush.
To keep your look super crisp, we recommend mixing your shadow with a bit of water or Inglot's Duraline to create a more pigmented and long-lasting colour.
GET THE LOOK:
4. COQUETTE MAKEUP
Coquette makeup is a viral trend inspired by early 2010s 'Tumblrcore', Barbiecore, Lana Del Rey's music and the resurgence of hyperfeminity in general. This aesthetic is all about taking pride in femininity, a thing that's often looked down on as weak or fragile and the antithesis of strong—which it certainly isn't.
A celebration of the pink, lacy, girly things a lot of women are taught to turn a nose up at, the coquette look is definitely one to incorporate into your clothing and makeup.
This translates to eye makeup through a super sharp gel liner with wispy, flirty lashes and eyeshadow and mascara that's concentrated a bit more towards the centre of the eye rather than the outer corner, in order to widen rather than elongate.
GET THE LOOK:
5. GLAM GRUNGE
Coquette makeup wasn't the only thing thriving in the early 2010s—remember that smudged, emo/grunge eyeliner and black eyeshadow all the way up to our eyelid creases? Well, now it's back, under various names (thanks to our obsession with putting everything into specific 'aesthetics') like indie sleaze, rockstar girlfriend and glam grunge.
The opposite of last year's glossy, polished looks, glam grunge is messy, matte and much more full coverage.
For the eyes, we like using darker eyeshadows, lots of dark eyeliner and plenty of mascara to make the lashes stand out against such bold looks. To glam it up, use products with some glitter or add a dark lip.
GET THE LOOK:
6. INVISIBLE EYELINER
The subtlest trend on this list of bold looks, invisible eyeliner is a minimalist spin on winged eyeliner that blew up on TikTok in 2022. The look plays with negative space, as you use a light-coloured concealer to carve a wing shape at the corner of your eyes so that your natural skin tone forms the wing.
You can also apply brown eyeshadow on the lid before applying concealer to make the optical illusion a bit stronger, and if you want to take this super subtle look to the next level, you can use concealer to make all kinds of shapes around the eye, not just a wing!
GET THE LOOK:
7. FALSIE EFFECT MASCARA
A great accompaniment to the coquette or glam grunge makeup looks, layering on mascara is predicted to be on-trend for 2023.
The idea is to make your lashes look like you've got falsies on, so use at least three layers of mascara and don't forget the bottom lashes! Choose a super voluminous and lifting formula like the ones we've picked out below to get this look.
SHOP OUR FAVOURITES:
8. PASTEL EYESHADOW
From the baby blues of the early 2000s to pale purples and greens reminiscent of Euphoria, pastel eyeshadow is set to take over 2023. Take it all the way up to your crease for more of a pop or create a soft wing for a more understated look.
Everyone's loving these shades on their own for a minimal yet colourful effect, as well as paired with mascara and eyeliner.
GET THE LOOK:
Feeling inspired after devouring all these delicious 2023 eye makeup looks? Here's more on trending Y2K makeup, or you might like to read about the skincare trend called double cleansing- and find out what it's all about and how to do it.
Related Categories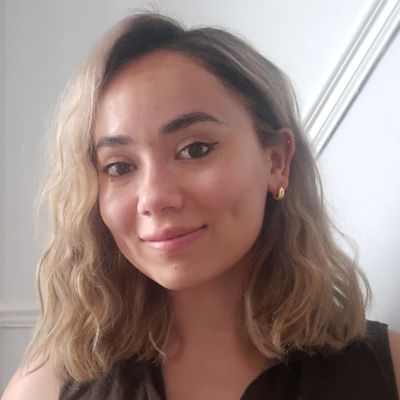 Gabriella is a junior content writer with a background in creative writing, content marketing and journalism. She's passionate about all things makeup and skincare, but especially vegan and cruelty-free beauty that is effective and inexpensive.