Your 101 Guide to the Best of TAN-LUXE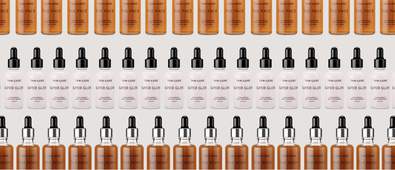 Wave bye-bye to streaks, smells and orange snail trails, as TAN-LUXE are the latest brand to revolutionise the self-tan sector.
Made for the times when we're feeling a little ghostly, TAN-LUXE's full line-up of tanning lotions and potions lay down a golden glow that is simply unrivalled – think two weeks in the Med, bottled.
To find out how you can cheat your way to a natural, healthy-looking colour, check out our 101 guide to the best TAN-LUXE products below (disclaimer: you cannot leave without bagging the fan-fave Face Drops - you won't regret it).

TAN-LUXE The Drops Collection
The TAN-LUXE Drops are the only way to achieve an undetectable faux tan. While the innovative concentrate is one of the newer formulas to hit the self-tan scene, it's already managed to bag multiple awards and become a fan-favourite product. How, we hear you ask? Well, as well as utilising good-for-skin ingredients, the revolutionary dropper system allows you to turn your favourite serum, moisturiser or oil into tailor-made tanning. You're given complete control over your glow, with no streaks, smells or drama in sight. Discover TAN-LUXE Drops for the face and body and look forward to revealing seamless, sun-kissed skin.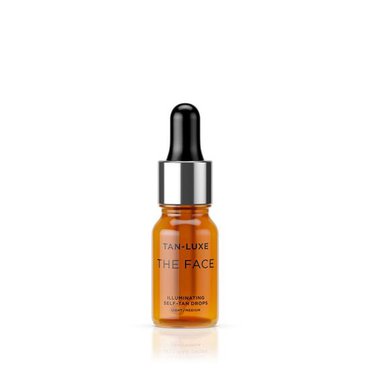 £32.35

£32.40

(1% off)
It's the ground-breaking formula that started it all. The Face Illuminating Drops are all you need to give skin a subtle bronzing. Working with your existing skin care routine, the drops can be added to your favourite moisturiser, serum or lotion to create a custom self-tanner. The more drops you add, the deeper the tan – no need to be shy, the formula promises no streaks, smells or patches. Within two to four hours, you'll have developed a radiant, sun-kissed glow that looks oh-so natural.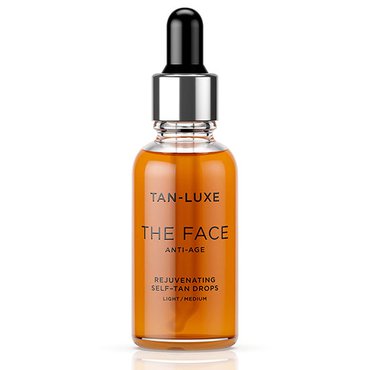 £31.19

£40.00

(23% off)
Just when you thought it couldn't get any better, TAN-LUXE enhance their iconic The Face concentrate with a tonne of anti-ageing benefits.
This formula is the world's first ever anti-ageing, tailor-made tanning system and therefore a must-have for your collection. Not only do the drops provide effortless bronzing, but they also work around the clock to promote healthy, youthful skin. Thanks to a tri-collagen booster, you can wave bye-bye to fine lines, wrinkles and age spots.
Just like the original, the self-tan drops can be added to your favourite skin care products to create a customisable glow.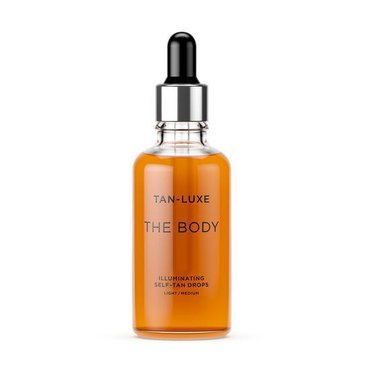 £39.12

£46.02

(15% off)
Think The Face is good? Wait 'til you get your mitts on The Body.
Bigger and better, The Body Illuminating Self Tan Drops are your fast track to an all-over sun-kissed glow. The tailor-made tanning concentrate can be mixed with your usual body treatments so that you can flaunt a flawless tan from top-to-toe. They even firm and tone skin, thanks to an added infusion of caffeine. Expect no streaks, smells or drama as The Body Drops are super easy to control – the more you drop, the more you glow! It really is as simple as one, two, three.

TAN-LUXE The Super Glow Collection
TAN-LUXE are back with another world's first as The Super Glow collection hits the shelves. This hyaluronic-infused, superfood self-tan range is the first of its kind and promises to provide a good skin day, every day. Each formula within the line-up has been developed with skin health in mind and works to nourish, protect, hydrate and brighten your complexion. And, of course, The Super Glow collection lends a helping hand when it comes to boosting your natural radiance. With every product infused with just the right percentage of tanning actives, you can reveal sun-kissed skin.
£24.73
Rocking a healthy glow all-year-round has never been easier. The TAN-LUXE Super Glow is powered by seven superfoods and a hyaluronic acid complex in order to keep your skin looking and feeling healthy. Everything from cocoa seed extract to sodium hyaluronate help to protect, hydrate, brighten and nourish your skin, allowing you to put your best face forward.
Of course, the serum is also infused with tanning actives that subtly lace skin with a natural-looking glow. With daily use, you can work your way up to a seriously bronzed complexion.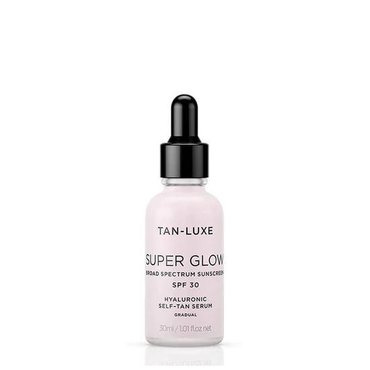 £35.35

£40.00

(12% off)
The TAN-LUXE Super Glow SPF30 supercharges skin with good-for-you ingredients, provides protection against UV rays and external aggressors and gradually laces skin with a natural-looking tan – impressive, right?
This multi-tasking skin care, self-tan hybrid is a must-have for your collection. A fast track to a lit-from-within glow, it can be worn alone or used before makeup to create a luminous, dewy finish. With daily use, skin begins to appear smoother, plumper and more radiant. Think of it as super-smart sun protection that glows.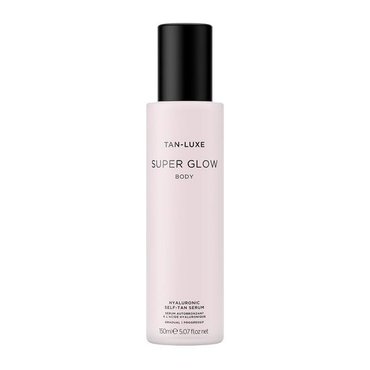 £30.44

£36.00

(16% off)
Super Glow Body can provide a post-vacation glow, but all-year-round. That's right, this daily body serum will fool anyone into thinking you've been sunning by the beach for the last two weeks. Powered by a hyaluronic acid and superfood blend, the serum works to soften, smooth and firm the appearance of skin, right from the very first application. An added dose of tanning actives allows you to gradually build a natural-looking tan, meaning you really can glow from head-to-toe.

TAN-LUXE The Gradual Tanning Collection
Work your way up to a beautiful bronzing with a variety of gradual self-tanning products from TAN-LUXE. Featuring illuminating lotions, tanning butters and miracle sleep oils, this collection is all you need to build your best, most desired tan.
As well as providing buildable colour, each product in this line-up is bursting with skin-loving ingredients, so you can also indulge in a hydrated, replenished and nourished complexion. Whether you're a tanning expert or a beginner at bronzing, these gradual formulas are the perfect addition to any skin and body care routine.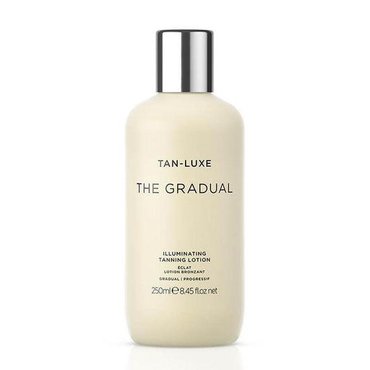 £22.19

£25.00

(12% off)
Looking for a body moisturiser that goes the extra mile? Look no further, as the Gradual Illuminating Tanning Lotion hydrates, nourishes, protects and tans skin in one fell swoop – no wonder it's a cult-favourite.
Boasting a revolutionary oil-to-lotion formula, it effortlessly melts into skin upon application and delivers ultimate hydration. A natural, buildable colour develops in just one hour with no streaks or smells left behind. The multi-purpose formula can be used daily, just like a regular body moisturiser, or as an after-sun to maintain that post-holiday glow.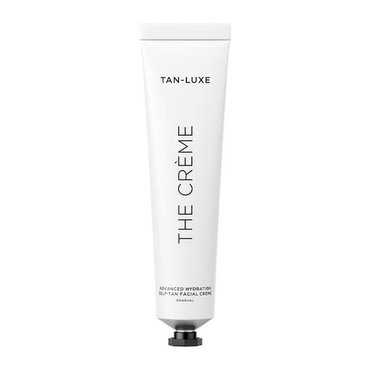 £34.97

£39.00

(11% off)
This is a revolutionary rich intensely hydrating self-tanning moisturiser 'crème' for the face that works to repair and renew, leaving you with radiant skin that glows from within.
Powered by a mix of amino acids, antioxidants and skin identical lipids, it helps to support daily barrier function, while fighting the effects of environmental aggressors to leave skin with that sun-kissed glow.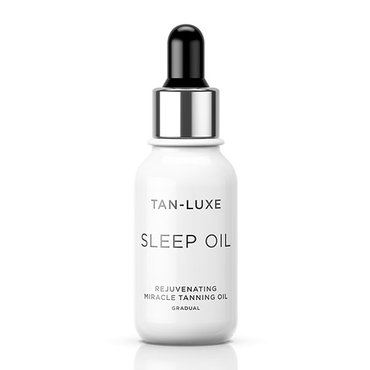 £30.93

£40.00

(23% off)
One too many late nights? Fear not, as TAN-LUXE provide a formula that will cover those extra hours for you – think of it as eight hours of beauty sleep, bottled.
Sleep Oil is the ultimate night treatment, designed to rejuvenate and revive dull and fatigued complexions. Powered by six pure oils and three types of vitamins, it's all you need to maintain a young and healthy canvas. In true TAN-LUXE style, the oil also doubles up as a gradual tanner so, when you wake the next morning, skin is both refreshed and radiant.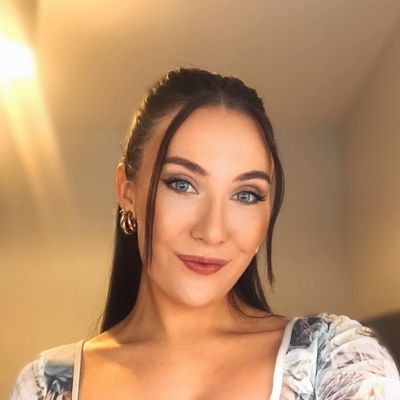 As the Senior Content Editor for Cosmetify, Carly is the go-to for all the latest (and greatest) beauty tips, tricks and trends. With over six years of experience in the industry, she knows all the ins-and-outs when it comes to health, beauty and wellbeing.