War Paint
Discover the War Paint selection of bronzers, concealer & colour correctors, foundations and much more. Remember to sign up with us so that you are first to know about their promos and sales.
7 products found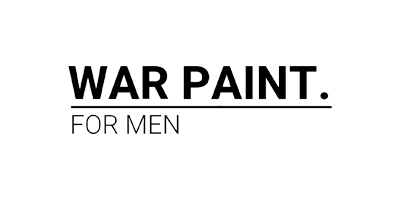 Why should makeup be something enjoyed solely by women? Whenever you see A-list actors or musicians on a chat show, their jawline is pronounced and their skin looks incredible. Whilst these men may be very attractive, their glistening complexion is the result of a talented makeup artist using the best products. War Paint are breaking down the stigma against men wearing makeup, offering deluxe products that give you an A-list complexion.
The makeup for men movement is spearheaded by War Paint founder, Danny Gray. You won't meet a more passionate and enthusiastic advocate for male makeup than Danny, the man who credits makeup for inspiring his confidence and self-expression. He's not suggesting that makeup is a miracle cure for low self-esteem, but when used correctly, it can be a fun, effortless and exciting way to enhance your natural appearance.
If you're tempted to give makeup a try but unsure about where to start, have a browse of War Paint's stellar selection, offering everything from primer to concealer. Whatever product you choose, be bold and where it with pride.
Where is the best place to buy War Paint products online?
A range of War Paint products are available to buy online from UK retailers, such as John Lewis, Harvey Nichols and Mr Porter.
Whether you're looking for bronzers, concealer & colour correctors, foundations plus lots more, Cosmetify is here to help. We cut down the search time so you can easily compare prices of all your beauty must-haves in an instant. Find where they are being sold for the lowest price and restock your beauty cabinets at a fraction of the cost.
We also showcase delivery cost and associated deals, so you can find the best prices for your favourite beauty goodies in one place.
Frequently Asked Questions about War Paint
Are War Paint formulas 100% vegan?
War Paint is vegan-friendly and does not use animal-derived ingredients or by-products in any of its product lines.
What is the War Paint policy on animal testing and their cruelty-free status?
As a cruelty-free brand, War Paint does not incorporate animal testing into its development or production regime, nor does it authorise any third parties to perform animal testing on its behalf.
Vegan Friendly
Cruelty Free