This Works
Shop the This Works selection of day creams, anti-ageing skin care, face oils & serums and much more. Make sure you sign up with us so that you don't miss out on their offers and sales.
Best Selling This Works Products
This Works Sleep Solutions
Renowned for their sleep inducing remedies, This Works have everything from irresistible body balms to snooze-worthy pillow sprays. Take a sneak peek at their award-winning collection of natural sleep solutions and delve into a deep, relaxing and stress-free slumber.
Their range of products are also fantastic for your skin, using nourishing ingredients and innovative formulations. This helps you achieve your well-deserved beauty sleep, so your skin looks healthy and thriving come morning.
Whether you having trouble drifting off or want to perfect your zen time, This Works have the solution for you.
Feel rested and restored with This Works Deep Sleep Pillow Spray. This award-winning solution is the secret to sleep success.
It uses a relaxing blend of lavender, vetiver and chamomile to ease your mind and body. Simply spritz onto your pillow and duvet before you hit the hay to let the natural oils get to work calming your senses.
The spray is also ideal for travelling, as it creates a peaceful moment wherever you rest your head.
£16.57
Relax at the end of a hard day using the Sleep Balm from This Works. Simply rub the balm onto your pulse points before bed. The warmth of your skin will then release the serene aromas to ease any tensions.
The balm combines a number of nourishing oils, such as lavender, rose, coconut and monoi, which soothe the skin and relax the body. The lavender aroma is also known for its comforting qualities, helping you naturally drift off come night-time.
Not to mention, you can also use this balm to nourish any dry patches, like cuticles, hands and elbows.
£10.20

£12.00
Start your sleep routine way before your head hits the pillow with the Deep Sleep Shower Gel. This nourishing and luxurious gel helps wash away impurities, while also easing the mind and body.
The formula is free from GMOs, parabens and sulphates and is enriched with hydrating and soothing natural essential oils, including lavender, chamomile and vetivert. This moisturising solution helps soften the skin and wash away the worries of the day. Use just before bed to prepare your body for a relaxing slumber.
£15.30

£18.00
Set the scene for a relaxing night of rest with This Works Deep Sleep Heavenly Candle. It provides an irresistible and therapeutic fragrance of lavender and chamomile, which is the ultimate treat after a long, hard day.
Housed in a sleek, white jar, this candle looks perfect situated on your nightstand or alongside a relaxing bath. Lighting a candle is a fantastic way to create a calming ambience, which gets you in the best mindset before bedtime.
And with a burn time of 40 hours you can rest assured you can use this candle time and time again.
£22.10

£26.00
This Works Body Care
Discover a plethora of clean, nourishing and targeted solutions for your body with This Works. From moisturisers to tan-enhancers, there's an item to suit every type of routine. And with This Works you can easily find nurturing products that target specific concerns and areas of the body, such as the arms, legs, chest and hands.
In each of their products they use scientifically backed formulations and naturally derived ingredients. This includes their 'superblend', which excludes any nasties or harsh chemicals. These nourishing body care goodies are truly a treat, providing comforting, hydrating and soothing results day after day.
Keep your legs looking lovely all year round with This Works Perfect Legs Skin Miracle. This must-have formula delivers a subtle caramel tint, which gives you a natural sun-kissed effect. It has a serum-like format and is easily absorbed with no greasy feeling.
This tinted moisturising solution also combines arnica and vitamins C and E to repair the skin by evening out texture and minimising discolouration from bruising.
Simply smooth and massage across your legs to achieve hydrated, smooth and rejuvenated results.
£25.84

£30.40
Often the chest area gets overlooked when it comes to body care products, but not with This Works. Their Perfect Cleavage Firming Lotion is a great option for beauty lovers searching for a hydrating, anti-ageing formula for their neck, chest and décolletage.
Enriched with bioactive ingredients, such as marine-based algae, comfrey root and rose essence, this lotion helps protect and nourish the delicate skin in this area. More than that, it also includes an innovative blend of hydrating hyaluronic acid and brightening vitamin C.
Use regularly for soft, supple and youthful results.
£29.80
What with over-washing, cold weather and hard work, our hands often look a little worse for wear.But not anymore with This Works Perfect Hands Intense Moisture. This nourishing hand cream is a must on your wish list, thanks to its quick absorbing formula and refreshing floral fragrance.
Formulated without nasty chemicals, this moisturiser feels gentle and hydrating. It contains a winning 'superblend' of botanicals, which tighten, hydrate and smooth the skin. This helps tackle dry, cracked and sore hands, transforming them into moisturised mitts to be proud of.
£14.90

£18.00
This Works Skin Care
Your skin goes through a lot, which is exactly why you deserve to treat yourself to a clean skin care routine from This Works. All their products are free form nasties and only use 100% natural fragrance. Better still, they are entirely cruelty-free and have a wide range of vegan-friendly products.
Each skin care item is designed to protect, nurture and rejuvenate your precious complexion all day long. From eye creams to face oil, there's a product to help you at every step of the way. Browse their skin care line and discover anti-ageing, hydrating and detoxifying must-haves all under one roof.
Whether you've had one too many late nights or simply need an extra boost come morning, This Works No Wrinkles Tired Eyes is the perfect solution. It has a serum formulation which works by tightening, smoothing and soothing the delicate skin around your eye area.
To help improve cell renewal and revive tired eyes it uses a combo of plant-based ingredients and essential oils, including Persian silk tree. This refreshes the skin and banishes the signs of fatigue, such as under eye circles, discolouration and puffiness.
£42.00
Get your hands on one of This Works' best-selling three-in-one formulas; the In Transit Camera Close Up. Use this nifty product as either a primer, moisturiser or face mask. It's the secret to a picture-perfect complexion, helping plump and smooth your skin in an instant.
It uses a high-quality 'bio-boost' which contains antioxidants and minerals, as well as hyaluronic acid and caffeine. This innovative blend of ingredients is a fan favourite among A-listers and beauty editors, as it smooths wrinkles, awakens tired complexions and brightens dull skin.
£25.60

£27.20
Do you struggle with stressed out, dull and tired skin? This Works have just the solution. Their much-loved Stress Check Face Oil tackles all your skin concerns in one go, instantly calming and soothing irritated complexions.
The natural formulation is jam packed with botanical oils and vitamins to help moisturise the skin, as well as soothing any redness, dullness or extreme dryness. It has a lightweight consistency, which feels super luxurious when massaged across your face. Wear daily to help protect your complexion and prevent any further skin struggles.
£31.00

£40.00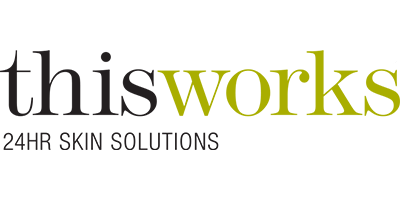 A lot of beauty brands swear that if you use their products you're guaranteed to see results. But how many times have you gave a product a go and thought to yourself "this works"? Just like the name suggests, this award-winning skincare brand This Works has a range of products that will blow your mind each time you use it.
Since skin cells are renewed during sleep, This Works has a collection of sleep treatments that not only help you to drift off but enhances the skin's performance whilst you do. The result is healthy-looking appearance.
What's more, each product boasts the impressive Superblend system – which contains naturally derived and scientifically proven ingredients at therapeutic levels. You can expect these star products to protect your skin from external aggressors like pollution, stress and UV rays from the sun.
With your best interest at heart, every product is trialled and given the thumbs up from a panel before they hit the market and make into your skincare routine.
Why We Like This Works
"Here at Cosmetify HQ we love This Works for their innovative formulations and their sleek, cool packaging. The award-winning brand is a must for any beauty lovers searching for dreamy pillow sprays or the ultimate hydrating serums. No matter your night time routine, This Works come to the rescue and their products should be top of your shopping list!"
Rebecca Jenkinson, Beauty Writer
Where can This Works products be bought in the UK?
This Works can be bought from a number of leading retailers in the UK, such as Allbeauty, John Lewis and HQHair. You can also get these products from Amazon, Beauty Bay and more.
And it couldn't be easier to find the cheapest place to buy your day creams, anti-ageing skin care, face oils & serums and much more by using Cosmetify. We put in the hard work to compare prices from different retailers, so you can find the best price for all your favourite This Works products.
Is your favourite This Works product out of stock? Don't panic, simply sign up for an alert and we'll let you know the second it's back.
Frequently Asked Questions about This Works
Do their product formulations contain Parabens?
The brand do not use parabens in their product ingredients.
Is This Works a phthalates-free brand?
They are a completely phthalates-free brand.
Is This Works mineral oil-free?
Mineral oil is not included in any of their products or formulas.
Are This Works classified as a Fair Trade organisation?
They strive to use fair trade and sustainable ingredients whenever possible.
Is This Works alcohol-free?
Some of their products do contain alcohol. Avoid these by using our filters and checking product ingredients.
Are these products fragrance-free?
Some products do contain artificial fragrances. You can hide these by ticking fragrance-free in our filters.
Are their products Sulphate free?
Many of their products are not sulphate free. If you wish to shop for products without this ingredient please use our sorting options.
Do This Works products contain animal products or by-products?
Most of the This Works products featured on our site are not vegan-friendly, but you can view those that are by simply looking for the vegan icon on the relevant product page.
Paraben Free
Natural
Phthalates Free
Mineral Oil Free