Soap & Glory
Shop the Soap & Glory range of soaps, eyeliners, eyeshadows plus lots more. Remember to sign up to our alerts so that you don't miss out on Soap & Glory offers and sales.
64 products found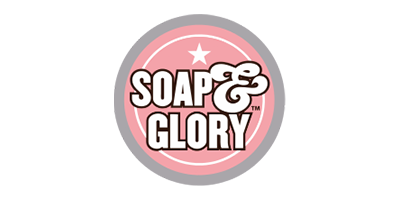 With its playfully vintage aesthetic, Soap & Glory has become a familiar sight on high street shelves. This ubiquity wasn't always to be taken for granted, however, particularly not in 2006, when the brand was yet to fully emerge from the imagination of its founders.
Later that year, however, the very first Soap & Glory hit the market. And the brand's clear commitment to providing every girl with the best bang for her budget, via exceptionally high performing beauty formulas, pretty much guaranteed that they weren't destined to remain small for very long.
From the One Heck Of A Blot primer to the various shades of Sexy Mother Pucker, the brand's idiosyncratic, never knowingly unwitty creations are quite unlike anything else, and fully deserving of a place in any self-care ritual. We could bore you with all the different reasons why Soap & Glory excels but, as they say themselves, beauty is supposed to be fun at heart. Apply your favourite products with a smile on your face.
Where is the best place to buy Soap & Glory products online?
You can get Soap & Glory products from a number of leading and well-known online retailers in the UK, including Boots.
But with such a saturated market, it can be tricky figuring out which is the best place to buy Soap & Glory products for the cheapest price. That's where we come in. Cosmetify helps by showcasing all the prices from multiple retailers and letting you order online. This means we compare the costs so whether you're looking for soaps, eyeliners, eyeshadows plus lots more, you can easily find the cheapest price on all your favourite bits and bobs.
Is your favourite Soap & Glory product out of stock? Don't panic, simply sign up for an alert and we'll let you know the second it's back.
Frequently Asked Questions about Soap & Glory
Is Soap & Glory a cruelty-free brand?
This brand's whole line is cruelty-free which means they don't test their products or formulations on animals.