The Rise Of The Cosmuter: More Than Half of UK Women Apply Makeup on Their Commute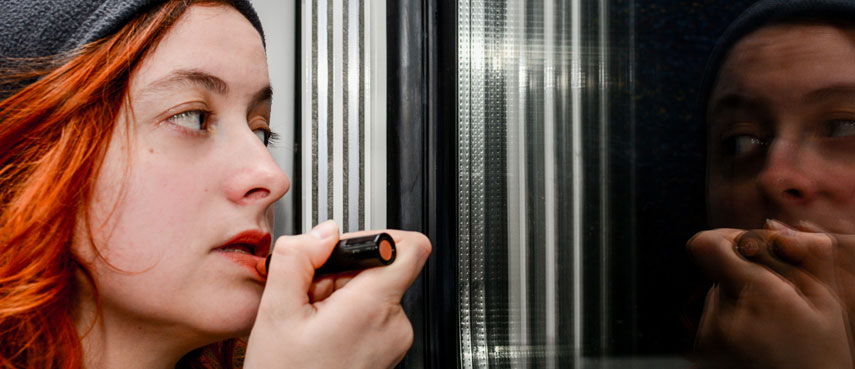 More than half (55%) of UK women admit to doing their makeup on public transport, as research reveals the latest trend of applying beauty products while commuting.
Over 2,000 British women over the age of 18 took part in this Cosmetify study, all of whom wear makeup often.
Almost a third of UK women (30%) admit to leaving the house in the morning before putting any makeup on. This number rises to 52% for women aged 25-34, making them the most likely age group to leave the house bare-faced. Interestingly, single women are more likely than other groups to leave home before doing their makeup, with a quarter admitting to this.
Belfast beats London as the UK's "cosmuter" hotspot with almost three-quarters (73%) of women saying they do their makeup on public transport.
Top "cosmuter" cities:
Belfast (73%)
London (67%)
Plymouth (61%)
Norwich (58%)
Glasgow (56%)
Edinburgh (55%)
Leeds (54%)
Birmingham, Cardiff and Manchester (all 53% respectively)
When asked why they didn't apply makeup before leaving the house, more than one in three women (34%) put it down to not getting up early enough, closely followed by 32% who have to get the kids ready.
But, despite more than half of the women polled doing their makeup on public transport, 39% of "cosmuters" admit to feeling self-conscious and say they don't like others watching them.
However, not all women feel the same, with a quarter enjoying doing their makeup on the commute as it makes them feel productive. Additionally, one in five women say it's just a normal part of their daily routine, and more than a third (34%) find it fascinating to watch others and hope to discover a new beauty technique on the way.
There are some fears of commuter beauty being banned in the UK, as it is in Tokyo, but almost two thirds of women (65%) say they wouldn't want to see makeup on public transport being made illegal.
Matt Davies, founder of Cosmetify, said: "Commuter beauty is on the rise, but it often divides opinion, so we thought it would be interesting to find out women's perceptions across the UK.
"Our research shows that, on the whole, people are very accepting of it. Women have never been as time-poor as they are today, so by doing their makeup on the way into work they can save a few extra minutes in the morning – and who knows, they might even pick up a new beauty tip from a fellow commuter along the way."
Contact Us
Need further information on this study? For any media queries or interview requests please contact us via our press page.