More Than Two Fifths of British Men Take Longer than Their Partners to Get Ready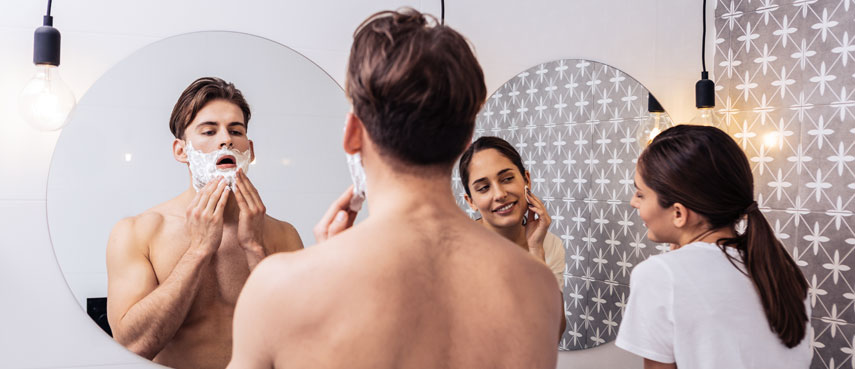 42% of British men living with their partners admit they take the longest to get ready
Men take on average 25 minutes to get ready for work and 48 minutes to get ready for a night out
More than half of men admit to plucking their eyebrows, typically every two weeks, with 19% doing so more often since watching the new season of Love Island
One in five British men have worn makeup, with most aged 18-29
We polled more than 1,900 British men over the age of 18 and of different sexual orientations as part of a study into male grooming habits.
When initially quizzed on their living situation and how long it took them and any others that they lived with to get ready, it was found that more than two fifths of those who live with a partner (42%) take the longest to get ready in the morning. It was also found that the average British male takes 25 minutes to get ready for work in the morning, compared to 48 minutes in order to get ready for a night out.
Delving deeper into the grooming habits of men, it was found that:
53% of men use skin care products, with almost two thirds (64%) using them daily
51% of men regularly pluck their eyebrows, with most doing this once every two weeks (40%)
39% of men admitted to wearing fake tan, although most (59%) say they only have on special occasions
26% of men use anti-ageing products, with the average starting age found to be 32 years old
What's more, close to one half (44%) said that they have been watching the latest season of Love Island. 54% of those watching the show have started working out more, 28% have gone on a diet and 19% have begun plucking or shaving their eyebrows. 12% even confessed to shaving their intimate areas after watching the programme and 7% admitted they've started applying fake tan. This comes following the news that contestant Anton Danyluk's mum shaves his intimate area for him and that he considers it the 'least she can do'.
It was also found that more than one in five British men (21%) have worn makeup in the past, with this number seemingly higher among 18 to 29 year olds (29%) and 46 to 60 year olds (23%), but lower in 30 to 45 year olds, at 15%. However, just 5% of men revealed that they wear makeup every day, 29% said they wear it once a month, and 48% said that they haven't worn it in a long time.
The top reasons for wearing makeup were found to be 'to hide blemishes' (39%), with a further one in five (20%) doing it 'to look good for an occasion', and one in six (16%) doing so to 'express personality'. The most common items of makeup worn were concealer (67%) and foundation (41%).
Commenting on the findings of the study Cosmetify's Head of Digital Isa Lavahun says:
"Men investing more time and money on their grooming habits is no surprise, especially amongst the younger generation. These results only highlight what we already know but can't seem to grasp about the modern day man. They need to hide blemishes and cover up spots the same way women do, and are an untapped market when it comes to makeup and skin care. Beauty brands need to either move towards positioning makeup as gender neutral, or target men in a way where they feel included in the conversation."
Contact Us
Need further information on this study? For any media queries or interview requests please contact us via our press page.