OUAI Haircare Thinning Hair Supplements x 30
This item is temporarily out of stock
Get notified when it's back in stock.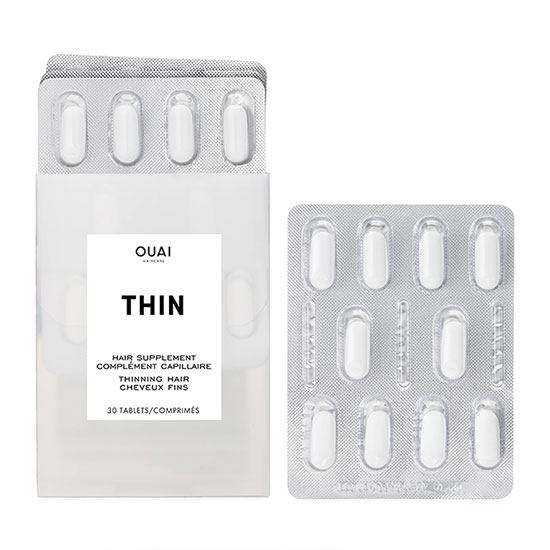 Product Details

Has stress or age taken its toll on your hair? If so, OUAI Haircare has a solution: thinning hair supplements.

The use of the natural ingredients such as green tea extract, biotin, niacin and ashwagandha aids hair growth to create longer and stronger strands.

Ashwagandha is a natural plant known to be used worldwide to prevent stress, hair shedding and increase blood circulation. It has great anti-ageing effects, which is why it is a key ingredient for Thinning.

For girls and guys who are combatting hair loss, Ouai Thinning will reduce hair breakage, and bring back shine and life to hair. The supplements begin to restore your hair within 90 days.

Conquer the effects of ageing or a bad haircut to keep feeling beautiful with Ouai.

Product Features

This OUAI Haircare product is Paraben Free, Sulphate Free, Cruelty Free, Phthalates Free and contains Vitamin C.

how to use

Take one supplement a day with water.

ingredients

Green Tea extract, Niacin, Biotin, Ashwagandha, MSM, Vitamin C (as ascorbic acid) 75 mg 125%, Vitamin D3 (as cholecalciferol) 1, 000 IU 250% Vitamin E 0.136 IU <1% (as mixed Tocopherols supplying alpha, beta, gamma and delta tocopherols), Thiamine (vitamin B1) (as thiamin mononitrate) 1 mg 67%, Riboflavin (as vitamin B2) 10 mg 588%, Niacin (as niacinamide) 25 mg 125%, Vitamin B6 (as pyridoxine hydrochloride) 50 mg 2, 500%, Vitamin B12 (as cyanocobalamin) 25 mcg 417%, Biotin 100 mcg 33%, Pantothenic acid (as d-calcium pantothenate) 25 mg 250%, Calcium (as dicalcium phosphate) 100 mg 10%, Iron (as ferrous fumarate) 5 mg 28%, Phosphorus (as dicalcium phosphate) 78 mg 8%, Zinc (as zinc sulfate) 5 mg 33%. MSM (methylsulfonylmethane) 100 mg, Omega 3 Complex (6% EPA &4% DHA) (fish oil) 50 mg, Horsetail Extract (standardized to 7% silica) 50 mg (Equisetum arvense) (herb), Ashwagandha Extract 50 mg (std. to 1.5% withanolides) (Withania somnifera) (root), Silica Bamboo Extract (Phyllostachys viridis) (leaf and steam) 2 mg, L-Tyrosine 2 mg, L-Methionine 2 mg, L-Cysteine (as L-cysteine hydrochloride) 2 mg, L-Arginine (as L-arginine hydrochloride) 2 mg, Microcrystalline Cellulose, Croscarmellose Sodium, Calcium Silicate, Silicon Dioxide, Vegetable Stearic Acid, Vegetable Magnesium Stearate, Hypromellose, Polydextrose, Titanium Dioxide, Maltodextrin, Medium Chain Triglycerides, Carnauba Wax.

Please be aware that ingredients may change or vary from time to time so please refer to product packaging for the most up to date list.