Google Beauty

Need to know how to perfect your eyeliner wing? How to enhance your cupid's bow just that bit more? Or maybe how to get rid of those blackheads once and for all?... What do we do? Google it!
The trusty search engine is there for all our cosmetic crises, providing us with tips, tricks and tutorials with one click of our acrylics. But what are the burning questions that beauty-loving Brits are asking the most? We've turned to Google search data to find out, and the Cosmetify team have provided some answers too!
The UK's Most Searched Beauty Questions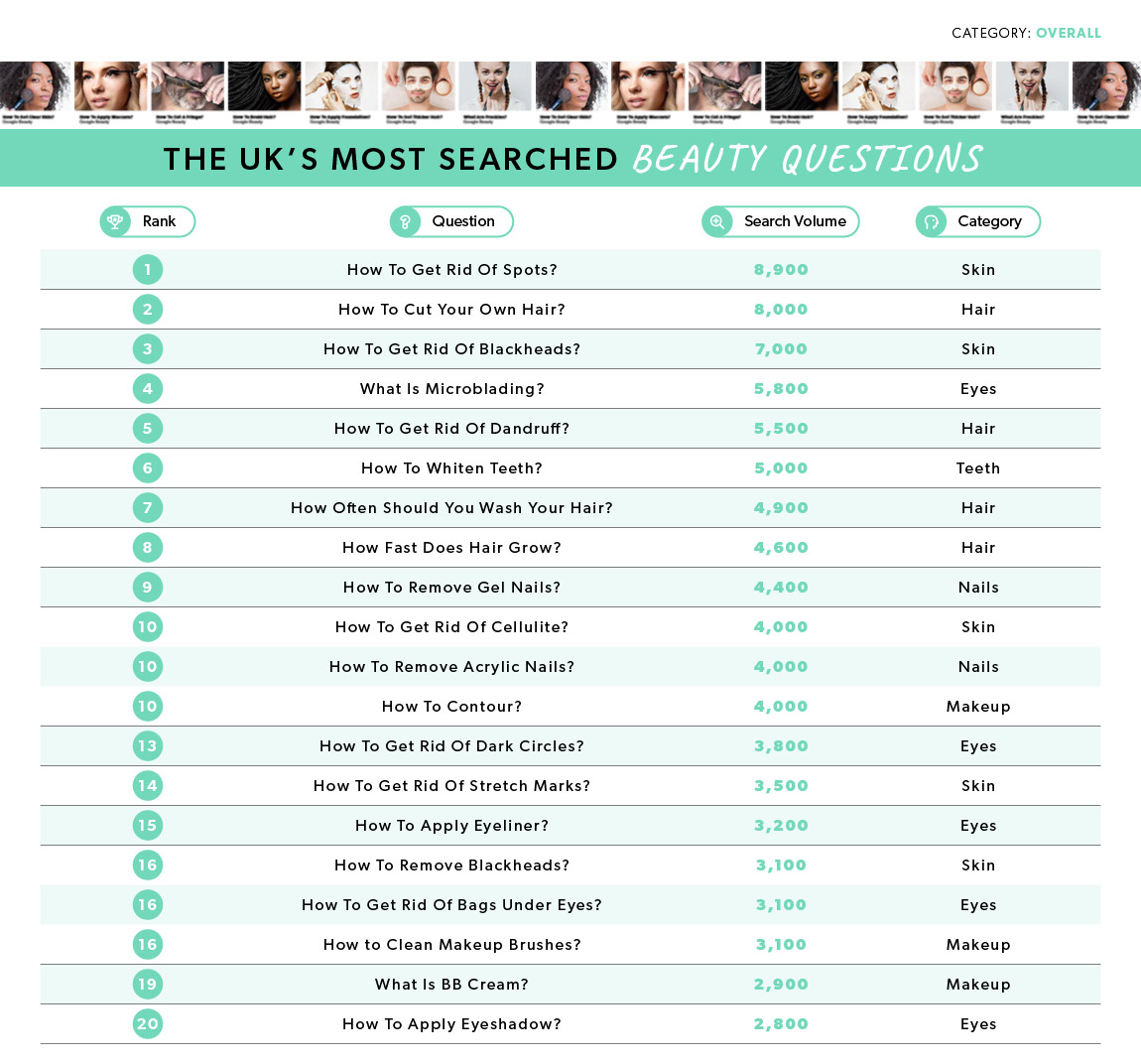 No matter your brand of foundation or concealer shade, underneath it all, it seems we all have one similar, unanswered issue in common… dreaded skin blemishes.
With almost 9,000 monthly searches, "How to Get Rid of Spots?" takes the crowning glory as our biggest beauty concern. Not far behind, in third place. is "How to Get Rid of Blackheads" in third place with 7,000 searches.
Did you know that stress can make skin issues worse? So take a deep breath, because we have the solution for you...
So, what should you do when a dreaded breakout strikes?
Whether it's a hormonal pimple, a pack of whiteheads or a cystic acne flareup, there are rules when it comes to treating a breakout – number one being, never pick!
When an unexpected case of stubborn spots takes over the skin, our first port of call is always the La Roche Posay 2 Step Effaclar Kit. Specially formulated for oily, acne-prone skin, the gentle cleanser washes skin without over-exfoliating.
If you're looking for an overnight miracle, however, then give Mario Badescu's Drying Lotion a go – it uses salicylic acid to soothe and clear up pimples, without irritating skin further.
Of course, we want to keep banish breakouts from returning, so we suggest making daily use of The Ordinary Niacinamide 10% + Zinc 1%. This gel-serum is packed with vitamins and minerals that prevent future congestion, as well as clear up marks and scars left from previous blemishes.
How to Cut Your Own Hair?
A trip to the hairdressers is an enjoyable one for many. Head massage? Yes please! However, it seems that many are trying to save some pennies by attempting DIY. With 8,000 monthly searches, "How to Cut Your Own Hair?" is the nation's second most-searched beauty quandary.
Whilst it may seem like a good idea at the time, this is a big commitment - and risk. We've all seen enough ultimate fail compilation videos to know that you need some serious expert advice before picking up those scissors!
The UK's Most Searched Skincare Questions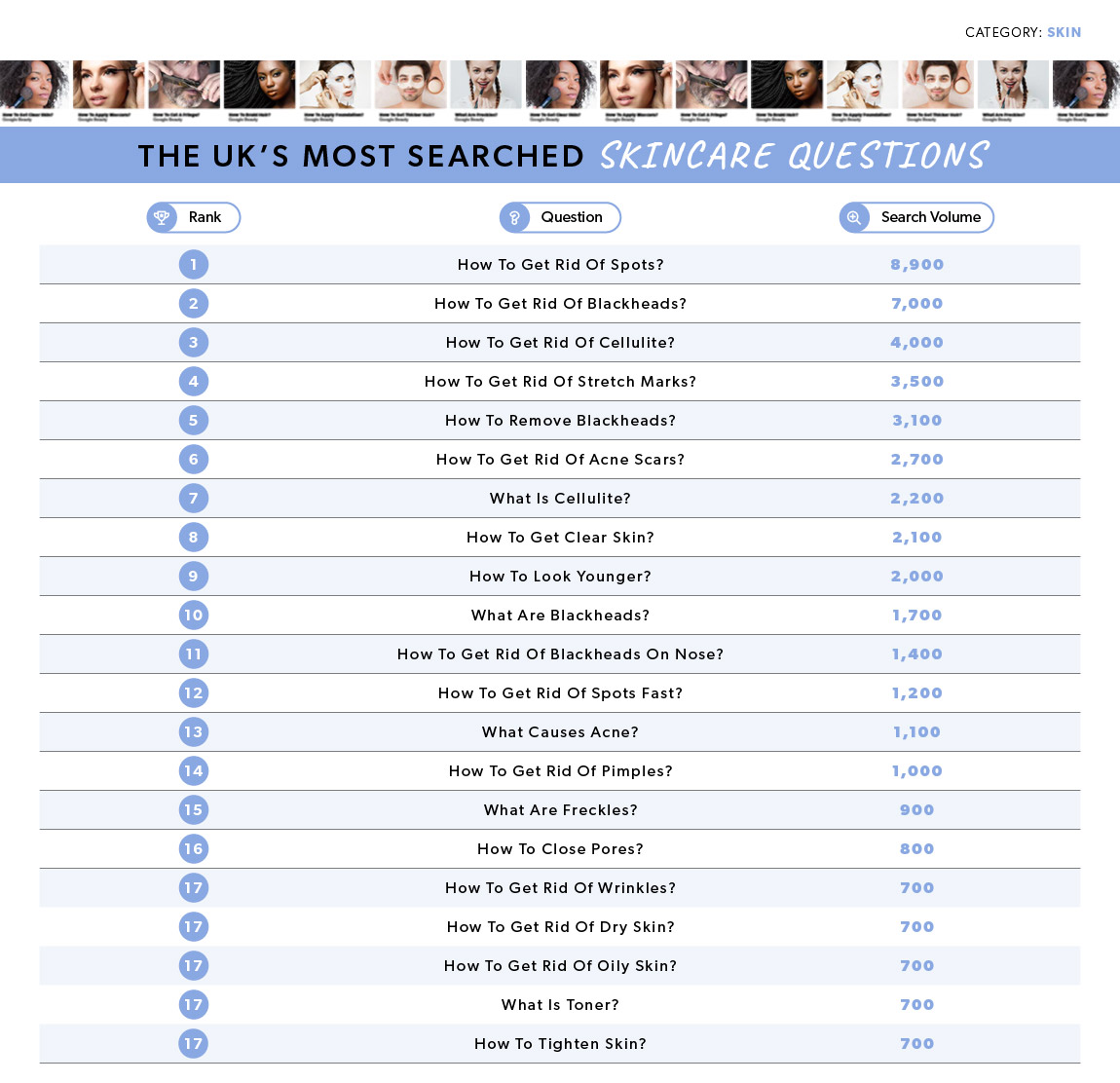 We all have body insecurities; jiggly, wobbly, uneven bits we wish didn't exist - that's right, we are talking about the biggest villain...cellulite. But you aren't alone. In fact, around 93% of women have cellulite and 10% of men too. Whilst it is perfectly natural, it seems it's one of our biggest concerns, with 4,000 monthly searches for how to get rid of it.
What are some super handy ways of tackling cellulite? Is it forever?
First of all, it's important to remember that cellulite is totally normal amongst women of all ages – so much so that up to 98% of women have some form of cellulite!
Completely abolishing that orange peel effect is a tricky battle to fight, however, there are some things you can do to lessen its severity. Cellulite is usually down to several factors, the main ones being genetics and decreased circulation. So, what's a gal supposed to do? Other than the obvious recommendations such as regular exercise to get the blood pumping and a balanced diet, we advise trying out dry brushing. A lot of women have found success through dry brushing as can help to promote circulation and lymphatic drainage – both of which are factors that in some instances improve the appearance of cellulite.
Our go-to body brush is the Hydréa London Combination Detox Massage Brush, as it contains rubber nodules that help to break up the pockets of fat. Remember to always moisturise after to ensure that skin is kept supple and healthy. We love the Omorovicza Body Cream for its vitamin-rich formula and heavenly scent.
The UK's Most Searched Brows & Eyes Questions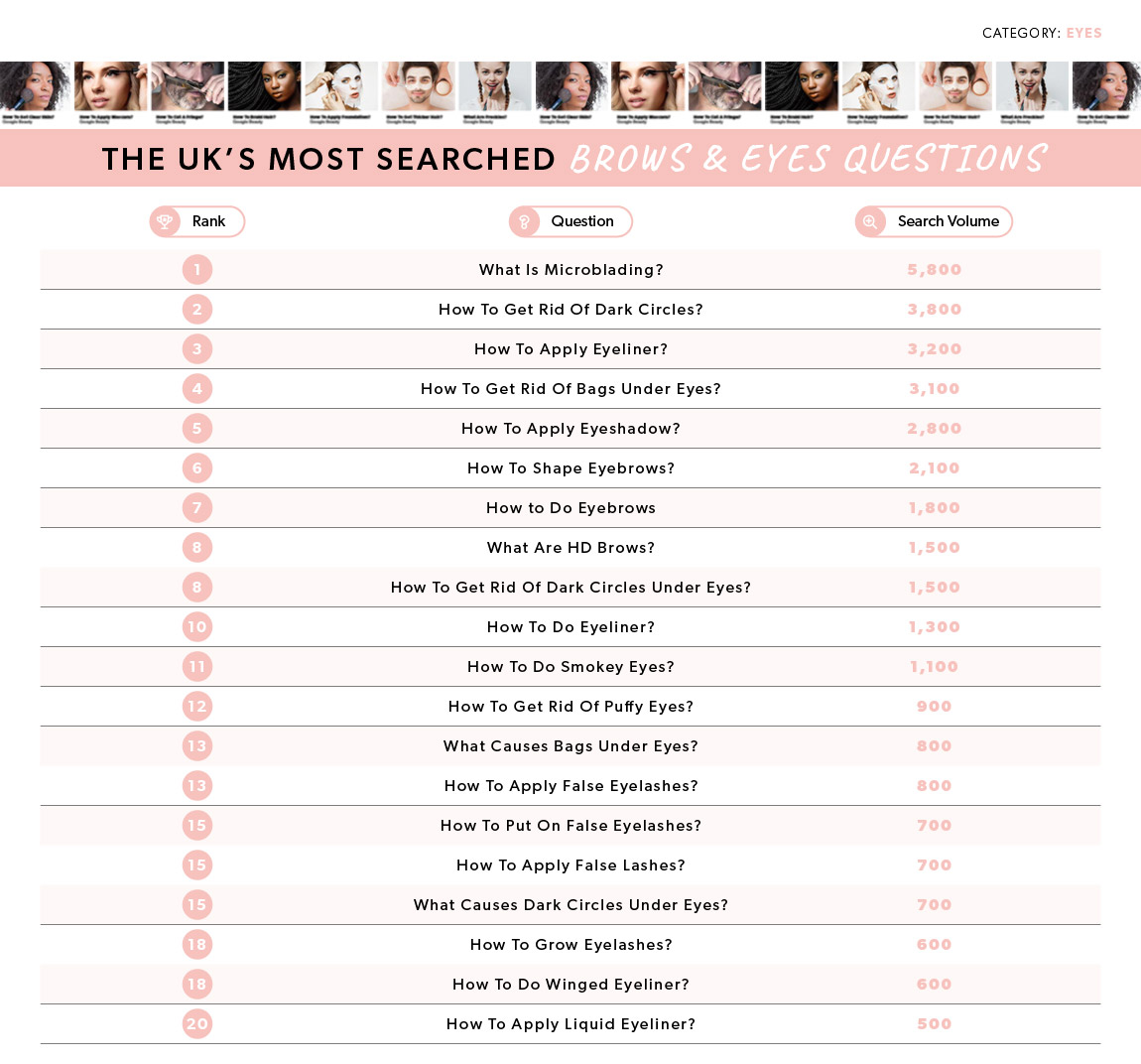 Brows on fleek; it's what we all want. We've come a long way since the '90s, upgrading from (over) plucking to threading and waxing and now to microblading. This new method is the biggest beauty trend of the last couple of years, however, it seems we are a bit confused, as 5,800 Brits are searching each month to find out exactly what it is.
Microblading is a semi-permanent treatment for fuller-looking eyebrows, in which tiny needles are used to implant pigment into the skin to give you realistic and full brows.
The UK's Most Searched Hair Questions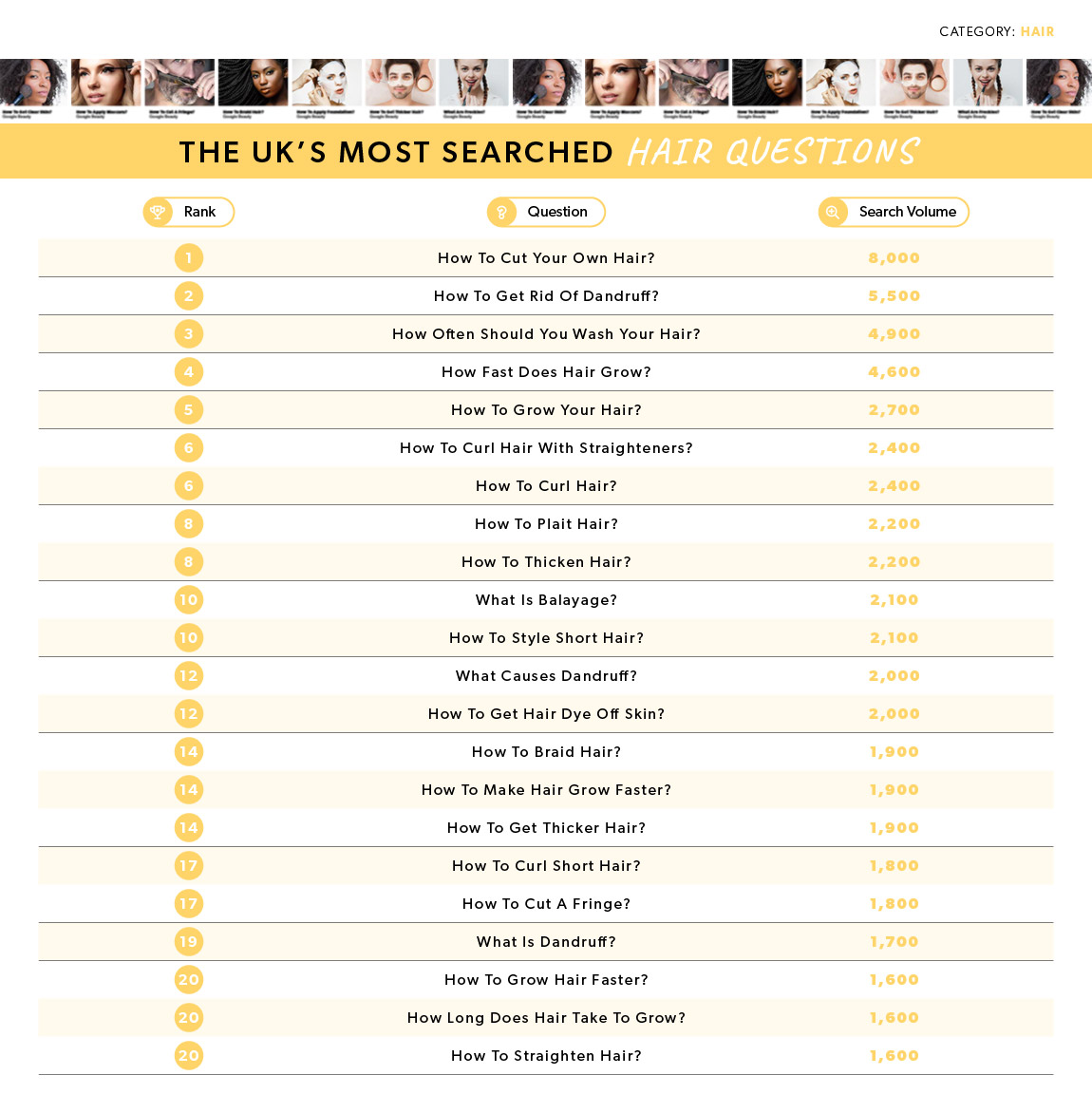 When it comes to hair questions, we have some serious growing concerns. Besides trying to find ways out of spending money at the hairdressers, the next most searched haircare question is "How to Get Rid of Dandruff", with 5,500 monthly searches.
Dandruff is common amongst both men and women with around half of the entire population suffering. The condition may be super annoying, but do not fear, as there are loads of different methods and home remedies to tackle the pesky flakes.
How can I get rid of dandruff - and fast?
Dandruff is a highly common condition that is caused by various factors. The biggest misconception is that it's solely caused by dryness of the scalp, however, factors such as stress or eczema can cause dandruff. The most common cause of dandruff is the overproduction of oil or an increase in skin yeast.
To help get rid of dandruff fast, try using a scalp-oil treatment for a few weeks followed by a scalp serum. Scalp-oil treatments such as Moroccanoil Dry Scalp Treatment is our go to, to nourish the scalp and calm irritation. Anti-Dandruff shampoos can also help with symptoms, Head & Shoulders is formulated with pyrithione zinc to keep flakes, dryness and itchiness at bay. Used alongside a shampoo and scalp massage brush that will help distribute the shampoo evenly through the scalp.
The UK's Most Searched Makeup Questions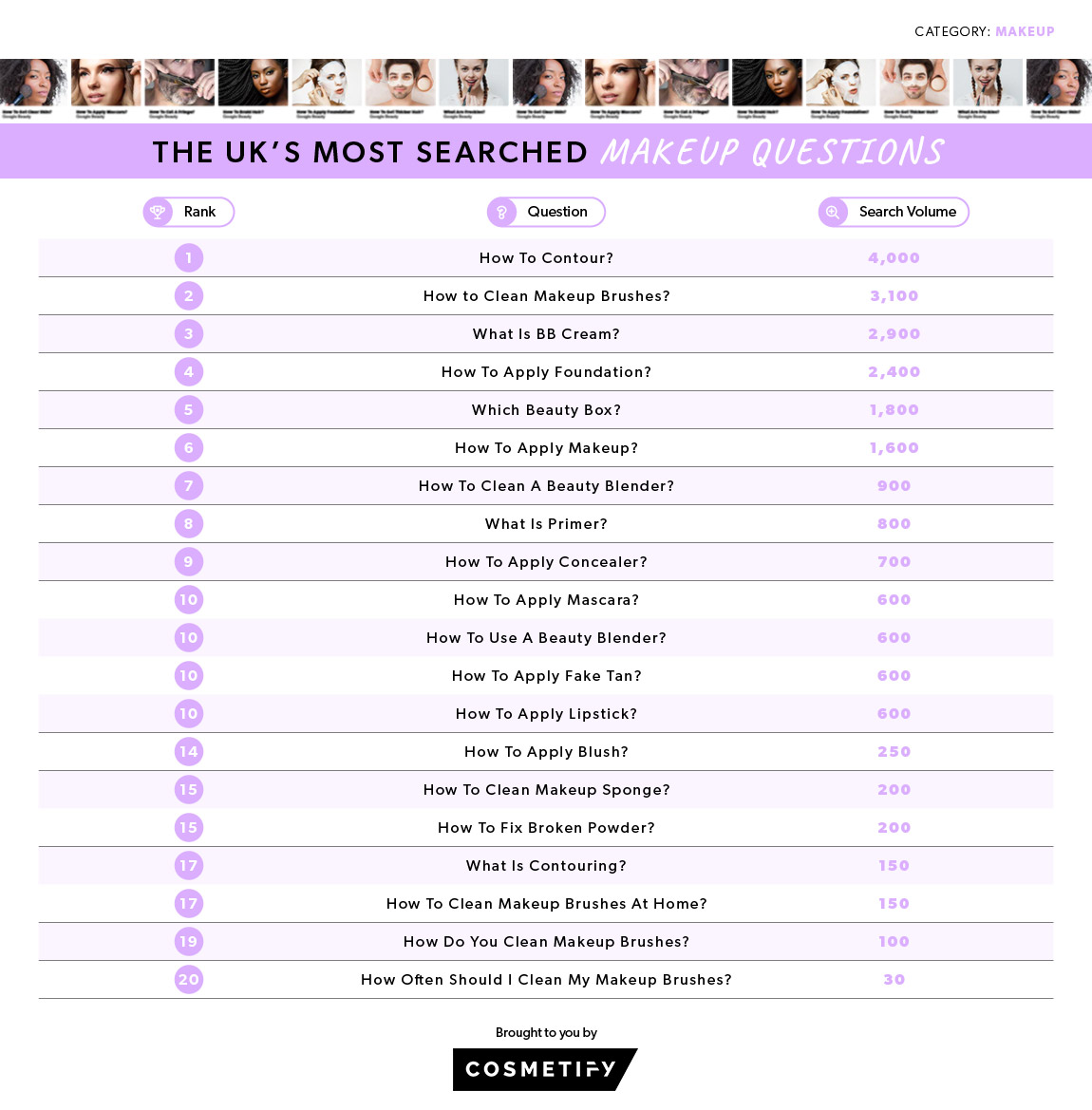 One of the biggest beauty puzzles has got to be contouring. Whilst it's been a huge trend for a while now, it is a pretty tricky one to master - and the searches prove it! 4,000 people a month are searching for tips on contouring like a pro. Say hello to the highlighter!
What are some great tips for contouring? Where do I start and what products do I need?
To define and sculpt your face apply a dark contour shade in a three motion on the forehead, under the cheekbones and along the jawline. Then apply highlighter across the high points of the face, not forgetting down the bridge of your nose. Make sure you build the colour naturally and blend, blend, blend so there are no harsh lines. For oily skin use powders, such as the classic Benefit Hoola Bronzer Powder and the dazzling Too Faced Diamond Highlighter. For dry skin use cream/liquid products, like the Huda Beauty Tantour Contour & Bronzer Cream and the must-have Charlotte Tilbury Hollywood Flawless Filter.
Source
All search data refers to average monthly search volume according to Ahrefs Keywords Explorer and is correct as of 3/2/2020.