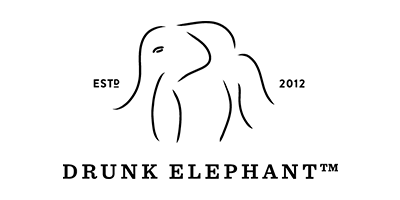 Drunk Elephant
Founded by Tiffany Masterson, Drunk Elephant entered the scene in 2012 with the mission to provide consumers with clean, compatible skin care.
It took years of battling with an unpredictable complexion before Tiffany decided to take things into her own hands. Passionate about the idea that 'less is more' and believing a product is only as good as its worst ingredient, she single-handedly identified what's known today as the 'suspicious six'.
That's right, essential oils, drying alcohols, silicones, chemical sunscreens, fragrance/dye and SLS are the six ingredients that are forever blacklisted from Drunk Elephant's formulas. Why we hear you ask? Because Drunk Elephant is dedicated to using a cocktail of cutting edge-synthetic and natural ingredients that directly benefit the skin.
It's this philosophy (and that super Instagrammable packaging) that has led Drunk Elephant to become an award-winning collection suitable for the whole family, whether it be mums, dads, nanas or teens.
Shop the range today and discover the likes of the best-selling Drunk Elephant C-Firma Day Serum and TLC Sukari Babyfacial.