Your Guide to the Best Home Fragrances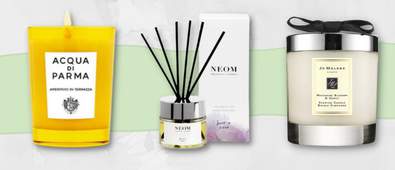 Finding the perfect home fragrance takes time, patience and a thorough understanding of what's available on the market. With so many varying options to choose from, it's worth brushing up on your the three main home fragrance categories: room sprays, reed diffusers, and candles. Below, we've answered the most asked questions surrounding home fragrance as well as a roundup of our favourite scented must-haves.
Room sprays:
How do you use a room spray?
There are numerous ways to use a room spray, and a few handy tips to make the most out of your home fragrance. Of course, all you need to do is press down with your finger to release the spray, but we're here to talk about more complex methods of sprucing up the scent of your home.
Spritzing the scent onto prominent fabric around your home is a good way to make the fragrance last longer. Mist your curtains, carpet, sofa, towels and bedding to get the fragrance to freshen up each room. Some people pour the liquid into their vacuum cleaner to freshen up the scent of the house as they hoover.
How often should you use a room spray?
How often you should use a room spray depends on the potency of the room spray and how you use it. If you spray your curtains, towels or bed sheets, it lasts for much longer as the scent stays on the material.
If you're just spraying the scent into the air, using it once or twice a day is a good guideline. Some room sprays are more potent than others and contain fragrance that are stronger and more striking, so they only need to be sprayed once in the morning to enjoy the fresh aromas throughout the day. More subtle, understated accords are less noticeable and fade away quicker, so it may be worthwhile giving it a spritz once in the morning and once in the evening.
If you're trying to set the mood, a room spray is the perfect way to get started. Spray a vibrant aroma before entertaining for the evening or a calming scent if you're settling into a quiet night.
How long does a room spray last?
One of the the best aspects of room sprays is their potency: a good room spray only needs one spritz and it lasts for hours.
If you use a room spray once a day per room, you can make it last for a few months and still enjoy its benefits every day. If you use some of the nifty tricks to make it last longer, you won't have to use it every day. We recommend having different room sprays for every room that you use frequently; they should all last around the same time, so you can buy them together and pick a fragrance combination that perfectly complements each other.
What is the best room spray?
The best room spray is the one that perfectly complements the mood, occasion, living environment and season. That could be a crisp, warm sandalwood or a bright and fruity berry combination. Deep, warmer aromas are more suited for winter seasons, creating a cosy and relaxing ambiance when you're curled up on the sofa. Vibrant and uplifting accords are ideal for dinner parties in the summer months, mingling with the natural aromas of the season.
A gorgeous fragrance immediately brightens your mood whenever you walk into the room. We have sensual and romantic room sprays for the bedroom, exuberant scents for the dining room and calming aromas for the living room. Every room in the house can have its individual scent, creating a home full of unique aromas.
Reed diffusers:
How do you use a reed diffuser?
Reed diffusers are fairly simple to use once you get used to them, however, we appreciate that they're a bit trickier to use than most home fragrances. The process is much simpler if the oil is already in the vessel when you purchased it, otherwise you have to pour a few drops in before adding the reeds.
It's important to make sure you don't place too much oil into the vessel, otherwise it could spill out once you put the reeds in. With that in mind, putting the reed diffuser onto a non-porous surface is a good idea in order to avoid damaging any cherished parts of your home.
If you need to refresh your reed diffuser due to the scent gently fading away, simply remove the reeds from the oil and put them back in upside down. This allows the oil to be released into the air once again and rejuvenates the fragrance.
What reed diffuser should I get?
The right reed diffuser really completes your home. We offer a rich variety of scents for every occasion, room, mood and season, creating a peaceful ambiance in a home that you look forward to returning to. Create an exuberant, uplifting mood for an evening dinner party with a fruity berry flavour, or delve into a relaxing night in with sensual, soothing accords. Choose the fragrance that perfectly complements your lifestyle.
Many people choose to decorate each room with a reed diffuser, producing a unique scent for each room around the house. If you opt for this approach, we recommend making sure each fragrance complements each other.
Can you reuse the reed diffuser reeds?
While it can be tempting to reuse reed diffuser reeds, you should refrain from doing so. Once the reeds have been absorbed in a scented oil, they cannot be cleaned. They are effectively useless once they have been used once and cannot absorb another scent, so trying to reuse them is just a waste of time and energy.
The reeds in a reed diffuser are extremely inexpensive, therefore it isn't worthwhile trying to reuse them. You can replace them at little cost and they will last for another four months, which provide great value for money.
How long does a reed diffuser last?
We can't say exactly how long a reed diffuser lasts, however, they should last for at least four months, sometimes up to six or seven months if they're of good quality. That's quite a long shelf considering the use you get out of them, but if that's not enough, there are also a few ways to extend their longevity.
Finally, we suggest you flip the reeds only when absolutely necessary, otherwise the scent dissipates quicker and becomes less potent. The general aroma becomes much weaker and won't fill the room if you flip them too frequently.
Scented candles:
Are scented candles bad for you?
Scented candles made with paraffin wax have been suggested to cause skin problems or asthma attacks, which are best to be avoided if you have sensitive skin or breathing problems. There are other wax alternatives, as well as soy candles which are much healthier. There are no known harmful effects of soy, beeswax or palms wax, so they can be used with confidence.
Of course, with any candle there is the obvious risk of causing a fire, which has happened very sparingly, but if you're careful and considerate that shouldn't be something you have to worry about. It's best to keep any scented candles in a controlled environment and away from pets or children - your cat may not understand the dangers of a fire as much as you.
As opposed to potential harm, scented candles have been proven to reduce stress, create a relaxing environment and maintain a level of serenity. They're a calming presence in a room and are often used in aromatherapy practises, helping soothe the mind and encourage active mindfulness.
What is the best scented candle?
When it comes to scented candles there are many options, which makes it even more difficult to find the one that's perfect for your home. During your search, you should consider which aromas you want for your home, the mood you want to set and the occasions you want the candles for.
If you were looking for a soothing candle to alleviate any stresses of the day, calming accords of chamomile are the perfect way to unwind. If you're looking for a vibrant and exuberant scent for a dinner party or small gathering, uplifting fruity and floral aromas create the right atmosphere.
We understand that as well as the scent, the aesthetic of a scented candle is important for your home. Brands such as Molton Brown, Cello and Archipelago Botanicals pride themselves on encompassing their candles in stylish and chic exterior. The right candle for your home needs to look and smell gorgeous.
Are soy candles better than wax?
Soy candles are a rising force in the industry, catering to the demand for vegan home and beauty products. Soy candles aren't necessarily better than wax candles, though they don't contain animal bi-products, which makes them perfect for a vegan household. They're also much safer than paraffin wax, which has been known to cause damage to the long-term health of your skin and could potentially be harmful for those suffering with asthma.
Other than the way they are produced, there isn't too much difference between soy and wax candles. Soy candles usually burn for longer than wax candles, and the naturally vegetable derived substance helps them to release fragrance easier. They're also 100% biodegradable which make them more environmentally friendly than wax candles.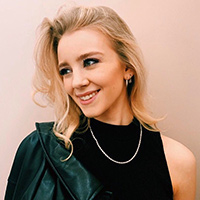 With five years' experience under her belt, Ellie has worked alongside a range of highly regarded makeup artists, giving her a real insight into what consumers should be spending their money on.