A Beginner's Guide to Contour
How to Contour: A Step by Step Guide for Beginners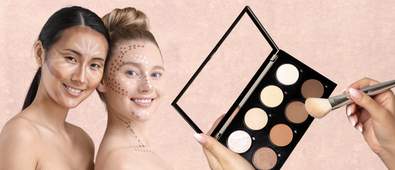 Ah, contouring. It's the makeup trick that has us all painting our faces with tribe-like designs, hoping that it will result in a bone structure that even Keira Knightley would envy.
When done correctly, contouring can give the illusion of chiselled cheekbones, a pinched nose, smaller forehead and defined jawline. It's the clever way to enhance or change your face shape, as it allows you to highlight your favourite features and hide your not-so-fave.
If you're new to the world of contour, have a few unanswered questions or simply want to pick up some tips and tricks, you've come to the right place. We've put together a step-by-step guide that covers all areas, so that you can learn how to contour like a pro.
What does contour do?
Contouring is a great way to enhance natural features and sculpt the structure of the face. It's a makeup method that helps to illuminate the high points of the face, such as the cheekbones and the bridge of the nose, and shadow areas such as the jawline and forehead. Ultimately, it adds shape and definition to the face, as well as other parts of the body such as the décolletage.
Do you contour before or after foundation?
Contouring makeup is usually applied after foundation and concealer. Cream, liquid, and stick contours can be applied directly on top of foundation and then blended out for a seamless finish. Sweeping a light layer of translucent powder over foundation before applying powder contour products can help to create a smooth, patch-free application.
Before contouring, use a foundation that is the same shade or a close match to your natural skin tone, as this helps to even out the complexion and create a flawless base.
What is the difference between contour and bronzer?
The difference between contour products and bronzer is minimal as both are designed to add depth to your face and makeup look. However, bronzer is mainly used to add warmth to your complexion and is only applied in areas that the sun would naturally hit. Contouring, on the other hand, is a makeup-artist approved method that is less subtle. Not only does it add depth but it defines, structures and shadows your face.
You should avoid using bronzers to contour as this can leave your complexion looking super warm and possibly orange, rather than defined and sculpted.
How do you contour your face?
The first step to contouring your face is to map out the areas you wish to shadow. Popular areas to darken or contour include along the hairline and jawline, under cheekbones and along each side of the nose. Take a damp beauty sponge or a contouring brush and blend the contouring cream, liquid or powder into skin.
To highlight, apply a formula that is one or two shades lighter than your natural skin tone to areas such as the centre of your forehead, chin, bridge of nose and under eye. If you are using a cream, stick or liquid texture, take a damp beauty sponge or face brush to blend it into skin. If you have used a powder, gently sweep the product over skin and dust away with a fluffy makeup brush.
What are the best contouring products?
With everything from cream contour to contour sticks up for grabs, it's difficult to know which products are going to give you the results you're looking for. To save you from some trial and error, we've highlighted the best contouring makeup products below, so that you can enjoy a seamless, sculpted look, each and every time.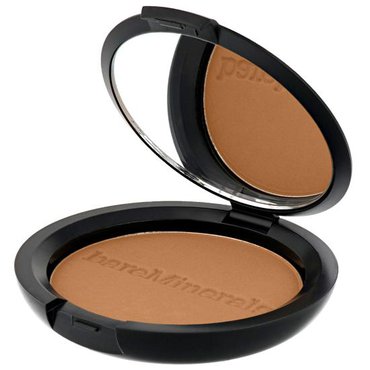 Yep, a classic bronzer can do just the trick. We love this powder bronzer from bareMinerals as it provides a warm, natural and buildable colour that never looks orange or over-done. That means you can intensely contour cheekbones or give skin a subtle sweep of definition.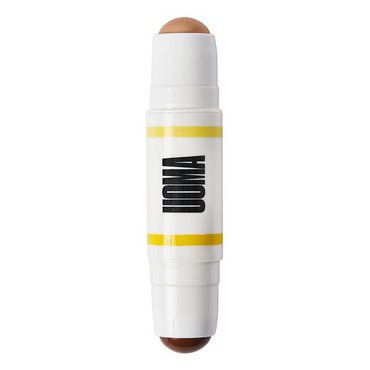 Contour sticks are the quick, easy and fuss-free way to sculpt, define and chisel your cheekbones. Find out more about the best contour sticks.
This double-ended contour stick from UOMA is the ultimate power couple, as it offers both a sculpting and strobing formula. Just a few swipes over your forehead, cheekbones and jawline and you're on your way to a supermodel-like bone structure.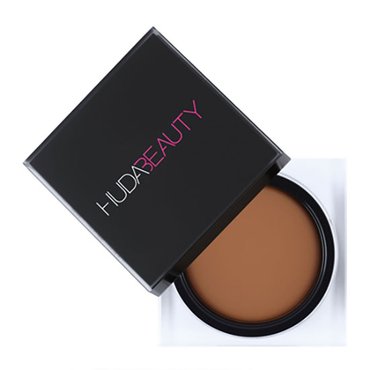 Huda Beauty is best-known for high-pigment, stand-out makeup products and the Tantour is no exception. This cream-to-powder formula doubles up as a contour and bronzer so that you can lay down a definition that looks natural. Boasting a sweat and water-resistant finish, plus blending like a dream, you can sculpt, snatch and chisel your face with minimal effort required.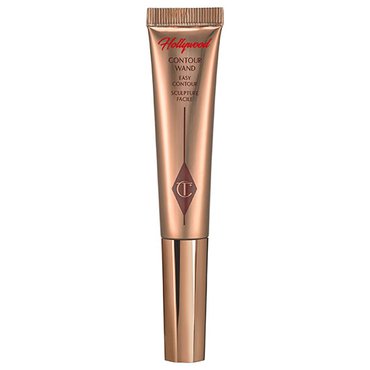 Carving out killer cheekbones is made easy with this Contour Wand from Charlotte Tilbury. Designed to take years off of your appearance, the wand delivers a natural-looking liquid contour that's blendable, buildable and lightweight. The easy-to-use cushion applicator dispenses just the right amount of product so that you can sculpt your favourite features, fuss-free. Pair it with the much-loved Charlotte Tilbury Beauty Light Wand and you've got mega-watt cheekbones in minutes.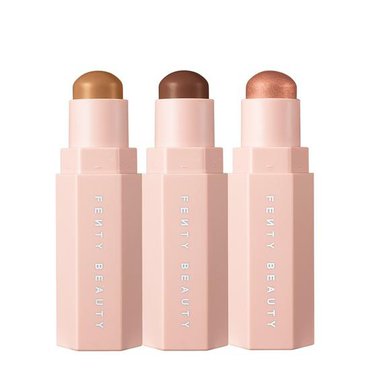 Rihanna comes through with a trio of longwear, light-as-air makeup sticks that conceal, contour and highlight your complexion like no other. The Match Stix Trio is an essential if you want to add definition to your face, conceal imperfections and illuminate your favourite features. The cream-to-powder formulas are curated for your skin tone, arrive in both matte and shimmer finishes AND magnetise together, meaning you can always put your best face forward.

Not really what you're looking for? Fear not, as there's one last option. Contour kits are the all-in-one product that never disappoint. As a cheat-sheet to a sculpted, chiselled complexion, they boast a range of shades that help you contour, highlight and bronze your face. With a plethora of kits and palettes for you to choose from, all with different shades to suit your skin tone, you can mix and match your favourites to fit your complexion perfectly.

How do you use a contour palette?
Start with your foundation and concealer as you normally would. Then with the darker contour shade use an angled makeup brush to apply the product under your cheekbones, along your forehead and the jawline. Blend into the skin using a damp beauty sponge, a buffing brush or a stippling brush.
To highlight your face, apply the lighter shades on the tops of the cheekbones, down the bridge of the nose and on the chin. A contour palette often has two or more shades, which means you can blend colours together to find the perfect match for you skin tone. This is the best way to create shadows and light to sculpt and define your face.
Should I get a cream or powder contour palette?
This all depends on your skin type, your makeup concern and even the time of the year. Cream contour products are best for dry skin types. They have a more natural looking finish and help you achieve a soft sculpted look in the summer months. Powder contour palettes on the other hand are great if you want to create a more dramatic defined look. They are a long-lasting option, making them ideal for oily skin types or for special events.
What is the best contour kit for beginners?
If you're a newbie to the contouring world, we recommend sticking to a contour palette with a minimal number of shades. Palettes are easy to use as they include all that you need (no more, no less) to conceal, contour, sculpt and highlight your complexion like a pro. Discover some of the best contour kits for beginners, below.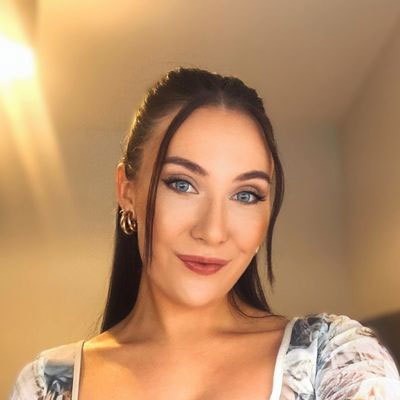 Carly is a beauty editor at Cosmetify and has been a part of our family for three years. She has over five years of experience in health, beauty and wellness writing.