Beauty at Home

The UK's Most Searched Lockdown Beauty Treatments
Nothing quite compares to a professional pamper. Stepping out of the salon with a fresh set of nails, brows on fleek and a blemish-free face is the stuff of dreams. However, the recent outbreak of Coronavirus has stopped us in our beauty tracks, leaving us stumped for all things pampering.
We may have to miss out on our favourite treatments, but it's a small price to pay in the grand scheme of things...AND, it means we can unleash our inner DIY beauty queens.
So, with many of us turning to DIY pampering, we're relying on the helping hand of Google to guide us through our home beauty solutions, but what kind of things have we been searching for since being stuck at home?
Cosmetify compared Google Trends data for the three weeks before and after the UK's social distancing rules were put in place to find out.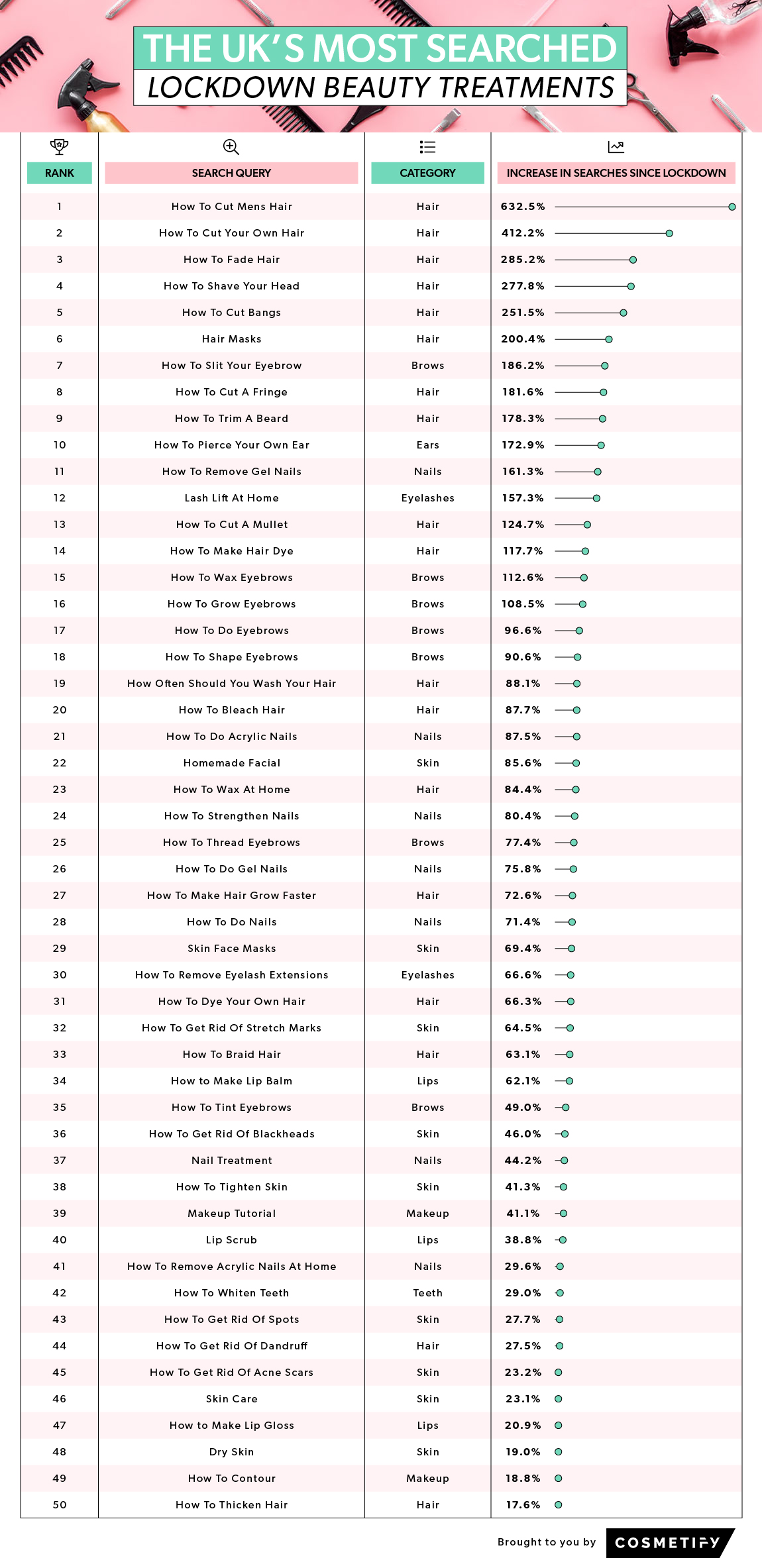 One of the most common dilemmas that people have been having (both men and women) is what to do with our hair while the hairdressers and barbers are all closed, with all of the top searches relating to how to cut your own hair.
It seems that men, in particular, are taking the plunge and cutting their own hair, with an increase of 632.5% in searches for "How To Cut Men's Hair" and 277.8% for "How To Shave Your Head".
While the need for a trim is fairly understandable, many have also turned to Google for queries such as "How To Pierce Your Own Ear" (172.9% increase in searches) and "Lash Lift At Home" (157.3% increase).
Others have been looking at how to craft their own beauty products, such as "How To Make Hair Dye" (117.7% increase) and "How to Make Lip Balm" (62.1% increase), while searches for "How To Cut A Mullet" have increased by 124.7%, perhaps inspired by Joe Exotic from Netflix's Tiger King documentary!
Methodology & Sources
We used Google Trends data, which provides a normalised value to show search interest for a particular term on each.
We took an average score for the three weeks leading up to the UK's "lockdown" period, which was announced on March 23rd, and the three weeks following this, before calculating how the searches had increased between these two periods.