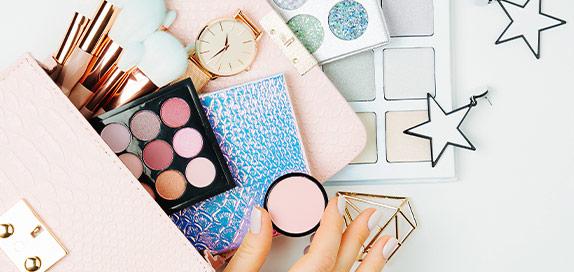 Ultimate Makeup Guide
By Rebecca Jenkinson, Beauty Editor
With our makeup guide, you can find out everything you need to know before buying or using the product. If you're ready to buy or want to see our selection, visit our makeup page.
Your Guide To Makeup
Makeup Removers
Cast your eye over our epic collection of makeup removers and look forward to nighttime cleansing being that little bit easier. Take your pick from brands such as Elemis and Origins and discover face wipes, micellar waters and milks, magic makeup removing cloths and more.
Should I use makeup remover wipes?
We admit wipes are a quick and easy way to remove makeup or tidy up any eyeliner mistakes. However, we don't recommend using them alone as your only means of cleansing, as they are not effective at completely removing your makeup. Instead, they can often move the products across your face, which can irritate the skin, clog pores and cause breakouts.
So, no matter how late it is or how tired you are, you should only use the makeup wipe as the first step in a double cleanse. Follow with a creamy cleanser to make sure your face is fully clean, clear and healthy with no makeup remnants left behind.
What is the best natural makeup remover?
Oils are a go-to natural way to remove makeup, whether it's an oil-infused formula or straight onto the skin with a cotton pad. If searching for a natural formulation, lookout for nourishing goodies like almond oil, jojoba oil, coconut oil and olive oil, which all help nurture, protect and soften the skin.
At Cosmetify, we also have a range of natural makeup removers and skin cleansers for you to choose from. Discover both organic and natural brands with a couple of simple clicks. A few of our favorites include Dr Hauschka, AHAVA, Inika and Green People. Find these and more using our drop-down filters, such as brand and ingredient preference.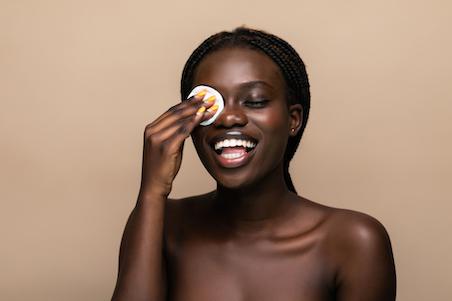 How do you remove makeup?
Start by choosing the perfect makeup remover, whether cream, oil, balm, foam or gel. If it's a liquid consistency and a no-rinse formula, like a micellar water, apply to a cotton pad and swipe across your face and eyes to remove your makeup. When doing so, be careful not to pull the skin or tug at the delicate area around your eyes. This liquid formula helps loosen the makeup and keeps your skin feeling fresh and cleansed.
Other cream or balm textures require you to take a small amount in your fingertips and gently massage across your face. Then wash away with lukewarm water and a face cloth. Enriched with wholesome ingredients, these creamy products ensure your skin doesn't feel too dry or stripped of its natural oils.
What is oil-based makeup remover?
Oil-based makeup removers use a mixture of skin-boosting oils to remove makeup and nourish the skin at the same time. They are kind to your complexion and are suitable for all skin types – even oily or combination skin, thanks to the water-soluble solutions.
Oil makeup remover is the best option for washing away full coverage, heavy-duty looks and even that stubborn mascara. Lots of skincare buffs recommend a double cleanse process, where you start with an oil-based remover and then follow with your favorite facial cleanser. This helps you achieve perfectly cleansed skin, prepped for the rest of your skincare routine.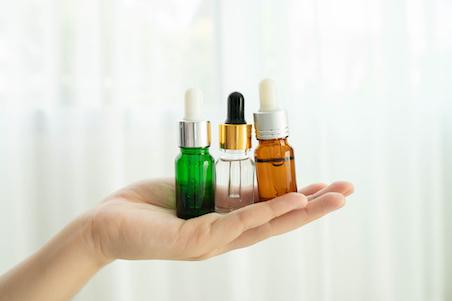 Yes, it does! Jojoba oil is a great ingredient found in skincare goodies, like makeup removers and facial cleansers. You can also apply jojoba oil straight onto the skin using a cotton pad and wiping across your face to remove traces of makeup. At Cosmetify, simply use our ingredient preference filter to find skincare must-haves that include nurturing jojoba oil.
With anti-inflammatory properties, this oil helps smooth and soothe the skin even removing harsh or stubborn makeup. It is often used in natural or organic formulas, thanks to its vitamin rich complex. These vitamins help repair any irritations and calm any skin conditions like eczema or rosacea.
Brows
Framing your face is made easy, thanks to our extensive selection of brow makeup products. We've recruited some of the biggest beauty brands in the business to help you achieve the perfect brow. Whether you want to sculpt and define your arch for a dramatic look or slick and set hairs in a natural way, we've got you covered. Take your pick from brow pencils, pomades, powders and gels to complete your look.
How do you apply eyebrow makeup?
The first step is to create the shape of your eyebrow and then outline using an eyebrow pencil. This highlights which areas need tweezing or filling in. Using a brow pomade or brow powder you can easily fill in the sparse areas with a slanted eyebrow brush. Start from the tip and work your way inwards. Then to fix everything in place apply a tinted or clear eyebrow gel. And voilà - bold, beautiful arches that frame the face.
However, you don't have to use all the eyebrows products every time you apply makeup. Depending on your routine you can mix and match each product to get bold brows or a natural full effect. A clear brow gel is perfect for no-makeup makeup days, whereas a brow powder is ideal for glam looks.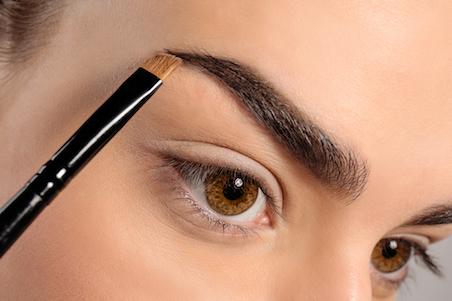 What is the best brow makeup for sparse brows?
The best eyebrow makeup for sparse brows are pomades, powders and pencils. It all depends how thick and bushy you want your brows to be. Using a slanted eyebrow brush and pomade you can easily add definition and color to any bare areas. Just be sure to use short, quick strokes in the direction of the brow hairs to mimic your natural eyebrows.
Then if you want to go the extra mile, a tinted brow gel can quickly add a fullness and definition to thinner arches. Better still, gels also lock your brow hairs in place so there's no smudging or budging throughout the day.
Is it possible to grow thicker eyebrows?
Growing thicker eyebrows takes time and plenty of patience. The first step is putting down the tweezers and stop over-plucking! Then it's time to nourish your brows with any eyebrow treatment. At Cosmetify, we have a range for you to choose from including growth serums and eyebrow conditioners, which all help enhance the appearance of your arches.
If all else fails, you can fake it till you make it with our guide on how to get thicker eyebrows. This guide explains how you can easily use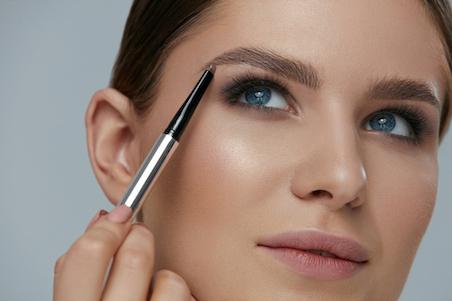 How do I choose an eyebrow color?
When choosing the perfect eyebrow color, it's important to not stray too far from your current hair color. We recommend going either one to two shades lighter or darker than your hair. To create extra dimension to your arches, you can always mix and match shades rather than using one block color.
You can easily add this color to your brows using brow powders and pencils. Or, alternatively you can use a brow kit which includes everything you need to achieve well-groomed, defined eyebrows in an instant. This mixture of shades and products also helps them look more natural and not too drawn on.
Cheeks
A sweep of bronzer, a flush of blusher and a dusting of highlighter can take your makeup looks from zero to 100 with a simple brush, buff and blend. Adding a dose of color to your complexion couldn't be easier than with our vast array of cheek products for every skin tone and every skin type. Browse leading brands such as Revolution, Benefit and Charlotte Tilbury
What makeup do you use on your cheeks?
You can apply blusher, highlighter and bronzer to your beautiful cheeks. Each offer something different but when combined together they all help you achieve a flawless face of makeup. Blusher is the perfect product to help add flush of color to the cheeks. Highlighter brings a glow to your complexion and bronzers help sculpt and define your cheekbones.
Combing the three different types of products means you can create a multitude of makeup looks, whether it a fresh-faced, glowy look or full coverage, evening glam. No matter your style or the occasion, there's a range of products for you to choose from at Cosmetify.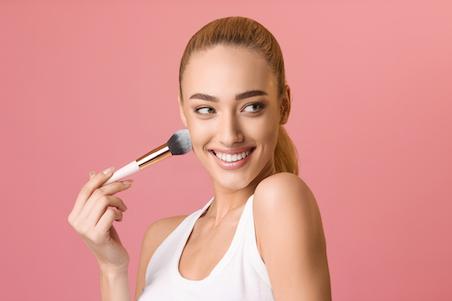 How do you apply cheek makeup?
The first important step is finding the perfect shade, whether it's a highlighter, blusher or bronzer. And then it's crucial to find the best format and consistency. Cream products are great for a natural finish, whereas powders are best for a long-lasting coverage. To apply cream and liquid formulas use clean fingertips, a beauty sponge or a stippling brush and with powder products use a big a fluffy makeup brush.
To apply blusher, smile and sweep the formula onto the apple of your cheeks. To add highlighter into the mix, blend across the high points of the face, such as above the cheekbones, under the eyebrow arch and the cupids bow. Then finish by buffing bronzer across the areas the sun would naturally hit, like the forehead, hollows of the cheeks and across the nose.
How do you make your cheeks look fuller?
Getting full, round cheeks is easy to achieve with a little makeup know-how. Start by contouring under your cheekbones with a darker color and then add a flush of pale blush to the apples of your cheeks. This helps draw the light forward, which creates a natural fullness and definition. Better still, it brings a radiant glow back to your complexion after you've applied your base makeup.
When choosing a formula, stick to cream or liquid blushers as they are easier to blend and don't look cakey. And depending on your skin tone, choose either pink, peachy or orange hues, which all add a youthful flush of color to the skin.
How can I make my blush last longer?
It's all about the skin prep. Ensure your skin is fully moisturized and prepped with your favorite makeup primer. Then layer your foundation and concealer as a base for your cheek makeup. Then using a blusher brush, dust your favorite shade onto the cheeks. If you struggle with oily skin, powder blushers will last longer throughout the day. Or, you can first apply a cream blush and set in place with powder blush on top.
Once you've buffed and blended your favorite products, apply a dusting of translucent setting powder to help everything stay put. Then once you've finished your entire makeup application lock your look in place with your favorite setting spray.
Lips
A bold lip can be the perfect finishing touch to any makeup look. Whether it be a vibrant matte lipstick, a pop of lip gloss or a subtle plumping balm, we've got all you need to create a picture-worthy pout. Take your pick from classic romantic reds and fresh pinks or be bold with dark blues and purples. Here, you can unleash your creativity and make the most of your pout with some of the best names in the business. Shop amongst vanilla-scented glosses good enough to eat and minty balms that plump up the volume on your smile.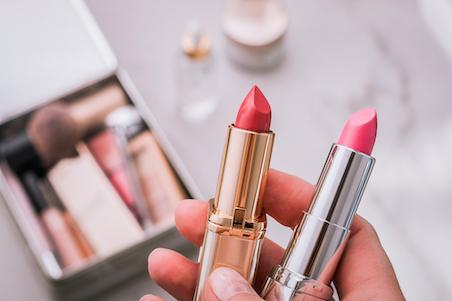 What is the best lip product?
It all depends on what you're searching for, whether it's a bold color or a moisturizing formula. For long-lasting shades opt for a liquid lip and lip liner combo, for a lightweight wash of color lip stains and lip glosses are great option. And for a satin finish, lipsticks are a go-to for beauty lovers. No matter your style, there's a lip product to suit your needs.
Here at Cosmetify, we have a variety of lip products for you to browse through. Discover everything from lip palettes to lip kits and lip plumpers to lip glosses. Use our categories and drop-down filters to find the best fit from leading brands such as Uoma Beauty, Lime Crime, NARS Cosmetics and Charlotte Tilbury.
What is the longest lasting lip color?
Full coverage colors are a great way to achieve a long-lasting finish. Browse our range of long-lasting lipsticks and liquid lipsticks today, from brands such as Stila, Maybelline, Rimmel and Anastasia Beverly Hills.
To ensure your lipstick stays put throughout the day, there's a few quick things you can do to prep and prime your pout. First hydrate and smooth your lips using a lip scrub followed by a nourishing lip balm. Then using a lip liner fill in the shape of your lips and then add your favorite liquid lipstick product on top. Blot away the excess and set using a translucent powder. This keeps everything kiss-proof and smudge-proof all day long.
How do you apply lip makeup?
It all depends on what lip look you're after. The first step with any lip makeup is prepping your lips by exfoliating and moisturizing. Then for a natural flush of color, swipe a lip gloss or lip stain across your bare pout. For a long-lasting, full coverage look start by applying a lip liner along the natural lip line and fill in your pout to create the perfect base color.
Then either swipe the liquid lipstick or the lipstick straight from the applicator. To achieve a more precise application, we recommend you use a lip brush to carefully fill in the block of color.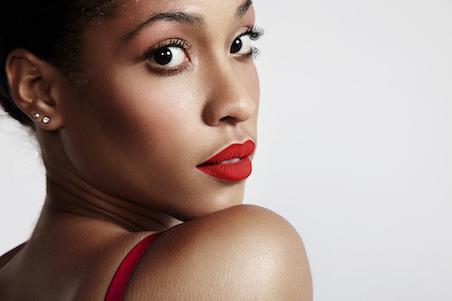 What is the most popular color of lipstick?
Whether it's a liquid or cream formula, there's a plethora of shades to choose from here at Cosmetify. Some of the most popular color of lipsticks include a bold red, rosy pinks and a range of nude hues. Finding the perfect lip color for you is all about understanding about your undertones, either cool, warm or neutral. Orangey tones work great on warm skin tones, while hints of purple are perfect for cool skin. And for neutral undertones, most shades work in your favor.
At the end of the day, it's all about trial and error. Just remember to have fun and choose a shade that your feel comfortable in. To find your perfect lip color, browse our collection of lipsticks, liquid formulas, lip glosses and lip palettes.
Eyes
Mix up your signature style for a range of head-turning, hypnotic looks. Rock a classic cat eye or opt for something a little bolder with our versatile, eye-enhancing selection. From glittery to matte (and everything in between), our massive range of eye makeup delivers endless looks that take your look from desk to dancefloor in seconds. Whether you're after a jet-black eyeliner, a glitter-infused shadow or a super-lengthening mascara, here you'll find all the goods you need to create an enviable eye look.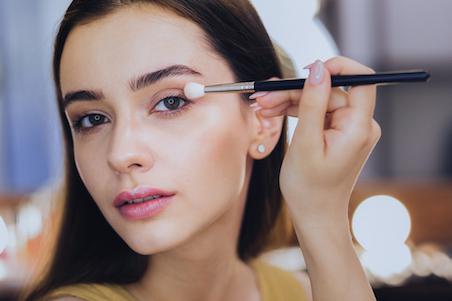 What are the things used for eye makeup?
Eye makeup helps enhance and define your peepers with a simple flick of a brush. Popular eye products include eyeshadow, mascara, false eyelashes, eyelash treatments and eyeliner. These makeup bag essentials are your one stop shop to bold, glamorous eye makeup looks and every day, natural styles.
Here at Cosmetify, we have a wide variety of eye makeup products for you to choose from. Whether you're getting ready for a big night out or heading to work there's eye products to suit every style, occasion and routine. Browse our collection and use our filters to keep your makeup bag up to date.
How do you apply eye makeup for beginners?
Make sure you have the right eyeshadow brushes to hand and prep your eyelids with an eyeshadow primer. This will help your products last longer. For a natural daytime look, take a light shade of eyeshadow and sweep across the entire lid. Then apply a darker brown color and blend into the crease and across your lash line.
Once you applied your eyeshadow, it's time for eyeliner. Apply the pencil along the upper lash line in short strokes and slightly flick out the end to create a winged effect. Finish with a coat of your favorite mascara and voilà – a quick, every day, easy eye makeup idea.
How do you do glamourous eye makeup?
For a more glamourous look, try adding in bolder colors using a fun eyeshadow palette. At Cosmetify, we have a range for you to choose from. Whether you prefer glitter pigments or dazzling, satin finishes, there's an eyeshadow to suit every style. Simply apply your shadows as you usually would and add a bold pop of shimmer to the middle of the lid. Then create an exaggerated cat eye look with a liquid liner. To finish off party eye makeup, why not add a pair of false eyelashes? This ups the glamor and takes your look from 0 to 100 in an instant.
How do you do smokey eye makeup?
To create a smokey eye makeup look, you need to have the perfect palette of seductive shades. Plenty of people think you only need to use black and grays, but deep plums and burnt orannges are also fantastic colors to create a sultry, smokey eye look. For bold, heavy eye looks we also suggest prepping the eyelids, so your makeup doesn't smudge or budge throughout the day.
Start by applying the lightest shades and then gradually add darker hues across the lid and into the crease. Remember to blend outwards using a clean fluffy brush for a professional looking finish. Complete your look with some serious eyeliner, black mascara and of course some bold falsies.
Makeup Brushes
It's time to revamp your makeup bag with some high-quality makeup brushes to enhance and beautify your next look. These tools are your one-stop shop to flawless application that makes attaining that model-like look an absolute breeze. From foundation and highlighter brushes to smaller, more precise eyeshadow and brow brushes, our selection caters to each and every section of your visage for perfect results. Here, you can rely on our roundup of specially designed brushes to supply you with the professional results you deserve.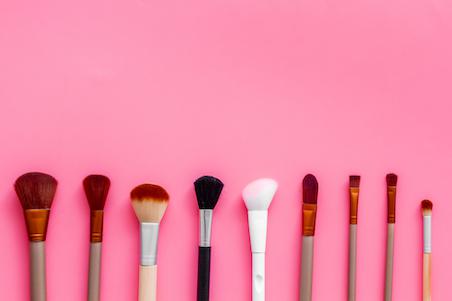 What are the different types of makeup brushes?
Within any makeup collection there's a plethora of tools and brushes you can use to help seamlessly apply your favorite products. Discover brushes for foundation, blusher, brows, concealer, contour, eyes, highlighter and lips. Brushes come in all shapes and sizes whether it's a short, kabuki brush for liquid products or a big, fluffy brush for powders.
Each tool can help you buff and blend your way to perfection with a simple swipe. Some have short, flat bristles to help pat on colors, while others are fluffy to help blend out formulas. For a range of professional-quality makeup brushes, browse our wide variety here at Cosmetify.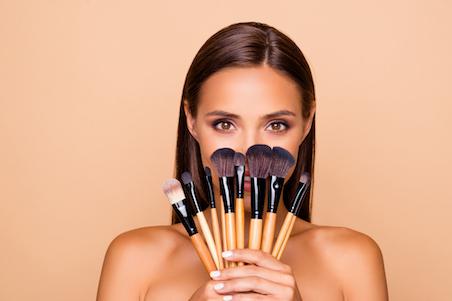 What makeup brushes do beginners need?
When searching for the best beginner makeup brushes, browse through our brush sets, with everything from everyday essentials to travel brush collections. These sets are perfect for beauty newbies as they have all the brushes you need to complete your makeup look in an instant.
If you're buying individual brushes, we recommend a stippling brush or a beauty sponge for liquid products, a small brush for concealer, a big fluffy brush for powders, a flat eyeshadow brush to pack on color and a fluffy eyeshadow brush to buff and blend. Of course, there's plenty more for you to choose from, from contour brushers to highlighter fan brushes. Whatever your makeup skills, discover your new must-have tools right here on Cosmetify.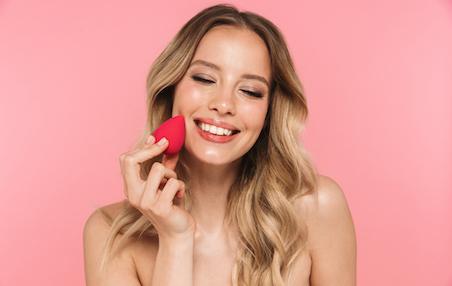 What is the best type of brush for applying liquid foundation?
With lots of brushes to choose from we understand it can be quite confusing picking the best makeup brush to apply foundation. Some people prefer a kabuki brush or buffing brush to apply liquid products as it's easy to manoeuvre and has densely packed, flat top bristles, to achieve a full coverage look.
Other beauty buffs prefer a stippling brush, which is perfect for creating a lightweight, smooth, natural finish with liquid foundations. A lot of makeup lovers also enjoy applying foundation in a bouncing motion with a damp beauty sponge. This helps create a dewy finish – ideal for summertime or those days when you want a no-makeup makeup look.
What is the best brand of makeup brushes?
Take your pick of the best makeup brush brands in the business at Cosmetify. Whether you're searching for professional quality brushes or simple, easy to use sets, there's something for every makeup lover and every skill level. Popular high-end brands include Sigma Beauty, Natasha Denona, Delilah and Zoeva. And affordable go-to makeup brush brands are Makeup Obsession, Revolution and Real Techniques.
No matter if you're a pro or a beginner, we have everything you need in one handy place. Use our innovative drop-down filters, such as ingredient preference, coverage, brand and price, to refine your search to fit your requirements. This system is perfect for finding cruelty-free must-haves and budget-friendly brands.
Face
Whether you prefer a full-coverage, matte canvas or a natural, dewy complexion, our extensive range of face makeup allows you to lay down your most flawless base yet. Offering everything from foundation and concealer to primer and powder, this collection is your one-stop-shop to a perfected complexion. Discover best-sellers, fan-favorites and newcomers from some of the world's leading beauty brands.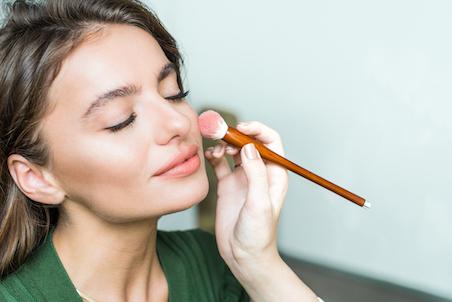 What is full face makeup?
A full-face makeup look is when you use a range of products to create an even, sculpted and highlighted complexion. It doesn't necessarily have to be matte full coverage, instead it could be a natural-looking, glowy finish. How you create a full-face look all depends on your own personal taste and the occasion. However, a full coverage, full-face look is perfect for special occasions when you want your makeup to be selfie-ready all night long.
Browse our array of products including foundations, contour palettes, primers, powders and setting sprays. Mix and match your favorite formulas to find which ones work best for you. Whether you're searching for cruelty-free solutions or makeup suitable for oily complexions, we have something to suit every routine and skin type.
What are the steps to applying face makeup?
The first step is applying your primer and any color correctors, followed by your base product like foundation, BB cream or CC cream. This choice depends on what coverage you want and how long your face makeup will last. Beauty lovers then add a concealer to cover blemishes and imperfections.
To sculpt the face, you can then use a bronzer and contour product. The next step is adding a flush of color and glow with blusher and highlighter. Then to lock everything in place, finish with a powder or setting spray. Of course, we're not suggesting your need to wear each product all the time, but it's all about finding your own routine and which formulas work best for your skin.
How do you get flawless face makeup?
Before starting, make sure your skin is fully cleansed and moisturized as this creates the perfect balanced and hydrated canvas. Then the first makeup step should be a primer, which can help smooth your complexion and blur any enlarged pores and blemishes.
Then it's time to apply foundation using a stippling brush or beauty sponge. This helps you achieve an all-over even finish. The next step is concealing any redness or blemishes with your favorite concealer and correctors. To set everything in place use a translucent setting powder, followed by a setting spray. These must-have products help you achieve that flawless finish that stays put throughout the day.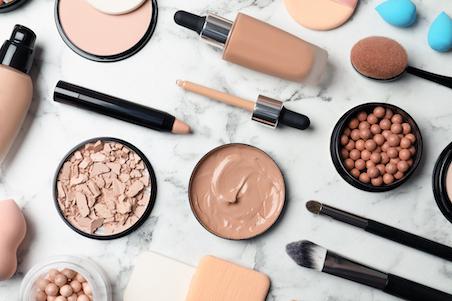 What is the best face makeup?
It all depends what face makeup look you want to create. Here at Cosmetify, we have a wide variety of brands and products to suit every style, skin tone, makeup concern and ingredient preference. Leading luxury face makeup brands include Sisley, La Mer, Tom Ford and Charlotte Tilbury. We also have a wide range of high-quality, affordable brands, such as Revolution, NYX Professional Makeup and Maybelline.
To find the perfect products for your makeup routine, use our drop-down search filters. This is perfect for searching for cruelty-free, ethical beauty products, as well as budget friendly options.
Makeup Palettes
Makeup palettes are your fast track to a flawless full face. You can use them to create the ultimate smoky eye, chisel cheekbones and add a pop of color to any look. Browse our extensive collection and discover everything from eyeshadow palettes to face palettes and lip palettes. Snap up cult-classics from the likes of Morphe and Huda Beauty or experiment with newcomers and the color-ways they have to offer. Perfect for when you're on the go or as a gift, palettes are a great addition to your makeup bag.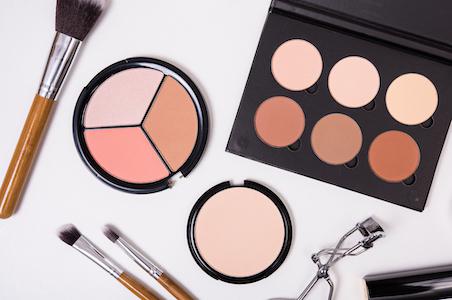 What is a makeup palette?
Makeup palettes are multi-functional products, which offer a great range of shades in one single compact case. Whether you're jet setting or need every day top ups, makeup palettes are perfect for on-the-go beauty moments. Discover your new favorite palettes and all-in-one products to help save space in your makeup bag. Not only are they cost effective, but they also keep your routine streamlined.
Here at Cosmetify, we have a variety of makeup palettes for you to choose from. Browse blusher, eyebrow, contour, eyeshadow, face, highlighter and lip palettes. All offer a multitude of formulas, with a range of finishes, coverages and formats. Whether creamy contour products or satin finish eyeshadows, there's a palette for every beauty buff.
How do I choose a makeup palette?
With so many to choose from, picking your new favorite makeup palette can be a tricky task. The first step is finding one that fits your requirements, do you want it for your eyes, face or lips? Remember makeup palettes aren't limited to eyeshadows, instead there's a huge range of multi-use, convenient face palettes for you to peruse.
Once you've decided what kind of palette you need, you should consider your makeup skills, how many colors are in the palette and if you'll use most of the shades. For example, is that bold makeup palette really worth it if you usually a natural makeup lover? Although we all get tempted by new releases, make sure you're not doubling up on similar shades to avoid an overflowing makeup collection.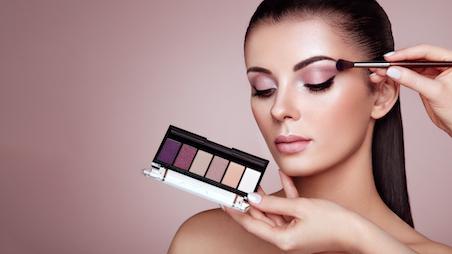 How do you use a makeup palette?
The beauty of makeup palettes is that you can experiment with different shades and formulas depending on your mood, the occasion and your style. Simply mix and match palettes to completely customise your makeup routine.
With eyeshadow palettes, use the lighter shades to highlight, deeper colors to define your eyelid crease and apply fun, bold shades to the middle of the lid. Face makeup palettes have many different uses. When using a contour palette, use the darker shades around the cheekbones, forehead and jaw to sculpt the face. Dust shades from highlighter palettes across the high points of the face, such as across the bridge of the nose and on the top of the cheekbones.
With lip palettes, mix and match shades with a lip brush to find the perfect shade for your pout. Do the same with blusher palettes to find the best flush of blush to swipe across the apple of your cheeks.
How do you travel with a makeup palette?
When traveling make sure you pack all your makeup tightly to ensure that palettes don't break in your bag. This includes all compact powder products, such as bronzer and highlighters. As an extra precaution, you can wrap products in clingfilm or bubble wrap to ensure that your makeup palettes don't move around too much.
It's also recommended to pack your makeup bag lightly. Palettes are a great option for travel as you have everything in one handy compact case, rather than lots of little products that could easily get lost or broken en route to your destination.
Tools & Accessories
Every beauty buff needs to be kitted out with the essential makeup tools and accessories, with top-notch products from leading cosmetic brands, such as The Gypsy Shrine, Real Techniques and Sleek Makeup. In this line-up you can discover everything from makeup bags, lash curlers, tweezers and makeup brush cleaners. Not to mention, pots of glitter and face gems to help you get party ready.
Do eyelash curlers actually work?
Whilst they may not look like they achieve much, lash curlers are the small and clever invention that helps to curl and add length to your lashes. Experts often agree that they are one of the most underrated makeup tools, and nothing but a must-have for your makeup bag. The metal tool boasts a clamp design that you can squeeze down onto lashes to help curl them upwards. It sounds pretty daunting, we know, but the process completely safe and pain-free. Plus, it provides instant visible results. For best results, it is worth investing in a quality lash curler and regularly replacing the rubber or silicone cushions.
What is the best body glitter?
When it comes to the best body glitter, you're going to want a glitter that sparkles all day long, stays put and doesn't slip or slide. Body glitter arrives in all forms, from glitter sticks and sprays to loose glitter and glitter glue, all of which are great options. Some of the best body glitters come from cult-favorite brands such as NYX Professional Makeup, The Gypsy Shrine, MAC and Barry M. Their professional body and face glitters have been the go-to for years now, whether it be for festivals, parties or holidays.
How do you clean makeup brushes without brush cleaner?
If a professional brush cleaner isn't an option for you, there are alternative household products you can use that will clean makeup brushes just as good. The most popular product being baby shampoo. Baby shampoo has a gentle formula that won't damage the brush hardware and bristles or irritate skin. It efficiently breaks down old makeup and washes away dirt, dust and grime. Simply add a dollop of baby shampoo to lukewarm water and swirl the brush head in the mixture until a lather forms. You can use your fingers to work out stubborn patches of makeup. Unscented soap and your usual face cleanser do just the trick, too!
Olive oil can also be used to clean makeup brushes as it's great at separating the oils used in liquid formulas, like foundation and concealer. Simply mix one part olive oil and one part dish soap together, dip the makeup brush bristles in the mixture and use your fingers to massage out the old makeup. Rinse the brushes with lukewarm water to reveal squeaky clean results.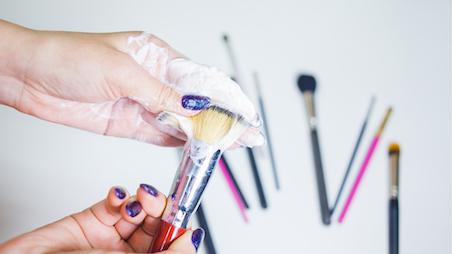 What is the best thing to clean makeup brushes with?
When it comes to cleaning your makeup brushes, it is best to use a product that is specifically formulated to care for them in the right way, such as brush cleaners.
Makeup brush cleaners efficiently break down old hardened makeup, remove oil and wash away built-up bacteria from your brushes. They are carefully developed so that they can be used on both synthetic and real bristles, without causing damage. Not to mention, they utilize gentle, skin-kind ingredients to prevent irritation and breakouts. Some of the best makeup brush cleaners come from your favorite beauty brands, such as Bobbi Brown, Clinique and MAC.
Other tools that are great at cleaning makeup brushes include cleansing palettes and mats. These are typically rubber mats designed with grooves and ridges that help break down old, hardened makeup and give the brush bristles a deep clean. Go ahead and pick the brush cleaner that works best for you!