Easy Halloween Doll Makeup
The Easiest Halloween Doll Makeup to Try This Year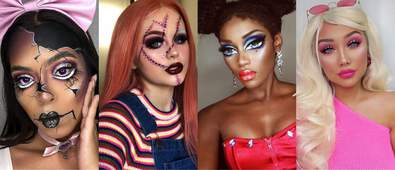 Halloween is nearly here and the gang at Cosmetify HQ can't wait to put our makeup skills to the test, whether it's with clown, devil, witch or classic cat makeup. However, if you want to extend your repertoire of Halloween looks, we've got just the answer – the Halloween doll.
Doll makeup means exaggerated false lashes and plenty of eyeliner, which we can certainly get behind. We've collated all our fave variations of the Halloween doll makeup from the oh-so-glam barbie doll to the very creepy chucky doll.
Of course, which one you go for all depends on whether you want something scary or cute! Whichever you choose we're sure you'll make an impact with one of these easy Halloween doll makeup looks.
1. Barbie doll makeup
Fed up with terrifying Halloween makeup? Then why not try this plastic fantastic barbie doll costume? This look requires your best ultra-glam makeup with lots of hot pink eyeshadow hues and of course the classic blonde wig.
Get the look
2. Bratz doll makeup
If you were more of a bratz kid growing up, put your glam skills to the test for this this iconic doll makeup. Think huge, bold eye makeup and a gorgeous, lip gloss and lip liner combo.
Get the look
3. Chucky doll makeup
Things have taken a spooky twist with this Chucky look. Chucky is undoubtedly a Halloween favorite and this one isn't for the faint hearted. You'll need plenty of maroon and red colors to get the dark eye and lip look. Oh, and don't forget the dungarees. We love this versatile eyeshadow palette for all our doll makeup needs.
Get the look
4. Creepy doll makeup
Hands up who was terrified of Coraline? This film-inspired makeup look is perfect for Halloween. For the face all you need in a kohl pencil to draw on the thin brows, the freckles and the lips. Added extras include the creepy button eyes and the bright blue wig.
Get the look
5. Broken doll makeup
We're obsessed with these takes on the broken doll Halloween makeup look. You can easily create the broken effect using a liquid eyeliner. Plus, you'll also need those fluffy fake lashes for the big doll eyes.
Get the look
6. Wooden doll
Ok so this one takes a little more work, but it sure will look fantastic once finished. Think Pinocchio realness.
You need to make sure you go heavy on contour on the cheekbones and use a steady hand and contour brush to create the wooden effect on the skin. And don't forget the white eyeliner for the wide-eyed finish.
Get the look
7. Vintage doll makeup
Urm excuse me how cute is this vintage doll Halloween makeup? Sure, it's a tad creepy too but it's all in the spirit of spookiness. For this look we recommend the ultimate red liquid lip for the heart shape pout and big, bold fake lashes.
Get the look
8. Simple doll makeup
If you don't want to buy lots of products, this super simple take on the rag doll makeup is the way to go. Use your pencil liner to draw on the freckles and lower lashes. Don't forget to give yourself a flush of color with a pop of pink blusher on the cheeks.
Get the look
9. Doll eye makeup
For something a bit more artsy, this doll eye makeup is a cool take on the Halloween look. You need a mixture of white and black eyeshadow to recreate the bold eyes that give you that doll-like vibe. Pair with slick back hair using a hair gel and a sweeping of light pink lipstick on the lips.
Get the look
Doll makeup is a great option for a simple, yet super fun Halloween look. But no matter what you decide to dress up as this year, we've got you covered with our Halloween page and the Best Cosplay Makeup Looks to Take Inspiration From.
Related Categories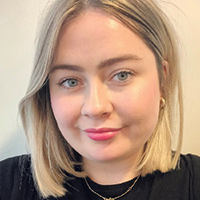 Rebecca is a content writer with over three years' experience and a keen interest in cosmetics. Cosmetify allows her to combine her blogging skills with her passion for beauty.