Semi-Permanent Hair Dye Guide
With our semi-permanent hair dyes guide, you can find out everything you need to know before buying or using the product including how long does semi-permanent hair dye last and how do I apply semi-permanent hair dye. If you're ready to buy or want to see our selection, visit our semi-permanent hair dye page.
Semi-Permanent Hair Dye FAQs
How long does semi-permanent hair dye last?
Semi-permanent hair dye is a great option if you want to experiment with a new, fun hair colour without the long-term commitment.
Once applied, semi-permanent hair colour typically fades within 4-6 weeks. Blue, red or green tones may last a little longer, but it is perfect if you're trialling out colours or constantly switching your style to keep up with the trends.
If you decide that you love your new hair look, you can easily re-apply the semi-permanent hair dye to keep colour looking fresh.
How do I apply semi-permanent hair dye?
Using semi-permanent hair dye is easy and can be done from the comfort of your own home. We recommend carrying out a strand test beforehand to ensure the dye works for you and doesn't cause irritation.
To apply, ensure hair is clean and free of oils or styling products. Semi-permanent hair dye can be applied to both wet and dry hair, but wet hair usually works best.
Section your hair into even parts. You can apply the colour all over or you can pick out strands to create cool ombre or dip-dye effects.
Wearing protective gloves, evenly apply the colour to your hair, working from root tip. Leave the dye on your hair for the recommended time listed in the directions. Rinse the colour until the water runs clear and style as normal.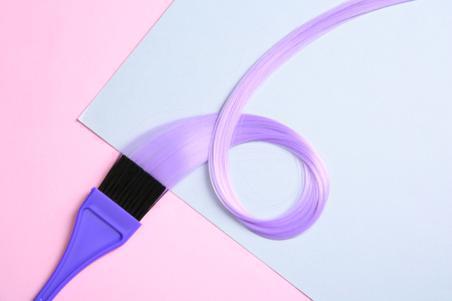 Should I use semi-permanent or permanent hair dye?
It's always good to know the difference between semi-permanent and permanent hair dye before switching up your hair colour.
As mentioned before, semi-permanent hair colours are the perfect short-term option, especially if you're trialling colour for the first time. The formula simply coats the surface of the hair shaft, meaning the effects are super easy to reverse. Not to mention, semi-permanent hair colours are usually peroxide and ammonia free, meaning they are less likely to damage your hair.
Permanent hair dyes last longer as they require chemical processing and change the natural colour of your hair. Instead of gradually fading out, the colour simply grows out as your natural roots regrow. You'll need to be committed to your new shade as there is no going back with permanent hair dye!
If you use a permanent hair dye, it is likely that you will need to touch up your roots every four to six weeks.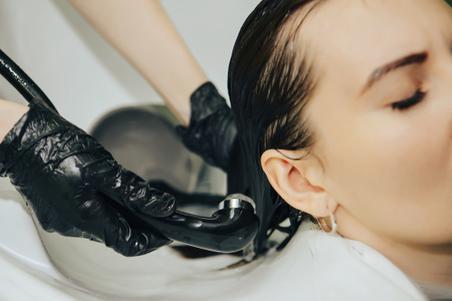 How can I get rid of semi-permanent hair dye quickly?
If your new hair colour hasn't turned out the way you expected it, fear not! Semi-permanent hair colour can be easily reversed.
One way to remove semi-permanent hair dye quickly is to keep washing your hair. As semi-permanent hair dyes normally fade within six to 12 washes anyway, you can easily speed up the removal process.
The second option is to use clarifying shampoos and colour-removing formulas. While they won't completely strip the colour out of your hair right away, they target the dye and eventually remove it from your hair.