Complete Guide to Permanent Hair Dye
By Luke Chapman, Content Writer
With our permanent hair dyes guide, you can find out everything you need to know before buying or using the product including can you remove permanent hair dye and what colour should I dye my hair. If you're ready to buy or want to see our selection, visit our permanent hair dye page.
Permanent Hair Dye FAQs
Can you remove permanent hair dye?
Taking the plunge and going with permanent hair dye is a daunting decision, and oftentimes leads to some regret. If you're one of those who've dyed their hair with permanent hair dye and you're regretting your choice, don't panic, there are solutions. Whether your hair is too brassy, a little too dark or just doesn't feel right, you can still amend it.
It can be tempting to dye your hair another colour straight away, but we strongly advise against this. Layering another colour immediately is too much for your hair to take; it forms excess buildup which causes your hair to become fragile and damaged.
Firstly, we suggest using a potent hair colour remover, which removes the artificial colour molecules and returns your hair to its base colour. A bleach-free hair colour remover safely removes the dye and keeps your hair in a healthy condition.
What colour should I dye my hair?
With so many options on the market, it can be difficult to decide on a colour. Whether you want an ashy blonde, sultry brunette or sexy silver, you can now find the exact colour you've been dreaming of. But how do you know which one is best for you?
What colour looks best depends on your hair type and skin tone: lighter skin tones with straight hair really suit a red colour or a light blonde, whereas darker skin tones and wavy hair is perfect for a darker brown. Of course, dark skin tones and red hair can still look gorgeous, as can lighter skin with a auburn brown.
Ultimately, we suggest choosing a colour that suits your personality. You feel the most confident when you're expressing your authentic self, and the best way to do that is with dyed hair.
How do I remove hair dye from my skin?
Dying your hair is one of the most exciting things to experience, yet it can certainly be a messy process. It's easy for the hair dye to get everywhere, including your skin, and it can be troublesome to remove. However, there are a few solutions.
Like many pesky troubles, prevention is easier than the cure. It's much simpler to prevent hair dye getting onto your skin than it is to remove it, so we suggest being extra careful when dyeing your hair at home. One handy method is to massage petroleum jelly onto your skin before you apply the hair dye; the jelly creates a slippery surface which prevents the dye from being absorbed into your skin.
If you do happen to get some hair dye onto your skin, the removal process is fairly similar to removing stains from clothes. Alcohol and soap is a potent combination which has been proven to be highly effective. Baking soda, washing up liquid and vinegar are also adept at removing hair dye, particularly a washing up liquid that contains lemon. Just rub the liquid onto your skin with a cotton bud until it gradually disappears.
Makeup remover is a last resort should you be unable to find any other products, which again should be applied with a cotton bud.
How do I dye my own hair at home?
Ideally, we would always get our hair dyed at the salon, but sometimes we don't have the time or money for the luxury. This calls for the exciting prospect of dyeing your hair at home, which is simpler, more convenient and more manageable than you realise.
Firstly, we highly recommend buying two boxes of hair dye - the last thing you want is to run out of hair dye just before you've finished the job. When you've made sure you have enough hair dye, do a strand test on a few hairs to make sure it's the colour you want. It's also important to wear old clothes you don't mind getting dirty, and wearing gloves is also advisable.
When you begin the process, squeeze the dye onto the roots of your hair then spread it all over. This is the fun part. Use a bowl and brush to help with the process, using two mirrors to help you cover every area. Split your hair into 4-6 sections using clips to really help guide your brush.
Whilst you wait for the dye to be absorbed, you can wear a shower cap to prevent it from dripping. Once it's been fully absorbed, avoid washing with water to maintain the new colour.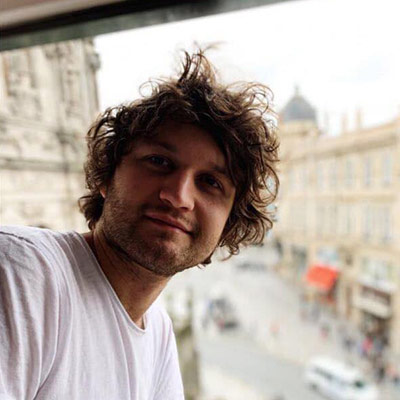 After six years of experience in content writing, Luke followed his passion for male grooming, particularly fragrances, hair styling and natural skin care.