How to Do 'Face Mask Makeup'
How to Do 'Face Mask' Makeup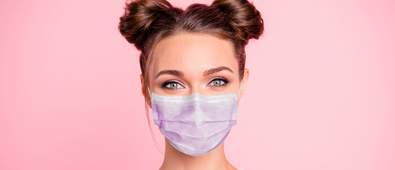 For the best part of the year we've been holed up at home with no real excuse to get glam.
The pandemic has certainly given us the chance to embrace our natural beauty but as workplaces, bars, restaurants and shops in the UK reopen, it's about time we brought back the full-beat.
With that being said our usual makeup looks may need some tweaking, especially as we adapt to the normalcy of wearing face masks in public spaces.
'Face mask' makeup has been a huge hit across YouTube with some of our favourite influencers, such as Manny MUA, giving tips and tricks on how to mask-proof your makeup.
To help you get prepared, here's a breakdown on how to wear makeup with a face mask and the beauty products that work best.

Step 1: Hydrate
You're going to be using a tonne of long-lasting, matte formulas to mask-proof your makeup, so the first step in the routine is moisturiser. Make sure you use a super hydrating formula as not only will this prevent base makeup from cracking and crumbling, it will also stop the face mask from causing skin irritation and dryness.

Step 2: Set
This trick originated from Tik Tok and has changed makeup application forever. Setting your moisturiser with a translucent powder locks in that all-important hydration and stops primer and foundation from mixing. Use a light amount and gently sweep a thin layer across skin. For ultimate protection, you can give your skin a quick spritz of setting spray, too.

Step 3: Primer
The key to a long-lasting base is a primer and in this case, the stickier, the better. A tacky formula is going to ensure that liquid foundations and concealers grip to skin and are budge-proof throughout the day. Look out for putty textures that include silicone or squalane as ingredients as they'll work best.

Step 4: Foundation
Disclaimer: it needs to be long-lasting, full coverage and matte. While you might be inclined to go for a natural, dewy finish, lightweight foundations aren't going to work well under a face mask as the fabric soaks up the product and lifts it from your face. Heavy-duty formulas are the way to go if you want skin that stays looking flawless.

Step 5: Set & Bake
It's time to lockdown once more with a setting powder. Dabbing a loose powder over your face not only sets foundation and concealer in place but it melts them into your skin, making them more long-wearing.
Take a damp makeup sponge and lightly press the powder into skin, focusing on areas such as the T-zone, under eye and laugh lines. Areas such as your nose will need more powder as this is where the face mask will rub the most. Apply a generous amount and allow it to 'bake' for a few minutes before brushing off with a powder brush.

Step 6: Contour & Highlight
If you're wanting to go full glam and apply blushers, bronzers and highlight, be sure to use powder formulas only. Cream textures are more likely to slip and slide under the face mask, which won't look cute if you choose to unveil.

Step 7: Eyes
This is where you have a little more free reign and can get creative. Whether you want to rock a natural smoke or a statement look that matches your mask, the choice is yours. Your eyes are an area that a face mask doesn't affect so go wild with the glitter, shimmer and wet-look textures.

Step 8: Lips
Wave bye-bye to lip glosses and satin lipsticks as liquid lipsticks and lip stains become your beauty best friend. A good matte formula is going to see your lip look last from A.M to P.M, even with all the friction of a mask. They can be drying on the lips if used frequently, so remember to apply a hydrating lip balm before application to prevent cracks and chaps.

Step 9: Setting Spray
Last but not least, give your face an all-over spritz with a strong-hold setting spray. Rest assured, your makeup will be budge-proof, smudge-proof and face mask-proof.

There we have it: a 101 guide on how to make your makeup last under a face mask. Now, you can enjoy a taste of freedom knowing that you're being safe while looking cute. For extra info on long-lasting makeup, check out How to Apply Foundation that Lasts All Day.
Related Categories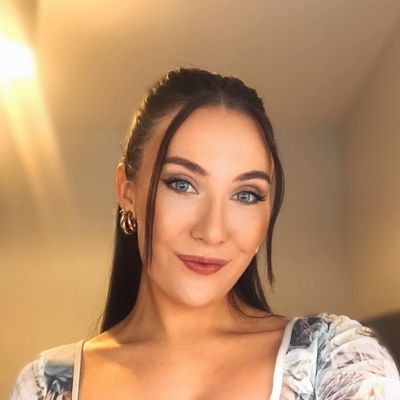 As the Senior Content Editor for Cosmetify, Carly is the go-to for all the latest (and greatest) beauty tips, tricks and trends. With over six years of experience in the industry, she knows all the ins-and-outs when it comes to health, beauty and wellbeing.