A Beginner's Guide to the Best of Nuxe
Upgrade your skin and body care routine with the French-chic brand, Nuxe. Their iconic formulations are loved by both men and women alike, helping all skin types to thrive and glow.
Nuxe have mastered the art behind creating a sell-out selection of products, teaming scientific research and unique product innovation together with nature-derived ingredients. But, with so many products to choose from, finding your beauty bestie may seem somewhat daunting. With that in mind, we've created a go-to guide on how to choose the right Nuxe product for your skin type.
Nuxe Huile Prodigieuse Range:
Three oils, three ways. The Nuxe Huile Prodigieuse range is arguably one of their most popular product lines due to the cult status that their Nuxe Huile Prodigieuse Multi Usage Dry Oil holds.
Consisting of three different multi-use oils, this iconic range from Nuxe has earned a worldwide following due to its popularity and ability to beautify the hair, face and body (as well as sporting an incredible scent, too). Working to nourish and soften the skin and hair, this coveted body oil range is made using an ultra-concentrated composition of 30% precious plant oils for visibly improved results.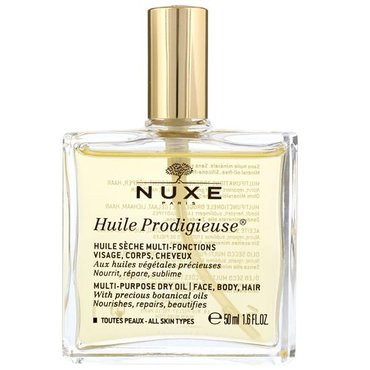 £22.08
This incredible and inimitable oil has made quite the name for itself within the beauty world, so much so that it's one of France's most popular body oils.
The Nuxe Huile Prodigieuse Multi Usage Dry Oil is made using 98% natural origin ingredients with seven 100% botanical oils to impart a truly radiant glow upon both the skin and hair. Working its magic from tip to toe, the dry oil combines tsubaki oil, argan oil, macadamia oil, borage oil, camellia oil, hazelnut oil and sweet almond oil together to simultaneously hydrate, protect and smooth all skin types.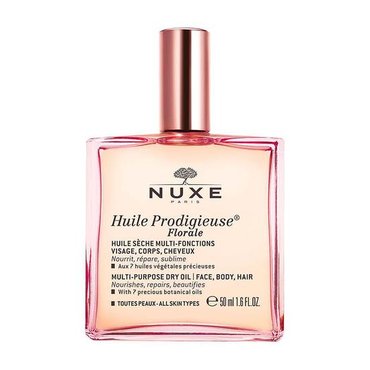 £19.42

£20.00

(3% off)
Protect and nourish your skin with the omnipotent Nuxe Huile Prodigieuse Florale. This dry body oil harnesses all of the same qualities as the Nuxe Huile Prodigieuse Multi Usage Dry Oil but with an added delicate, floral aroma.
Delivering an antioxidant action upon the hair and skin, this does-it-all oil hydrates, smooths and beautifies your body for that 'lit from within' glow. Doubling up as a wearable fragrance, this body oil is set to be the main feature in your AM and PM routine.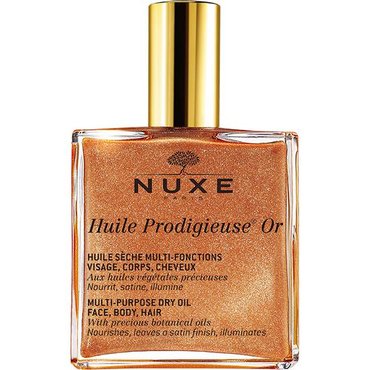 £24.73
Add a pop of shimmer and shine to your look with this summertime essential.
Highlighting all of your best parts, the Nuxe Huile Prodigieuse Shimmering Dry Oil adds a wash of feel-good nourishment to both your hair and skin for a multidimensional glow. Apply to the high points of your face for a subtle highlight, on the ends of your hair for an enviably glossy finish or all over your body for a streamlined, goddess-like radiance.
Nuxe Crème Prodigieuse Boost Range:
Crafted to take care of ageing skin types, this intensive range of skin and body products helps to protect the skin from oxidative stress that can enhance the first signs of ageing.
Each product within this selection works to deliver daily moisturisation and an active level of protection to keep skin looking as youthful as possible. The Nuxe Crème Prodigieuse Boost line acts fast on skin that suffers from dehydration, fine lines, dullness and lack of radiance. Jasmine Flower graces every formula within the range, delivering an antioxidant complex that boosts the skin's defences and mechanisms.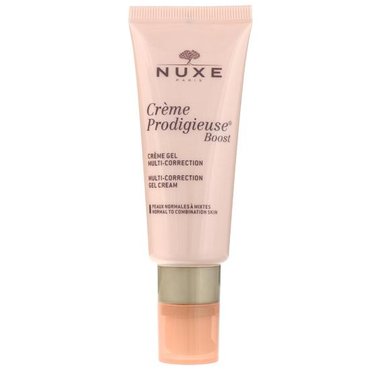 £33.58
Get hold of a flawless visage with this skin care essential from Nuxe.
The Nuxe Creme Prodigieuse Boost Multi Corrective Gel Cream helps to fight off the first signs of ageing by protecting the skin against factors such as fatigue, pollution and stress. Jasmine flower provides its antioxidant properties to protect and refresh whilst maintaining the skin's natural balance for soothing results.
Boasting a light texture, the gel-cream formula melts down to a matte finish that wears comfortably throughout the day for a moisturised finish.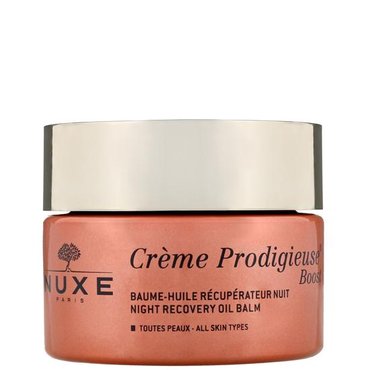 £38.89
Hit the reset button on your complexion by treating it to an intensive night-time treatment from Nuxe.
The Nuxe Creme Prodigieuse Boost Night Recovery Oil Balm contains protective jasmine flower to guard and rehabilitate the skin from external aggressors, while shielding macadamia oil injects a surge of nourishment and moisture to prevent the development of dry skin and fine lines.
Once applied, the balm dries down to a satin-matte finish that banishes the likes of greasiness for a comfortable wear throughout the night.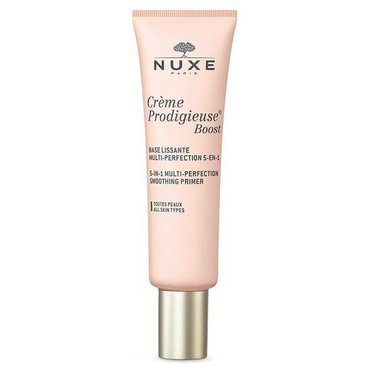 £19.88

£29.00

(32% off)
Tackle the five main tell-tale signs of ageing with this potent beauty essential from Nuxe.
Boasting a 5-in-1 action, this Multi-Perfection 5-in-1 Smoothing Primer provides all of the answers to your major skin concerns in a single, easy-to-use formulation. Targeting the likes of fine lines, dullness, fatigue, oiliness and minor imperfections, this beauty-enhancing must-have helps to add a filter-like effect upon the complexion for Insta-ready results.
Within just 15 seconds of application, the formula gets to work by blurring out irregularities for a flawless finish. This product works well on its own as well as underneath makeup.
Nuxe Rêve de Miel Range:
Known for its ability to deeply nourish even the driest of skin types, the Nuxe Rêve de Miel is the only product line worth knowing about when it comes to combatting neglected, dried-out skin.
Nuxe created this skin care range more than 20 years ago, homing in on one particularly special ingredient: honey.
Made up of a selection of ultra-restorative skin and body care products, this range helps to soothe and comfort all skin types. Harnessing the healing properties of honey and sunflower, each product within the line-up works to actively repair and comfort skin for a glossy, healthy finish.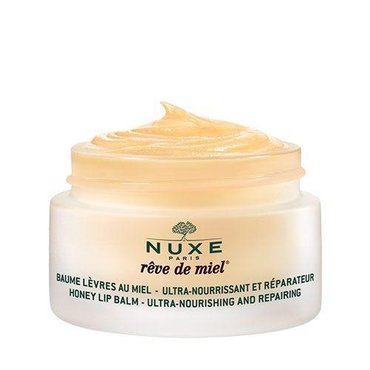 £11.00

£13.23

(17% off)
You've probably landed on this brand page because of one particular product: the Nuxe Reve De Miel Ultra Nourishing Lip Balm. This incredible formula has won itself a place in the hearts and homes of beauty lovers everywhere due to its ability to transform lips.
Containing a concentrate of beneficial properties, this iconic balm helps to repair chapped lips with the restorative assets of honey, botanical oils and propolis (a rare and precious bee hive ingredient). This line-up of ingredients actively nourishes and soothes neglected lips for a totally kissable pout.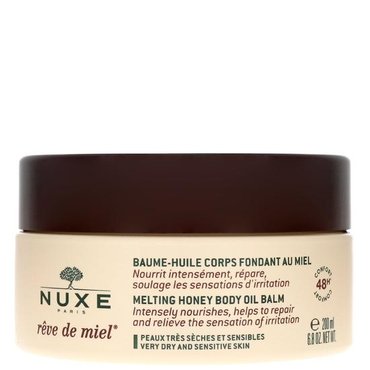 £24.73

£25.00

(2% off)
Created with very dry and sensitive skin types in mind, this all-over intensive treatment helps to abolish uncomfortable sensations with its replenishing and deeply nourishing texture.
The Nuxe Reve De Miel Body Oil Balm contains all of the intensity of an oil but in a balm-like texture that melts beautifully in for a veil of comfort. Honey and precious botanical oils are utilised for their intensely nourishing action, getting to work on sensitive skin that requires a little extra TLC.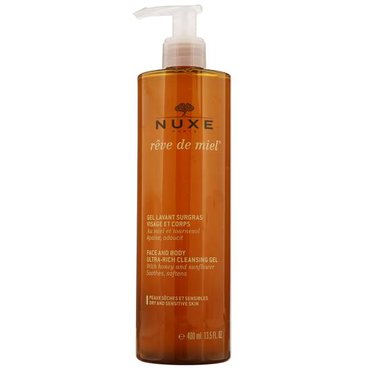 £21.19

£22.00

(4% off)
Melt away the day with a deeply rich and nurturing cleansing gel. The Nuxe Reve De Miel Face & Body Ultra Rich Cleansing Gel effectively removes even the most stubborn of makeup as well as dirt and grime to reveal a healthy and vibrant visage.
The inclusion of honey and sunflower extract also helps to ensure that skin is always kept feeling moisturised to avoid that post-cleanse tightness. Ideal for use in the AM and PM.
Related Categories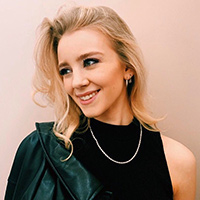 With five years' experience under her belt, Ellie has worked alongside a range of highly regarded makeup artists, giving her a real insight into what consumers should be spending their money on.