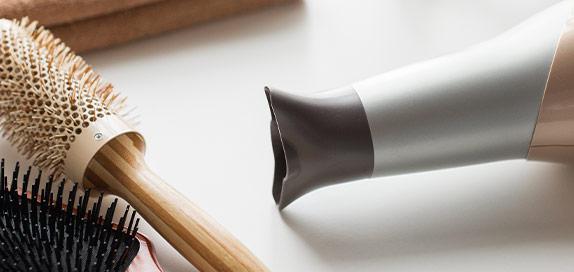 Haircare Guide
By Luke Chapman, Beauty Editor
With our hair care guide, you can find out everything you need to know before buying or using the product. If you're ready to buy or want to see our selection, visit our haircare page.
Your Guide To Hair Care
Hair Extensions
Achieve length and volume in an instant with hair extensions that work wonders. It's time to unleash your inner Rapunzel and let your hair down once and for all.
Shop our extensions, updo rolls and ponytails by Beauty Works, Balmain and more.
Shampoo & Conditioner
There's nothing quite like a hair care day where you pick out your favorite gorgeous smelling shampoos and conditioners. Not only do they help you feel absolutely fabulous, but they can also help restore health, radiance and shine to your precious locks. No matter your routine, discover a range of both new and renowned shampoos and conditioners that'll take your hair care to new heights.
Styling Tools & Electricals
Caring for your hair goes far beyond a good shampoo and conditioner. To keep your mane looking fierce, you need to incorporate top quality styling tools and electricals into your routine. Keep knots and split ends at bay with a Tangle Teezer paddle brush, give yourself a professional blow-dry with our selection of GHD hair dryers or style locks like an A-lister with our range of heat tools. Whatever your style, we have everything you need to create a catwalk-worthy look.
Treatments
Give your hair the kiss of life with a hair care treatment created specifically for your concerns. No matter your hair type or condition, there's a nourishing formula to restore its health and vitality once and for all. From taming unruly curls to adding a little extra 'oomph' to finer strands, our expert hair treatments range offers endless remedies to beautify and maintain your locks in their moment of need. Shop Redken, Philip Kingsley and many more amazing brands right here.
Styling Products
Switch up your hair prep routine and create a whole new look with our incredible range of styling products from the likes of Living Proof and Percy & Reed. Browse amongst creams, whips and waxes to create a fresher-than-fresh 'do that keeps your style in check all year round. Whether you're after short and spiky style that stays in place or long, flowing post-holiday waves, our collection allows you to experiment freely for a look that's always on-trend.
Hair Color
Your hair color says more about you than you think. Whether you're going for something new and adventurous or simply giving your current color a refresh, we have a great line-up of permanent, semi-permanent and temporary dyes that'll give both your hair and your look a new lease of life. And don't worry, with professional brands such as L'Oreal Paris, Color Wow and Lime Crime supplying your products, you'll always have salon-worthy color.
Hair Supplements
Longer, stronger, thicker hair is something we've all lusted after since Kimmy K stepped onto the scene. With our hair supplements range, you can unlock the secret behind healthier tresses and get your hands on those Rapunzel-like locks.
Whether you're looking to reinstate your hairs' natural shine or simply add a little extra volume, our expert selection of supplements is here to make the process a bit easier.