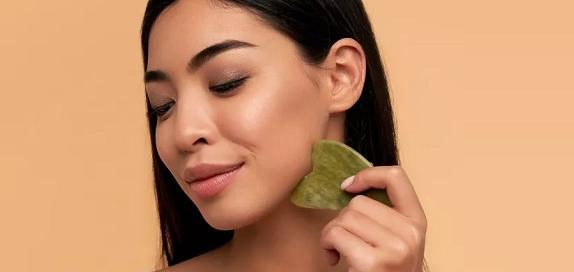 Gua Sha
Lift, tone and firm your face with our selection of gua sha stones from leading skincare brands, including ESPA, Skin Gym, Grace & Stella and more. Read More
1 product found
Gua Sha Facial Tool
Although derived from ancient Asian and Chinese medicine, the gua sha has recently become a popular trend within the beauty industry. Just as our bodies endure stress – think headaches and hunched shoulders – our faces can experience tension in the form of clenched jaws and furrowed brows. The gua sha is a non-invasive skincare tool proven to relieve tension in the face, as well as boost blood circulation, alleviate sinus pressure and encourage lymphatic drainage. When paired with a face serum, oil or moisturizer, the tool also helps to sculpt, contour and define your favorite facial features for a firmer and more lifted visage.
Typically made from precious stones, such as jade or rose quartz, but also recently modified with materials such as steel or glass, the gua sha elevates your skincare routine - and also makes a great gift for skincare fanatics, especially when paired with a facial roller.
Shop our full range of the best gua sha stones today and massage your way to chiseled cheekbones.