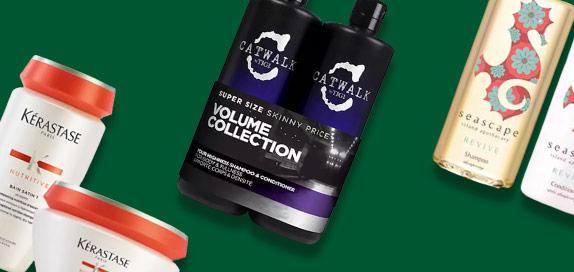 Shampoo and Conditioner Sets
We know there's no point having one great thing when you can have two, which is why our collection of hair care duos and multipacks, including shampoos, conditioners and hair treatments, is sure to be your favorite place to browse. Save yourself time, money and space in your bathroom collection with a shampoo and conditioner multipack, catering to your hair's every need in one convenient package. Read More
2 products found
Shampoo and Conditioner Multipacks
Shop amongst Kérastase, Philip Kingsley and many others to receive the double action of a powerful pairing. Most brands formulate their shampoo and conditioner to complement each other, so investing in a multipack helps produce gorgeous, glossy locks that are easier to maintain.
Whether you're looking for a new hair care discovery or an old favorite, you'll find what you need all in one place. We offer multipacks for every hair type, style, color and budgetary restriction, because everyone should be able to enjoy healthy, happy hair. Whether you want to save your pennies with a more affordable option or treat your tresses to a high-end combination, we have something for everyone.
Cleanse and repair your hair, bask in signature scents and save money with our multipacks and duos. If you love to buy in bulk, then be sure to check out our selection of hair gifts & sets - they're perfect for birthdays, Christmas and times you want to treat yourself!
Shampoo and Conditioner Sets Features