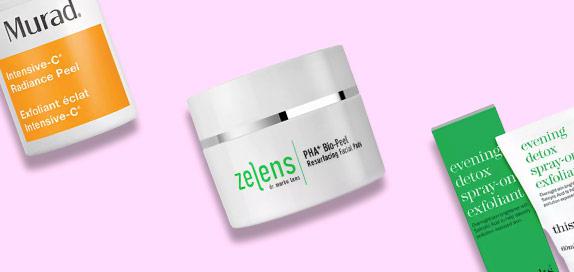 84 products found
Chemical Exfoliant for Face
Ideal for enhancing uneven skin textures and restoring a youthful complexion, our range of potent chemical exfoliators are bound to be the next staple your skin care routine.
With our range of skin resurfacing peels, facial pads, chemical exfoliants and toners, you can unlock the secret to noticeably clearer skin that glows from within. Catering to each and every skin type, you can reveal a radiant and healthy look with minimal effort. This skin care essential works by ridding excess dead skin, dirt and grime to leave a newer layer of skin, diminishing the look of dulling complexions.
Working in synergy with other skin-loving ingredients, each chemical exfoliator beautifies skin with an unparalleled brightening action that delivers a red-carpet-ready complexion in a flash. Here, you can shop amongst high-street and high-end alternatives that each work to provide envy-inducing results. Whether you're looking for an everyday essential or a more powerful treatment, we have a wide-spanning range that caters to all personal preferences.
Browse through our beautifying bunch of chemical and acid toners from some of the biggest names in beauty, including REN, The Ordinary, Paula's Choice and Zelens. Discovering your ideal exfoliating toner has never been easier.