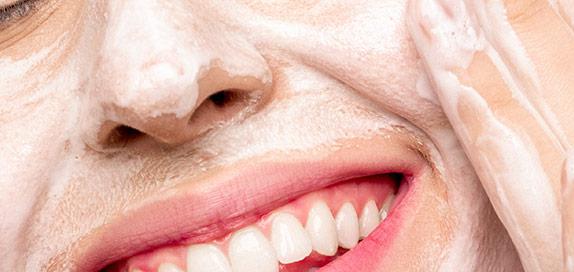 207 products found
Cleansers
Skin cleansers are a vital part of your skin care routine. Hardworking and efficient, they do everything from removing stubborn makeup to polishing skin.
Here at Cosmetify, we have an array of impeccable cleansers that will give you the radiant complexion you long for. You can browse a variety of cleansing formulas – we offer everything from oil to gel, foam and cream textures – facial brushes, micellar waters, glow-inducing toners and more. We even have makeup removers that'll make washing away the likes of waterproof mascara all the easier.
Whether you're on the go, work long hours or are just in need of a really good cleanse, we've made sure to cover every angle so that you can purify and re-balance your skin effectively.
Looking for a cleanser that caters to your specific skin type? Fear not, as now you can shop our range via skin concern, skin benefit and ingredient preference, thanks to the useful filter system.
So, what are you waiting for? Discover your ideal cleanser and indulge is soft, smooth and visibly clearer skin. Don't forget to follow up with a night cream, your favored skin treatment or SPF if you're heading out in the sun!
Cleansing Cloths and Sponges
Give your cleanser the perfect partner in crime with our range of cleansing cloths and sponges. Working with your liquid-based cleanser, each cloth and sponge effectively removes even the most stubborn of makeup for a fresh-faced appearance.
Face Wipes and Pads
Combining efficiency with skin-loving properties, face wipes and pads make the ultimate on-the-go skin care accessory. Wipe away makeup, oils and dirt with brands including Starskin, all here in one place at Cosmetify.
Facial Cleansing Brushes
Elevate your skin care routine with a cleanser like no other. Add one of our facial brushes into your AM and PM ritual to unlock unbeatable results. Achieving that flawless complexion is just a brush stroke away.
Micellar Water
Whether you're short on time, don't have access to water to clean your skin, or just love multitasking products, the convenience and effectiveness of micellar water is sure to delight. Just swipe this water-like product across your face and watch makeup and impurities melt away.
Skin Cleanser
Whether you're restocking your go-to cleanser or on the look out for a new remedy, our top picks have you covered for results that show. Catering to all skin types, you can fall in love with a cleansing favorite that takes your complexion up to a straight 10/10.
Face Toner
Calm, control and care for your complexion with our selection of perfecting toners. Discover both traditional and spray toners for a spritz of skin-loving goodness that adds a subtle and healthy glow to all visages.