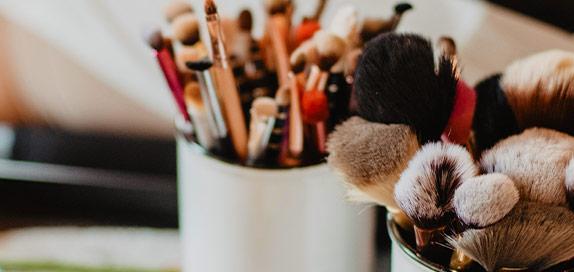 148 products found
Makeup Brushes
Here, you can shop until your heart's content, knowing that you're in the safe hands of world-renowned brands. Our range offers multiple options for beauty addicts everywhere, so, whether you're looking to perfect your brows or seamlessly apply your favorite liquid foundation, we have you covered. Better still, you can buy single brushes or all-inclusive makeup gifts and sets, meaning you can tailor your own selection to your personal needs.
Achieving a flawless face can be tricky – but not when you're fully equipped with some top-of-the-range brushes. No matter how daring you choose to wear your makeup, rest assured that we have also supplied only the best quality beauty tools and accessories to help you to create the look of your dreams whilst maintaining longevity.
Explore the difference between amateur and professional results with the brushes that take your application process to the next level. Keeping up with your favorite beauty YouTube tutorials has never been easier, thanks to the professional-grade brushes that ensure effortless precision and product payoff.
Blush Brushes
Just one sweep of the blusher brush is enough to lace your complexion with a pop of color. Complete your makeup brush collection with some of our fluffy but efficient cheek brushes and indulge in your easiest and most effortless blusher application yet.
Eyebrow Brushes
Brow brushes are the makeup tool that will help you achieve your best eyebrows yet. Take your pick from a range of specially designed bristles that define and carve out brows or snap up a spoolie to help you tame unruly hairs and evenly distribute color.
Makeup Brush Sets
Treat yourself (or a loved one) to a variety of professional makeup brushes, as we spoil you with an impressive range of brush sets. From duos to the full shebang, here you'll find all that you need to create flawless makeup looks. Discover brushes from expert brands such as Zoeva and Morphe, before indulging quick and seamless makeup application.
Concealer Brushes
Concealing dark circles, fine lines and blemishes just got all the easier as we supply you with a bunch of concealer brushes that can reach all the nooks and crannies. Take your pick from flat head brushes or tapered and fluffy bristles, and pair them with your favorite formulas for a professional look.
Contour Brushes
Chiseled cheekbones and a sharp jawline are only a few brush strokes away with our collection of contour brushes. Ideal for both powder and cream formulas, these makeup brushes are your one-stop shop to a sculpted complexion.
Eyeshadow Brushes
Blend and buff your eyeshadow to a professional standard or slay the sharp eyeliner first time round with our impressive range of eye brushes. Perfect for smoky eye looks, cut creases and dramatic eyeliner, they're essential in any makeup brush hoard.
Highlighter Brushes
Sweep all that shimmer, shine and sparkle across your complexion with our highlighter brushes. Available in all shapes and sizes, discover your ideal fan or tapered brush and get to work on lacing yourself with a gorgeous glow.
Kabuki Brushes
Kabuki brushes are the all-rounder that provide you with expert results, each and every time. Their flat and tapered edges are ace at buffing product into your skin and help you lay down flawless foundation, concealer and contouring creams.
Lip Brushes
Perfect pouts are just the sweep of a lip brush away. Explore our range of lip makeup brushes, which have all been specially designed to define, shade and pack on color, and indulge in a luxurious lip look. Ideal for lipsticks, glosses and creams, you can achieve a chic or statement lip in no time.
Makeup Sponges
Swap your makeup brushes for a sponge and bounce, buff and blend your way to a flawless complexion. Coming in all shapes, sizes and colors, you can discover your perfect sponge and make makeup application a breeze.
Powder Brushes
Set your base makeup in place and rest assured that you'll beat the midday meltdown with our powder brushes. Soft, fluffy bristles deposit all mineral, loose and pressed formulas onto skin, leaving you with a professional and flawless face.
Spoolies
Tame and frame unruly eyebrows or give lashes a little grooming with some of our super spoolies. A must-have for any makeup brush collection, these wonder-sticks prep and perfect your brows and lashes in just a few quick sweeps.