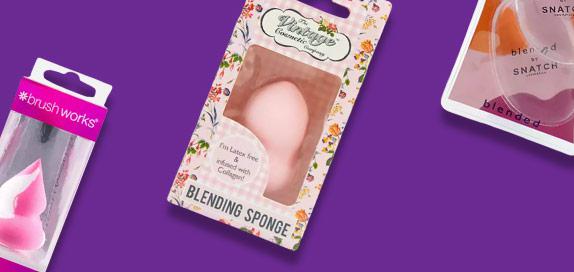 Makeup Sponges
Browse our collection of makeup sponges and get ready to bounce and buff your way to perfection. See our makeup sponges guide to find out more.
115 products found
Makeup Sponge
Beauty sponges are a must-have tool in any makeup collection, thanks to their versatility. Whether you want to buff your bronzer, blend liquid highlighter or remove any extra product, they are super easy to use and can help you achieve a gorgeous finish.
If you're in need of a restock or looking for a new beauty tool, then Cosmetify is the perfect place to start your search. We have a range of shapes, sizes and brands for you to choose from. Browse revolutionary products from the best beauty brands, such as Real Techniques, Brushworks and EcoTools, or play it safe with the original Beauty Blender.
From complexion sponges to microfibre blenders and silicone makeup sponges to precision tools, there's a sponge to suit every makeup kit. Simply use our drop-down filter system to refine your search to fit your specific needs. You can even search by price to find budget-friendly products.
Discover new favorites and classic beauty industry tools today. We guarantee that you'll find a clever companion that will help you achieve a smooth and flawless finish.