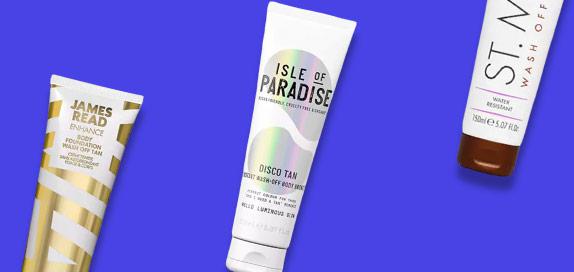 8 products found
Wash Off Tan
Waiting hours upon hours for your tan to develop can be an inconvenience, especially if you're in a rush. Fortunately, wash-off tans can come to the rescue. These hassle-free tanners are great for special occasions, last minute nights out or if you just want a quick golden glow. Not to mention, the results are dazzling as they leave skin laced with a color that would fool anyone into thinking you've been sunning in the Bahamas for two weeks.
Whether you want a full body bronzing or to contour and define areas such as your legs, décolleté and stomach, wash-off tans are the answer. You'll never have to worry about orange streaks, patches or mishaps either, as the tan washes away whenever you want it to. With shades ranging from light to medium and dark, it's super easy to achieve your dream tan. Some are even laced with a subtle highlighter for the ultimate glow.
Browse our selection of instant and wash-off tans and in no time at all, you can reveal your most beautifully-bronzed bod. Remember, self tan doesn't provide sun protection, just a soft bronzing, so you should still apply SPF moisturizer to areas such as the face if out in the sun.