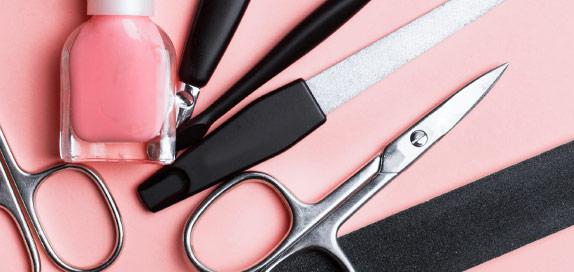 1 product found
Nail Tools
Clean nails are the secret to effortlessly beautiful hands, so keep your nail game strong with our expertly selected variety of handy tools that are all available today. Whether you're looking for clippers for those unkempt cuticles, a buffer to banish ridges or simply a new nail file to keep things neat and tidy, we've got you covered.
Our coveted collection brings together the best in beauty, offering a range of high-end remedies as well as more wallet-friendly investments, meaning your nails can shine brighter than ever before with a natural, healthy gleam. Coming in all shapes, sizes, patterns and styles, our products are perfect for any occasion, even if you're on the go. Discover the handbag essentials you can't live without as well as a few extra high-tech gadgets that make that at-home french manicure easier than ever before.
Ideal for both men and women alike, our nail tools page ensures hygienic, healthy results in an instant. With your nails now prepped andto perfection, you can finish your routine with an indulgent hand cream or treat yourself to a new nail polish color.
Nail Buffers
The humble nail buffer is probably one of the most underrated nail tools but its abilities are darn cool. Whether it's a single buffer or a buffer cube, these spongey tools are the real secret to polished-to-perfection nails.
Callus Remover Tool
Calluses are a lot less embarrassing and a lot more common than you think. With thanks to our selection of callus tools, you can keep your feet looking fly all year round. Shop them here among our nail tools today.
Nail Clippers
Ditch your nail biting habit and invest in some quality clippers for your nails. Often, a little chip can lead to chewing down your full nail but with this brilliant range of nail tools, chips can instantly be taken care of and your nails will always look their best.
Nail Files
Keep your nails is tip-top shape with a handy and convenient nail file. Our range offers crystal, glass and emery board files, meaning there's something for everyone's personal taste. Pop this nifty nail tool in your bag and always be prepared for a chipped nail.
Cuticle Scissors
cuticle scissors are a lightweight and practical nail tool that are perfect for snipping away any hangnails or tidying up wonky, chipped nails. They're easy to use and help you achieve a tidy, salon-professional finish every time.