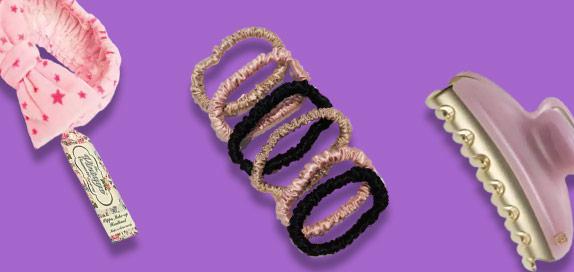 11 products found
Hair Accessories
When it comes to styling and maintaining your tresses, it couldn't be easier to dial up the glamor with our wide selection of hair accessories. Simply stock up on all the essential styling tools from bobby pins to hair claws and headbands to bobbles. No longer do you have to worry about AWOL clips, instead we have everything you need for your hair care routine.
Whether you want to add a funky headband to your latest look or need a big banana clip to tidy up your barnet, we have the answer. Create beautiful half-up half-down looks, sleek accessorized ponytails and embellished beach waves and make sure you set in place with our range of styling creams, gels and hair sprays.
As hair aficionados, we also have a handy selection of hair turbans and hair microfibre towels, which cut down drying time and help keep your hair looking and feeling its best. Not only that, but our collection of silk hair accessories, weightless hairbands and elasticated hair ties help fight frizz and keep your hair in tip top condition.
Whatever you're after, you can find a vast selection of hair accessories here at Cosmetify. Simply browse the collection today and shop all your favorite brands.