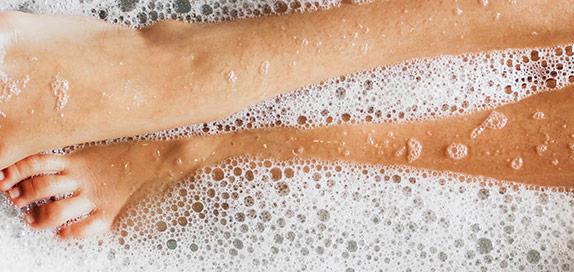 1404 products found
Bath and Shower
Whether you've come to the end of a hard day, finished an intensive workout or just about managed to put the kids to bed, a relaxing bubble bath is the best go-to treatment. Or maybe it's Monday morning and you need to shake off your sleep with an energizing shower. If that's the case, then why not explore our huge variety of bath and shower products to help you revitalize and refresh the mind, body and soul.
Spruce up your bath with salts, soaks and oils, most of which have been specially designed to help you soothe, calm and relax. Get scrubbing with our selection of exfoliation products, from body polishes to sponges and dry brushes, or indulge in our bath and shower gels - whether you want something stimulating or sumptuously scented, the choice is yours.
Whatever your body is craving, our range of professional products and fan-favorite brands will have you looking and feeling your best. Browse them all right here at Cosmetify, and look forward to your most indulgent bath or shower yet.
Bath Salts
There's nothing quite like stepping into a bath that's filled with nourishing bath salts; the way they melt into the warm water and caress your body with their luxuriousness...Experience the decadence of bath salts for yourself and shop Aveda, Westlab and more.
Check out this bath salts guide for more info.
Body Wash
Sometimes all you need is a good bath and shower gel to kickstart the day or to unwind. Whether sweet and zesty is your go-to wake up call or you prefer something more luxurious to relax to, we have all the best aromas right here, ready to help you get ready.
Visit our guide to body wash for help and tips.
Bath Oil and Soaks
Rehydrate and replenish your skin with a delightful bath oil or soak and give your body the pampering it deserves. Bursting with incredible aromas and packed with nourishing vitamins and minerals, these soaks are all you need to really unwind.
Look around our bath oil and soaks guide for any questions or advice.
Bath Brushes and Sponges
Want to know the secret to smooth, supple skin? It all comes down to your bath brush. With tougher textures than your average flannel, these sponges and brushes really scrub away dead skin and leave you fresher, softer and more radiant.
Check out this ultimate bath brushes and sponges guide to find out more.
Body Scrub
Slough away dead skin and revitalize your body both inside and out with our wonderful selection of body scrubs and exfoliators. This decadent range – by brands you know and love – promises to restore your skin's health and radiance after just one scrub session. So what are you waiting for?
See our complete guide to body scrub for any questions or advice.
Body and Face Soap
Soap is back! In an eco-conscious world, many are revisiting the trusty bar of soap and we're here to point you in the right direction. Shop new and improved formulas from the likes of Dr Botanicals and rediscover how gentle and loving soap really is.
Look around our ultimate body and face soap guide for help and tips.
Bath and Shower Products Features