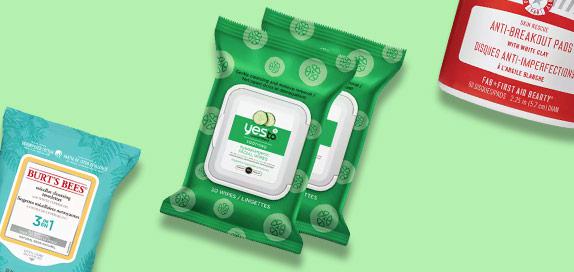 79 products found
Face Wipes
Check out our extensive range of face wipes and pads from the best brands in the business, such as NIP+FAB, Clinique, Yes To, Garnier and Burt's Bees.
It's time to step up your skin care routine by adding the power and efficiency of a cleansing face wipe into your daily mix. Whether you're looking to quickly remove your makeup or simply want to freshen up, our collection of professional-grade face wipes and pads helps you to remove any unwanted dirt and grime for a revived result.
With wipes offering to cleanse, detox, purify, rescue, smooth and remove makeup, there's no doubt that you'll be spoilt for choice. Not only are they quick and easy to use when it comes to getting rid of stubborn makeup, but they are also great for removing sticky sweat, dirt buildup and other impurities.
Ideal for that post-flight clean up or simply to use when you're in a rush, face wipes and pads can be used to mop up the daily dirt and oils that occur over time, whilst also drenching your visage in a mix of skin-loving ingredients.
Explore between charcoal-infused solutions and soothing cucumber eye pads to discover the power of clearer, healthier skin.
Face Wipes and Pads Features