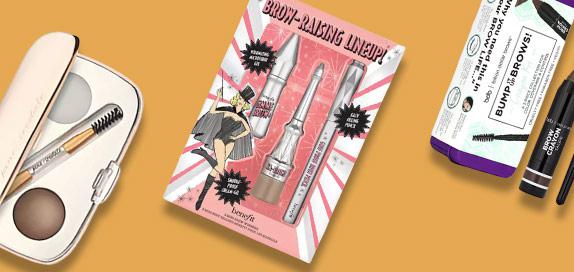 Eyebrow Kits
Step up your brow game with our popular range of eyebrow kits and sets, ideal for touch-ups throughout the day, great for on-the-go use and perfectly sized to fit in your bag. Read More
10 products found
Brow Kits
Treat a makeup lover to a browtastic gift or stock up on your favorite products with our brow-perfecting kits. Our shaping kits are great for those who like to change up their brows on the regular, while travel-friendly tweezers will provide you with a fantastic beauty quick-fix. Whether you're jetting off or staying put this year, our brow kits are a must-have steal for your makeup bag.
Whether you are a newbie to the world of brows or you're lusting after a does-it-all eyebrow palette, out wide-ranging collection has your next look covered. Ideal for those that want thicker, fuller brows, our selection of brow kits arrive in a range of diverse shades, textures and styles to ensure a perfectly tailored look.
Including everything you need for the perfect arch, each kit delivers all of the must-have tools and formulations that are needed to nail those naturally flawless brows. Discover the world-renowned brow kits from Benefit or keep it simple with Sleek MakeUP for your everyday style.
Catwalk-worthy brows are just one click away, here at Cosmetify.