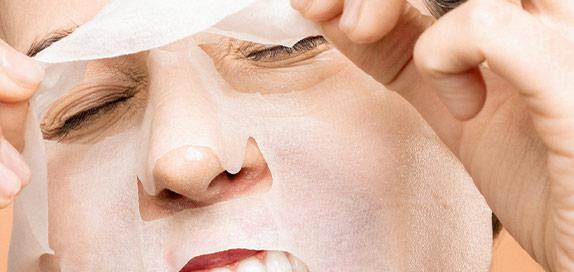 Face Masks
Have a browse through our coveted collection of face masks and discover some of the best brands, including GLAMGLOW, Oh k!, STARSKIN and BeautyPro for that 'lit from within' glow. Read More
105 products found
Face Masks
Face masks shouldn't just be for the weekend. In fact, one of the best ways to maintain a flawless complexion is to regularly apply masks as they boost moisture and keep your skin hydrated. Imparting a plethora of nutrients and antioxidants upon your complexion, each mask sets out on its very own mission to provide a tailored, at-home spa treatment for you to indulge your skin in. From clearing up spot-prone complexions to hydrating parched skin types, our selection of face masks helps to tackle common skin care woes, revealing a noticeably clearer and more radiant visage.
Here, you can find something for every skin type. From oily complexions to sensitive skin types, our range of sheet, cream, gel, mud, bubble and peel-off face masks help to beautify and enhance your skin for an enviably dewy glow. Choose between a range of different scents, textures and colors for the ultimate personalized skin care routine!
Whether you're looking to recreate your last spa treatment or just want a wallet-friendly treat, our varied selection has you covered. Check out our selection of face rollers & massage tools - they're great for applying sheet masks - and don't forget to finish your pamper with a serum and moisturizer.
Bubble Masks
Okay, they may look a little silly once they've been activated but we can assure you, these bubble face masks are no laughing matter when it comes to delivering showstopping results. Working away on your complexion, the oxygen activated masks lift away nasty oils and grime to leave you looking and feeling darn good.
Clay & Mud Masks
Wiping on mass amounts of clay and mud might not sound too appealing but we promise that the payoff is pretty rewarding. Besides, our range of luxe clay and mud-based facemasks boast only the creme de la crème of ingredients and heavenly scents that leave your senses feeling revived, restored and rested.
Cream & Gel Masks
Is there any better feeling than settling down for the evening with a decent face mask? Nah, we didn't think so. Add to your ever-growing collection of face masks with some of the best cream and gel formulas to fix up that visage of yours in just a matter of minutes.
Peel-Off Face Mask
From dry patches to disruptive blemishes, problem skin can get the best of us down. Luckily, big brands such as Yes To, The Ordinary and many others are here to deliver the quick 'n' easy results we desperately crave. Freshen up your complexion with an intensely nourishing and restorative peel off face mask and send those skin woes packing.
Sheet Mask
Add a touch of South Korean magic into your skin care routine with our range of Instagram-worthy sheet masks. Better than the average, ordinary face mask, sheet masks offer an intensive treatment that delivers effective results to a multitude of skin types.