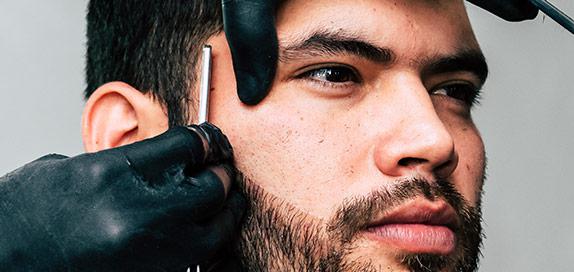 1 product found
Men's Shaving
Choose which approach most tallies with your own sense of style and start each day off on the right foot. Whether you're after a squeaky-clean shave or are simply wanting to tidy up a few stray hairs, our selection provides only the best, most comfortable appliances to work with. Providing both lavish remedies and high-street essentials, our men's shaving range covers all avenues to suit the likes of each and every individual. We also recommend checking out our cleansers, moisturizers and face masks section to ensure a happy and healthy post-shave visage.
When it comes to men's grooming it's difficult to think of something other than shaving that can have such a pronounced impact on your look, vibe and sense of self. Whether you're a technophile who prefers his razor to come fitted with an LED screen, or else a romantic soul who luxuriates in the traditional brush and soap methods, you'll find some of the finest shaving aids available right here.
Here, you can shop amongst high-end remedies and wallet-friendly restocks to ensure that your style is never compromised. Discover the full range today.
Men's Shaving Brushes
Discover the difference that a finely crafted men's shaving brush can make. By bringing one of these high-quality tools into your routine, you can achieve coverage that's both far more even and much more conducive to a good shave.
Razors
The feel and quality of your chosen razor is hugely important. Sure, you can have impeccable technique and superb products, but men's shaving lives and dies on the strength of the blade itself. Pick the tool that bests suits you.
Shaving Creams and Lotions
High-quality men's shaving doesn't have to necessitate frequent trips to the local barbershop. With the right creams and lotions, you can replicate those standards of luxury and care from the comfort of your own home.