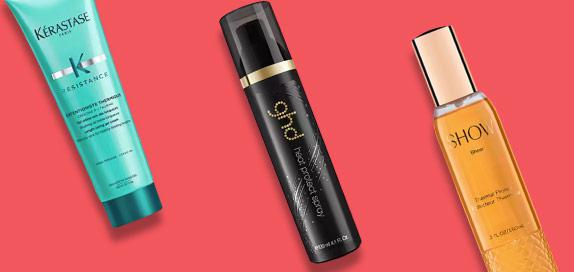 Heat Protectant for Hair
Recruit the likes of Kérastase, Paul Mitchell, ghd, Amika and Philip Kingsley and give your hair the heat protection it deserves. In order to supply you with all that you need to keep your tresses in picture-perfect health, we've rounded up the beauty world's finest heat protection sprays for hair. Read More
42 products found
Heat Protection Spray for Hair
Yes, heated appliances for your hair provide you with long-lasting results, but the damage from excessive use can cause both dryness and split ends. Incorporating the right thermal protector into your hair care routine can help prevent the damage caused from styling tools such as flat irons, hair dryers or curling irons.
Our selection of heat protecting stars not only infuse your locks with a smooth, shiny finish but through innovative design and potent ingredients, defend against every negative effect. And with offerings from top-quality, professional brands, you can rest assured your strands are in good hands.
Browse the range today and discover everything from heat protecting sprays, creams, foams and treatments. We also offer sunscreen for hair products over at our sun care hub. However you prefer to style and protect your hair, there's a product here to match.
If you'd like to find the best heat protection sprays for your hair type, check out our blog The 10 Best Heat Protection Sprays.
Heat Protectant for Hair Features